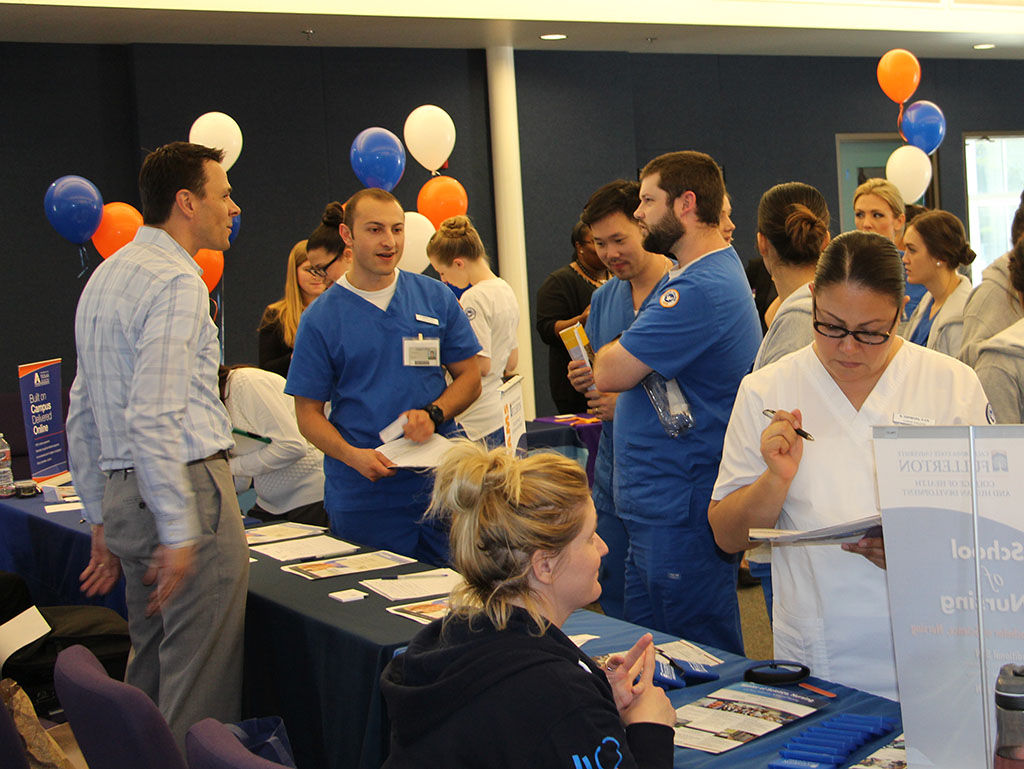 ---
Eleven different local and national school representatives were proudly dawning their school's crests in the annual RN-to-BSN/MSN Fair on March 10 in the Center for Innovation to give Citrus College nursing students an opportunity to meet their potential future schools.
Who showed up?
Azusa Pacific University
University of San Francisco
Cal State Fullerton
Cal State San Marcos
Ohio University
University of Texas-Arlington
National University
Mount St. Mary's
Western University
West Coast University
Chamberlain
Earning a BSN/MSN
Nursing students are strongly encouraged by nursing faculty to gain their bachelors and masters degrees upon finishing the RN program offered at Citrus.
Noemi Barajas, Assistant Director, is largely in charge of the first year nursing students.
"I whip them into shape for their second year of the program," said Barajas.
She has her first year students to attend the college fair before the second year students to expose them to continuing their nursing path.
APU to Citrus to APU
First year nursing student Amber Williams attended the fair specifically to meet with the APU representative about transferring.
"It's local, and I've already completed a degree at APU in Psychology, " said Williams about why she wants to attend APU.
Williams, who serves as vice president of the student nursing department, attended APU as a student-athlete but has always wanted to be a nurse practitioner. "I'm looking to combine my love for psychology and teaching by becoming a nurse practitioner. The faculty here at Citrus offer a more personal, intimate experience in comparison to other schools."
Online is the way to go
A majority of the colleges in attendance offer online programs to pursue their nursing degrees.
Ohio University, the geographically furthest college that attended, offers an online RN-BSN degree program that's designed to be convenient.
"We offer an affordable online option to attain your BSN for the working adult," said Renee Morris, representative of the university. "There are approximately 30,000 students that attend the Ohio campus but another 5,000 that take the online nursing program. It's about finding the right fit, which is why we are all here."
---
---