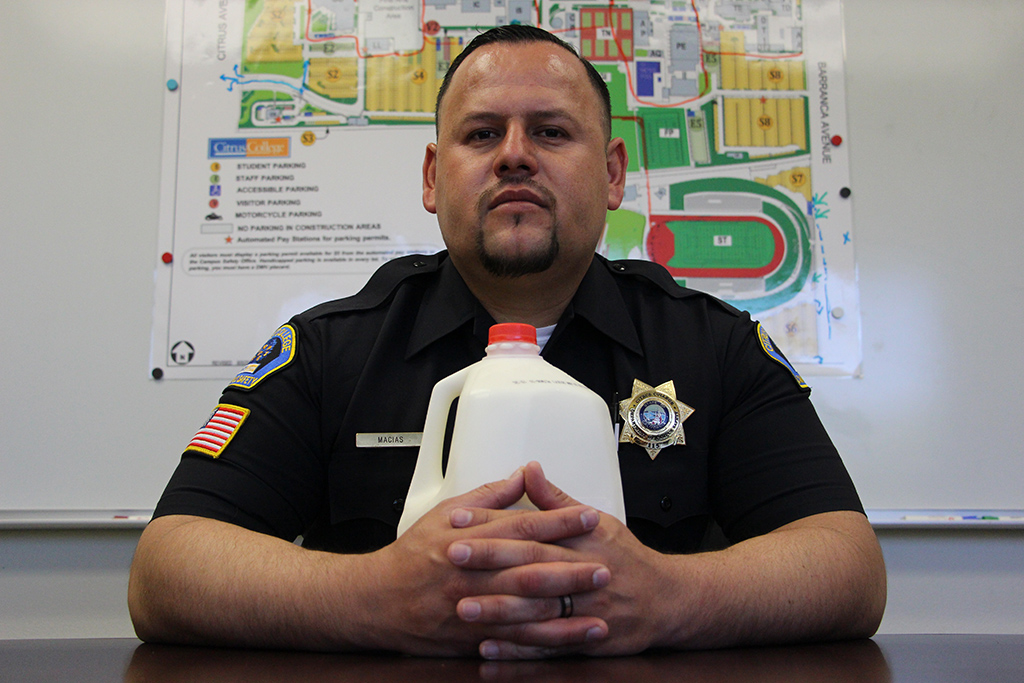 ---
In light of the danger of mass shootings becoming a reality for college campuses, for Citrus College Campus Safety Supervisor Ben Macias, the first thing that comes to mind when he puts on his uniform every morning is a gallon of milk.
"I have one daughter, she's in middle school and eats a lot of cereal, so we always run out of milk," Macias said with solemn dedication. "So regardless of what I face through out the day I'm going to make it home to buy that gallon of milk. Whatever happens here, I'm going to survive it."
The sad reality of campus shootings becoming more of a common occurrence in recent months makes the idea of being on the front lines of campus safety a more serious job than just handing out parking tickets.
The tragic events of the Umpqua Community College shooting in Oregon and the threat of violence that linked the two shooters of the San Bernardino shooting to a plot of terror at Riverside Community College has brought the threat of college shootings dangerously close to Citrus College.
Every morning the approximately 45 Campus Safety officers and student-workers wake up to serve as the first line of defense if such a threat were to occur.
Macias has been working in the safety and security field for 15 years, nine of those he has spent at Citrus extensively training students and staff alike.
During his time here, he and the campus safety "team," almost half of which are students, have been proactive in keeping Citrus safe by promoting a prepared mindset.
"We don't like to have the mindset that it's never going to happen," he said "but more of when is it going to happen."
Macias said Citrus has been providing workshops and active shooter scenario training over the last five or six years.
Campus safety employees receive training in verbal tactics, communication skills, behavior analysis, customer services weapons, self defense and tactics to use against others with weapons.
They are also able to receive guard training, baton training and pepper spray training.
Citrus maintains a positive working relationship with Glendora Police Department, who are familiar with Citrus' campus and have floor plans and keys to every building on campus and also have an FBI liaison, Macias said.
This is in addition to a Citrus alert system, emergency awareness programs and the Citrus Guardian, an app that provides a mobile panic button feature for any emergency situation.
The ultimate message that Macias and Campus Safety Chief Officer Todd Dickson want to  promote as preventive behavior is, "if you see something, say something."
"Across campus, I would like to think hyper-vigilance is what came following the community college active shooter issues," Dickson said. "Hyper-vigilance across campus from students and staff alike is important."
Operations assistant at Citrus College, Lori Gatto, the main dispatcher for Campus Safety, said  the tragic shooting events resonated as  learning experiences for her.
"I probably look at things a little differently than someone else would," Gatto said, due to her previous experience and training in the field.  "I look at it and think what would we be doing if it was happening here, if I get that phone call."
Gatto is the first responder for Citrus College and must also reach out to the police or fire departments in the event of a real emergency.
"The reality is when it hits are we going to be ready?" she said. "And I think Citrus campus safety will be."
Macias, Gatto and Dickson all share the sentiment that campus safety is a well-prepared team.
Macias said the campus safety team are few and they are responsible for safety and security of more than 15,000 students, 1,500 employees, 104 acres and 47 buildings, but he enjoys the challenge and the team he is working with.
None of campus safety is expected to deal with an active shooter head on but they are prepared to communicate with as many people as possible to ensure that no one becomes a victim.
"I'm a parent and I'm an employee, but at the end of the day, you have to have something in your mind that whatever the situation is, it's going to get you through it," Macias said. "For me, it's a gallon of milk."
---
---