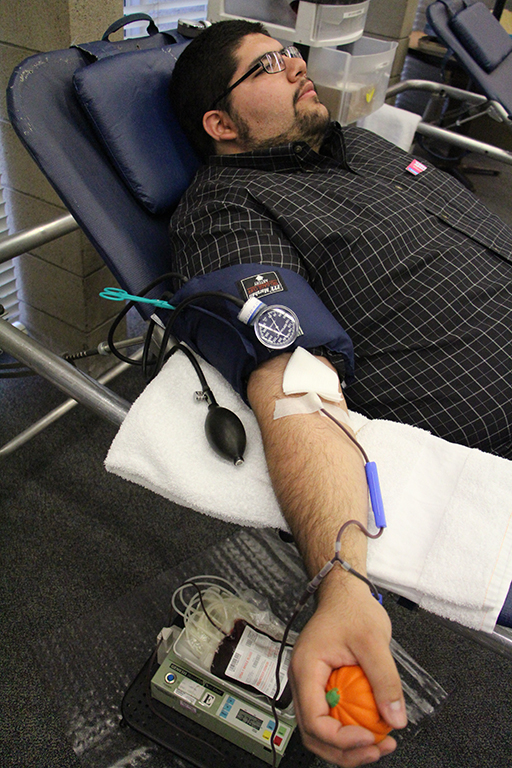 ---

Jesse Perez, 24, business major, donates blood in the Campus Center faculty lounge. Perez is a part of the Photography Club and the Inter-club Council and has been donating for four years.(Darius Johari/Clarion)
In celebration of his birthday on March 31, the Cesar Chavez Blood Drive is back.
The Cesar Chavez Blood Drive continues March 30 and March 31 at the Campus Center faculty lounge from 9 a.m. to 5:30 p.m.
Chavez dedicated his life to ensuring that farm workers would be treated and paid fairly and have safe working conditions.
Citrus College is participating in the National Chavez Blood Drive Challenge, along with other schools and colleges.
Vanessa Salinas, 20, a nursing major, was in charge of this year's blood drive and has worked diligently to reach their goal of students signing up to donate.
"We have 600 sign-ups that we want to reach and also I believe 350 pints of blood to donate," Salinas said. "Of course if we get more than that, that's great."
Each student who donates blood will receive an In-N-Out gift card and will be automatically entered into a raffle with the prize being a $25 gift card, Salinas said. Food and snacks will be provided on site for students who donate.
Salinas, who volunteers at Citrus Valley Intercommunity Hospital in Covina, explained why it is important to donate.
"You never know when it can be you," Salinas said. "I see people getting blood transfusions and a lot of things, and I see how important it is to them."
The first day of the blood drive was March 29. William Blancas, 20, an art major was among the students that donated blood the opening day.
"Feels like I'm helping someone out," Blancas said. "I was just brought here by a friend, just wanted to try it out. But at the same time, just a good feeling knowing that it is for a good cause."
Blancas' friend, 21-year-old Fabian Lopez, also an art major shared what it meant for him to give blood.
"For me, donating blood is one of the easiest things you can do when it comes to donations," Lopez said. "Even though it's pretty simple, it can be valuable to other people."
The importance of helping others was a common reason students volunteered to donate blood.
"I feel like I'm saving someone's life, so that's why I like to donate blood every once in a while when I can," Allan David, 20, a mathematics major said.
When entering the Campus Center, there are signs and staff on hand to direct students donating blood. After donating blood, students are required to rest for 15 minutes and snacks are provided for students during that time.
---
---