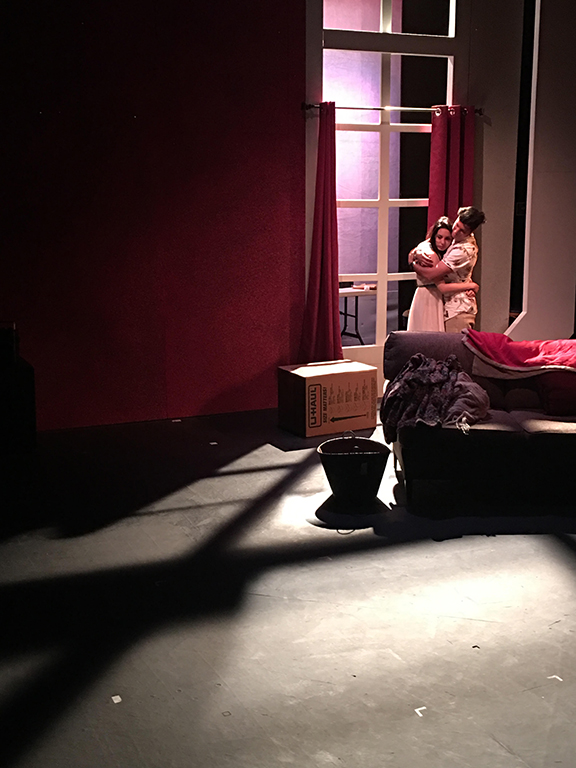 ---

Photo courtesy of Jacqueline Fregeolle
Natalia Esquivel and Anthony Nappier embrace in an intense scene which, will have background noise of a storm raging outside, during the performance of "Scenes from the Eye of the Storm." April 1 through 3 in the Little Theater.
Citrus TheaterWorks, a group of production students, are performing their first all student written and run show called "Scenes from the Eye of the Storm" at 8 p.m. on April 1 and 2 and 2 p.m. on April 3 in The Little Theater.
Theater majors Nathan Gonzales, Alex Durazzo and Jacquie Fregeolle began writing and directing the show a year ago after completing and being inspired by the show "Scenes from the End of the World".
"The difference this year is that every aspect of the show is run by students," Nathan Gonzales said "We are very grateful to Cherie Brown and the Citrus theater program for giving us the freedom to make the show the way we did."
They made a creative decision to not have an intermission because during the show there will be special effects that create the feel of a storm raging outside.
"The storm will reflect the feel of each scene, every crescendo and decrescendo." Jacquie Fregeolle said.
This show has a mature subject matter warning for language and topics that are considered dark.
"We are using our voice to show real issues from real life," Fregeolle said. "Each emotional drive came from our own life experiences."
They are looking forward to the audience's reaction to the show because they overcame a long road of trial and error to create the truest art possible.
"I am honestly, from the bottom of my heart, really proud of the actors," Alex Durazzo said "They really stepped up this time around and I think a lot of them did really great work."
Anyone interested in attending the show can purchase tickets at haughpac.com or at the box office. Tickets are $12 for students, $10 for seniors, and $15 at the door.
---
---