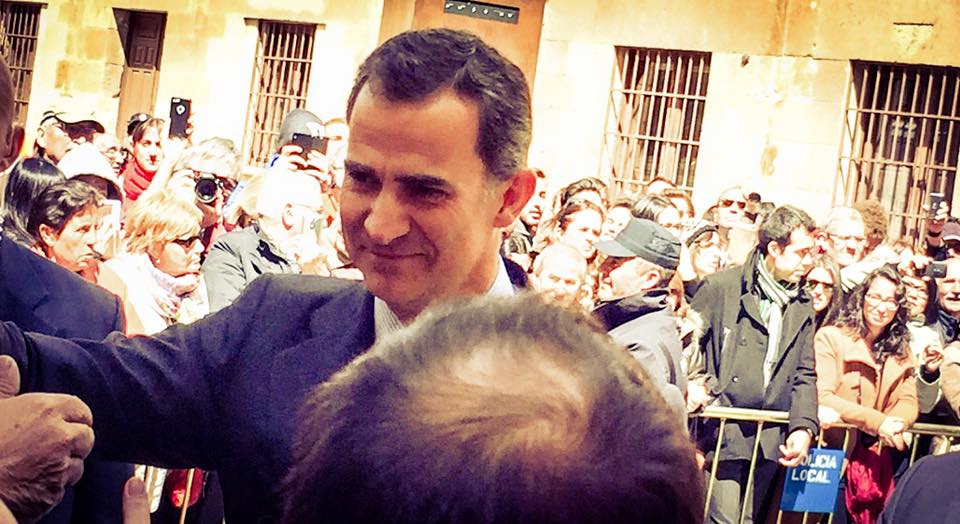 ---
King Felipe IV of Spain greeted citizens and tourists in Salamanca on April 5. Students studying abroad from Citrus College were able to meet and shake hands with the King and Queen. (Photo courtesy of Ana Afzali)

The group of Citrus College students studying abroad in Salamanca, Spain had the opportunity to take a selfie with King Felipe VI and his wife Queen Letizia of Spain on April 5.
Lead Instructor, Ana Afzali, said in an email she discovered an increase in police activity in the area and approached an officer, worried that something was wrong.
The officer told Afzali he had "the honor of welcoming your majesties the King and Queen of Spain at the University to celebrate the 800th birthday of our institution and to give two honorary doctorates."
"I continued to walk to class and I told students….'OK everyone, we are doing a little field trip today…!'" Afzali said. "After the doctorate ceremony was over, the King and Queen came out to greet us and other citizens who wanted to say hello."
Afzali said she shook their hands and the students had the opportunity to see them and take pictures.
Peter Cardenas was featured in the local paper La Gaceta de Salamanca's photo gallery as he took a selfie with King Felipe VI behind him.
"Study Abroad is such an amazing opportunity for our students," Afzali said."It opens their minds and shapes their lives in ways they can't even imagine possible."
Afzali set up the study abroad program in Salamanca, Spain in 2001 with her colleague Elisabeth Garate and Citrus College Trustee Joanne Montgomery.
"I feel very privileged and to be able to share this culture with students," Afzali said. "I'm from Spain myself, so to be able to have the opportunity to take students on field trips and show them places brings me happiness."
---
---