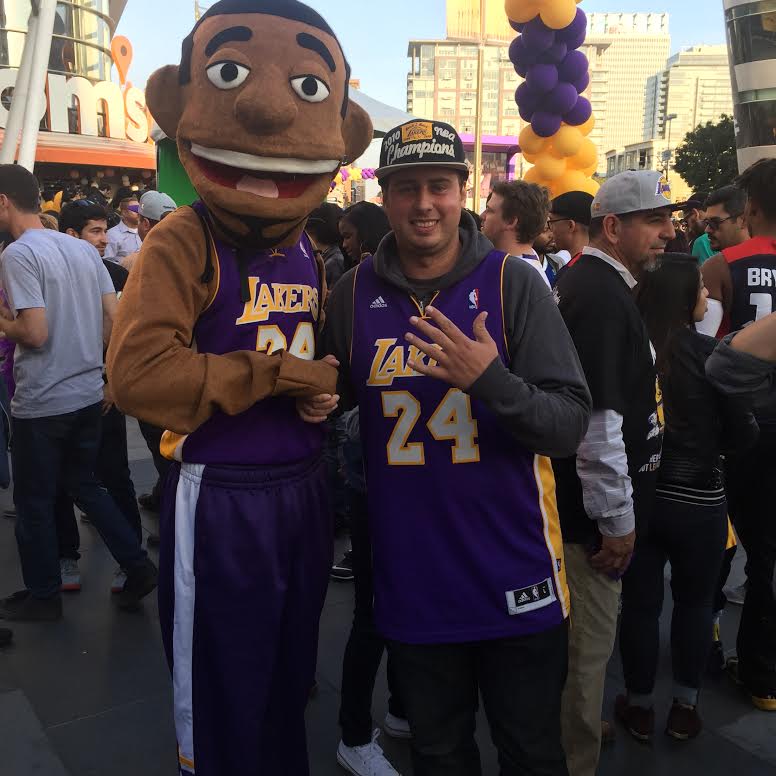 ---

John Michaelides and a Kobe Bryant impersonator at the Staples Center April 13 for the NBA star's final game. Bryant scored 60 points for the game and outscored the Utah Jazz by the fourth quarter.
Dear Kobe Bryant,
Watching you compete the past 20 seasons has been a blessing. You are the reason I aspire to become a sports journalist. You helped a quiet fourth-grader pick up a basketball for the first time after my father raved about this 17-year-old kid that was going to be the next Michael Jordan and win championships for the Lakers.
Even with the arrival of Shaquille O'Neal that same summer, I was more fascinated in the "next Michael Jordan." Growing up a Lakers fan, I was in awe of Jordan, but hated him for always killing the Lakers. I imagined what it would be like to have a player like Jordan on our side. 20 years later, you have exceeded every expectation and then some. And we are happy you were not the next Michael Jordan, you were the Kobe Bryant.
When I was 8-years-old, I picked up a basketball and haven't put one down since. Going into fifth and sixth grade, I was already trying to emulate every highlight from your game the night before. I picked up on your mannerisms and tried to play with a swagger, which makes me smile reflecting back on it.
I have watched almost every game you have played in and as I got older, I picked up on aspects of the game you were working on, trying to work on them as well. In 2008, when it seemed like you opened the book on every footwork move imaginable, I raced to the nearest park to emulate you.
One of my favorite early memories of your career was seeing Brian Shaw throw you an alley-oop pass that you had to finish from the opposite side of the basket against the 76ers, dunking on Tyrone Hill's back. One of the most sensational plays I ever witnessed. Or Robert Horry's length of the court pass to you with the wraparound dunk against the Nuggets.
I will never forget how you guys stormed back against the Blazers in the fourth quarter to reach your first NBA Finals. I remember spending my seventh grade party sitting in a classroom to watch you beat Allen Iverson in Game 5 of the NBA Finals. The three-peat was special and fun to watch. To this day, I argue how you deserve as much credit as Shaq for the three-peat. Your numbers speak for themselves.
When Shaq went to the Heat, it pissed me off to see him win a ring first after your time together ended. While you were unhappy with the shortcomings of the front office during those three years, I vented about the same things. Lakers fans had your back. We understood. We did not want to see your prime years wasted on a 42-win team.
I remember being so frustrated, listening to the trade rumors linking you to the Bulls and Mavericks, but you gave the Lakers one more chance and they pulled through in acquiring Pau Gasol. I am still in awe how seamless you two played together, starting with the very first game against the Nets. Everything changed from there. It was a shame that Andrew Bynum and Trevor Ariza never made it back healthy that season, because I know you guys would have beaten that Celtics team in 2008.
I remember seeing you walk off the floor of the Boston Garden after the 39-point loss in Game 6 with confetti coming down from the rafters, knowing you would never let that happen again.
The next season was my favorite season of yours to watch. Even with Bynum missing a huge chunk of time again, you guys were locked in on your way to 65 wins and the playoffs. And despite the second round scare against the Rockets, I knew you guys would take care of business in game 7.
Your 2009 NBA Finals performance against the Magic is my favorite moment watching your storied career. It was a masterpiece:  The Black Mamba was born. It was amazing as a fan to see the camaraderie you guys had, from Derek Fisher and Pau to DJ Mbenga and Adam Morrison. You got the recognition you finally deserved and a year later, it was only fitting that you would win your fifth and final NBA Championship in game 7 against the hated Celtics.
Even in that game when your shot was not falling, you found other ways to push the Lakers to victory. It seemed like you grabbed every rebound in the second half and you trusted Pau and Ron Artest down the stretch.
I was at the game that season when you banked in the game-winning three over Dwyane Wade and remember how everyone in the crowd knew that shot was going to go in. Somehow. I practiced that shot dozens of times and playfully held my arms up, pretending to get mugged by Shannon Brown and Sasha Vujacic.
Of all the shots I have tried to emulate, I remember the countless ones I had no chance of ever making like those two three-pointers in 2004 against the Blazers to win the division. I remember 81 points and then the barrage of threes you gave the Raptors again in 2013 to seal a huge win.
I practiced every single one of those shots. As the years have went by, I feel like an old man with the wear and tear I have put on my body playing basketball for 20 years, just at the park emulating you. In early April 2013, I was shooting around when I felt a slight tear around my Achilles tendon. I thought, okay, it may be time to give basketball a break for a while.
The next week, I was watching you play the Warriors and I could tell you gave your all that night. You were trying to get us into the playoffs in what seemed like a cursed season.
I watched you knock knees with Festus Ezeli, I watched you roll your ankle. I kept thinking, 'Kobe is gonna kill himself trying to get us into the playoffs.' Late in the fourth, you go down driving against Harrison Barnes and it seemed like the world stopped for Lakers fans.
You walk back out on the court hiding any pain you felt to knock down two clutch free throws, all while standing on a torn Achilles. It didn't seem real.
But that is what Lakers fans will always remember about you. Your work ethic and killer instinct are second to none. You never quit and you never looked defeated.
Lakers fans could never ask anything more than what you gave us for 20 seasons every night in purple and gold. I hope you know this and I am happy that you finally get an opportunity to sit back and be in awe of what you accomplished. You deserve it.
I was outside of Staples Center for your final game celebrating  your legacy with other fans and reminiscing on all the moments that have brought us all together to celebrate you. And just when we thought we had seen our hero do it all, you scored 60 points and made the game-winning jumper.
You changed so many  lives and gave me a belief that you can achieve anything you set your heart and mind to, but you've got to want it and work at it. I found my calling in life by learning from you. Through your good times and difficult times, you never faltered.
Thank you, Kobe Bryant.
I cannot say it enough for what you have meant to me and so many others.
Sincerely,
A fan you raised.
---
---