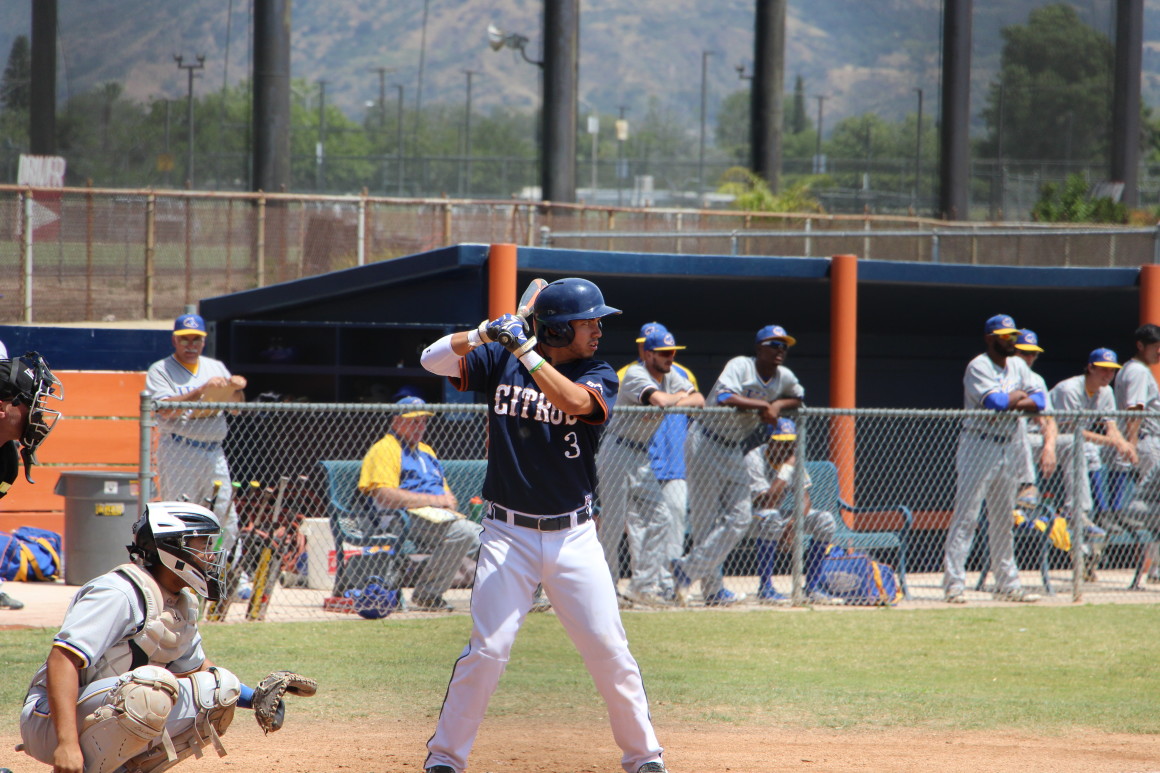 ---
The Citrus College baseball team has had its struggles all season long. But the Owls finally did something it had not done since February: win three games in a row.
Citrus College defeated West Los Angeles College, 3-2, on Saturday, April 23, at Citrus College to complete the sweep of its three-game series.
The Owls jumped out to an early 1-0 lead in the first inning with an RBI single from freshman first baseman Dominic Baca, bringing sophomore infielder Rudy Casarez III home from third. Baca finished 2-for-3 for the game.
In the second inning, an RBI single from freshman outfielder Marcos Campos and a West LA error gave Citrus a 3-0 lead after two innings played. Campos finished 1-for-4 and stole two bases for the Owls.
Citrus freshman pitcher Roberto Balbanebro was solid for the Owls, but a wild pitch by the righthander in the fifth inning scored a run for West LA. Balbanebro (W, 5-5) finished the day pitching five innings, surrendering only two hits, one earned run and struck out five West LA batters.
Freshman pitcher Joshua Aguilar entered the game in the eighth inning to close the game for Citrus, but West LA kept things interesting.
A sacrifice fly out by freshman infielder Kaleyl Anderson brought freshman outfielder Cameron Garcia home, narrowing Citrus' lead to 3-2.
In the top of the ninth, West LA had a runner at third with only one out in the inning, but Aguilar kept his composure and forced sophomore first baseman Greg Carter to fly out. A great defensive play in right field for the final out of the game clinched the win for Citrus. Aguilar earned his second save of the season.
With only three games left in the season, the Owls look to finish the season strong.
"Just gives us confidence," Citrus sophomore infielder Joshua Chua said. "Obviously we had a tough stretch. Nothing against them, they're decent competition. But we can come out and compete and come out and win."
For a team that came into the series against West LA losing 11 of 12, the three-game win streak has been a positive in what has been a tough season for the Owls.
"We finally stepped up and as a team, we won," Chua said. "It wasn't any one guy to carry anyone, as a team we stepped up. Everyone got hits, everyone drove runs in, played good defense and we got the win."
Chua, who had three hits and three RBIs for the Owls in the series against West LA, talked about the importance of the three-game winning streak.
"Any time you get a winning streak, it definitely boosts your confidence, not just as individuals, but as a team," Chua said.
Steve Gomez, in his 11th season as head coach for Citrus, said this has been one of his more difficult seasons.
"We've made a lot of changes the last several weeks for a variety of reasons," Gomez said. "Primarily injuries. We've had a lot of unusual concussions, personal issues that came in, so we lost a lot of guys and therefore we've moved a lot of guys around."
Gomez said the team is playing better as the players get comfortable with their new positions, but Citrus will have a tough test to close the season.
"They are playing better as a team, as those guys are starting to adapt to their positions," Gomez said. "But Bakersfield is still going to be a very difficult series. They've been playing well pretty much all year, so we are going to have to play solid baseball."
Freshman infielder Steven Mendoza, who finished the game 2-for-4, was confident Citrus had what it takes to compete with Bakersfield.
"Every team in this league is pretty tough," Mendoza said. "I mean, just go out there like every other game and just play ball."
Citrus College (14-18-1, 7-11) will face Bakersfield College (21-11, 12-5) at 3 p.m. Tuesday, April 26, at Bakersfield College.
---
---