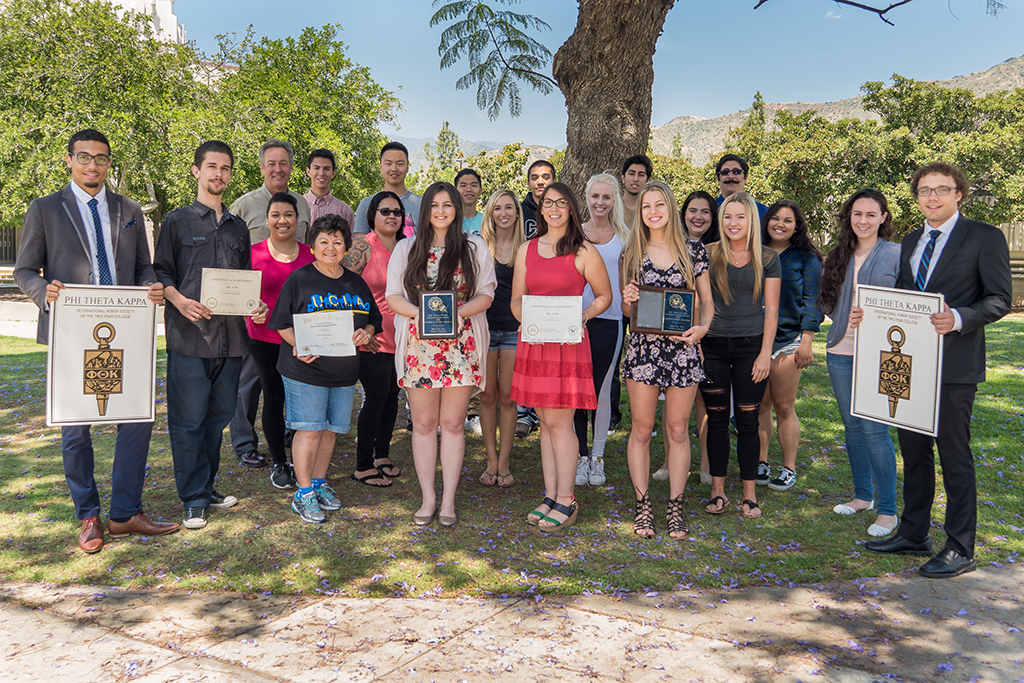 ---
The Citrus College Beta Nu Eta chapter of the Phi Theta Kappa Honor society poses for a group photo on April 22 outside of the Honors Transfer classroom. The chapter brought home Most Distinguished Chapter in California and Nevada region for the 2015-2016 school year. (Office of External Relations)
The Citrus College Beta Nu Eta chapter of the Phi Theta Kappa Honor Society received the Most Distinguished Chapter award in the Nevada and California region for the 2015-2016 school year.
Out of the 94 Nevada and California chapters 11 have received a five star ranking, of these 11 Beta Nu Eta is the Most Distinguished.
Geraldine M. Perri, Ph.D. Superintendent/President said in an email to PTK Advisor Brian Waddington,  "I am so proud of our students for their diligent efforts, commitment and leadership. It is truly a job well done to advance to a Five Star Chapter and to also receive the Most Distinguished Chapter award."
The chapter also won First Place Honors in Action Research Project Topic #3, Third Place Honors in Action Project in the region and received recognition for multiple service projects.
"The students were obviously thrilled," Waddington said, "and our chapter is proud of the work and dedication the students put into achieving these awards."
The team lead for the Honors in Action Project Alicia Beckley said she thinks PTK  has enhanced her life.
"Being involved in (the Honors in Action Project) greatly increased my research ability as a student and Psychology major," she said.
The team researched body art in relation to mental health and suicide prevention.
They worked with the Semicolon Project, To Write Love on Her Arms, the American Foundation for Suicide Prevention and other organizations to host an event on campus that helped students to receive information about treatments for mental health.
At the event PTK offered free henna tattoos with motivational designs.
Beckley said she is "absolutely elated" their Honors in Action project won awards. "
"Our Honors in Action Project won first for its theme in the Nevada/California region, third out of all themes in the Nevada/California region, and received international recognition." Beckley said. "This project was quite challenging at times, but it was so worth it to me just by knowing that I have impacted lives due to it and in return has even changed my own life."
With the Most Distinguished Chapter award comes a scholarship for one student to attend a national seminar. PTK will decide who receives the scholarship after their elections are held in two weeks.
"Currently we are looking at sending our new president," Waddington said, "but we may open it up to another officer if the president can not attend."
PTK will hold their induction ceremony on May 19.
They are hosting a Taco Tuesday fundraiser from 11 a.m. to 3 p.m.  May 3 in the Campus Center mall to help the student who receives the scholarship to attend the seminar and for other students to attend conferences.
---
---