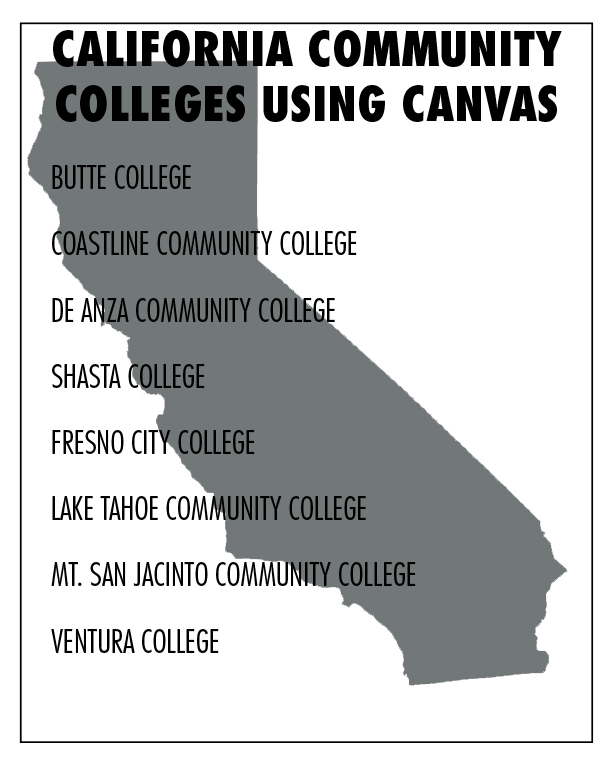 ---
Citrus College will have an opportunity to try out a new online learning platform other than Blackboard Learn.
Vice Chancellor for Communications at the California Community Colleges Chancellor's Office Paul Feist said the proposed platform Canvas is in the process of being implemented within the next few months, if not already so, at over 60 colleges around the state.
The plan is to have all 113 California Community Colleges streamlined under the same platform.
Distance Education Coordinator and Language Arts professor Beverly Van Citters said Citrus will vote on a pilot program for Canvas in 2017.
She said the transition to Canvas, should Citrus decide to adopt it, will be a gradual process.
Van Citters said Citrus is not immediately switching to Canvas should they decide to adopt it, but instead plans to use it as a pilot to gather feedback from a handful of faculty and students.
Distance Education Supervisor Lari Kirby, who has worked with Blackboard Learn since it was brought to Citrus in 2002, said Blackboard Learn may not be entirely dropped.
"The plan is to have Blackboard Learn run parallel with Canvas," said Kirby. "This gives faculty an opportunity to learn the platform."
The pilot period could take six months after the school takes a vote. Psychology major, Alondra Ruiz, said she thinks the consideration of adopting Canvas could be a good move for the college.
"I hate Blackboard. It gives teachers freedom to update assigned homework on a short notice, which is very limiting to students," Ruiz said. "I work two jobs and I don't check Blackboard every day."
Ruiz said she believes a program like Canvas entering the picture, which could offer students automated updates on a class, could do well for students at Citrus.
"I think the school adopting Canvas would be revolutionary for the school," Ruiz said.
Faculty Communications and Language Arts Professor Theresa Villeneuve, who has worked with Blackboard extensively over the years is enthusiastic about the new platform, and the app in particular.
"I'm excited to have a functional app to use," Villeneuve said. "The app that it (Blackboard Learn) has offers no functionality for instructors, and although they've been promising us one for years, it's never come."
Villeneuve said this is a huge weakness, because it forces instructors to manage and grade assignments on a desktop or laptop and be online, which is unfortunate when apps such as Turnitin give instructors the opportunity to download everything to a tablet to grade offline.
Canvas, however, provides instructors with a reliable app they may use, she said.
The California Community College Chancellors Office is offering community colleges the opportunity to make the transition for free until the end of the 2018-19 academic school year.
After 2019, California community colleges will still be able to make the jump. However, expenses will only be partially covered.
"You have to have all the pieces together at your college before you can even go and become apart of it," Van Citters said, "so there is a lot of hoops that have to be gone through, but what is exciting about this is we are going to end up having folks look at this."
Through an extensive request for proposal and interview process involving over 70 California Community College constituent representatives, including students, Canvas was chosen as the common course management system to be offered through an Online Education Initiative, in what was nearly a unanimous decision.
Instructure, the company behind the OEI, launched the initiative back in 2011 which eventually led to the creation of the Canvas Network in 2012.
The company is run by two Brigham Young University alumni who founded the company in 2008. Brian Whitmer and Devlin Daley made Canvas freely available in February 2011.
Instructure created Canvas, Canvas K-12, the Canvas Network and Bridge, a cloud-based corporate Learning Management System.
Feist said Canvas has grown for its recognition of intuitiveness, ease-of-use interface for both students and faculty and will serve as a platform for integration of other resources that the initiative is providing.
A comprehensive rubric has been put in place by a steering committee which includes students, faculty, administrators and the Online Education project team.
"The rubric has established standards relating to course design, interaction and collaboration, assessment, learner support and accessibility," Feist said. "These include, but are not limited to, online learner readiness tools and tutoring resources focused on student success."
The proposed platform, Canvas, will provide students and faculty around the state a more streamlined service that combines 24/7 tech support, tutoring and resource tools, according to Feist.
This will help students and colleges with processing assessment tests and class registration, providing a more universal platform that will not require repeated assessment should a student look to enroll at another CCC.
---
---