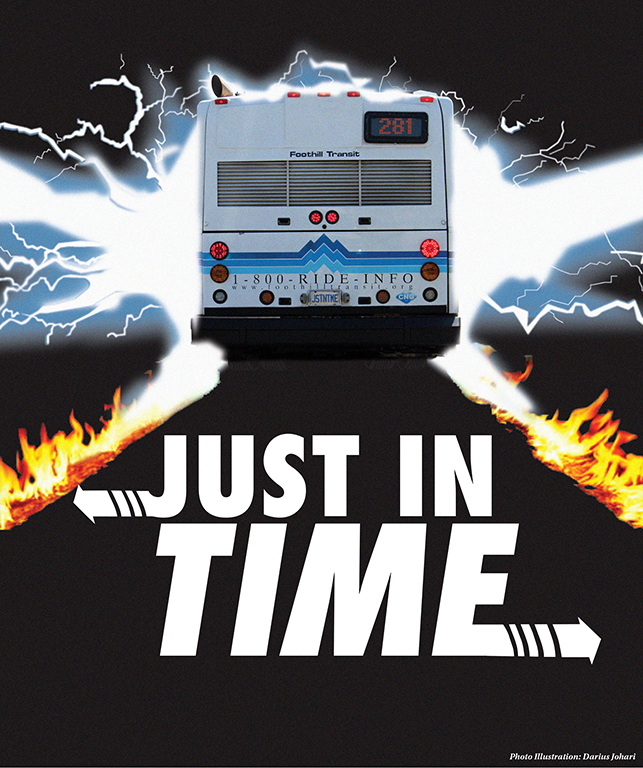 ---
The long wait for free Foothill Transit bus passes is over.
By fall, Citrus College students will have free access to Foothill Transit buses for an entire year due to the efforts of new Dean of Students Maryann Tolano-Leveque.
The program has not been 100 percent officially approved through Citrus. The Class Pass is being presented to the Board of Trustees as a Memorandum of Understanding so Tolano-Leveque can work with Foothill Transit now to implement the program.
Once the MOU is signed, she can assure systems are in place to keep track of student ridership and receive feedback on where and how often Citrus students use the pass.
"Everything is looking positive like (the signing) will happen," Tolano-Leveque said.
Any Citrus student enrolled in at least one credit can use the new bus pass for free starting this fall.
Studio arts major Ernest Santos, who has a car but prefers the bus, said this is a big help.
"I have a bus pass, which I put money in every time I need to," Santos said. "But it would be one less worry to my financial responsibilities."
Tolano-Leveque was given the green light to implement a Class Pass program as soon as she arrived at Citrus in February from Vice President of Student Services Martha McDonald. Tolano-Leveque said she heard from both administrators and students who were interested for the program.
Previously, as the coordinator for student life at Mt. San Antonio College, she was responsible for implementing that school's Class Pass.
"I was receiving three to four calls a semester about students who would have to drop out of school because their car broke down," she said, "and people would ask if there was anything we can do to help students in need."
When the pilot program began at Mt.SAC, the calls stopped, Tolano-Leveque said.
After having the pilot program for a year, 82 percent of Mt. SAC students voted to raise student fees to keep the free bus pass.
She said plans on how Citrus staff will distribute the pass are not clear, but eligible Citrus students will receive a Transit Access Pass microchip sticker instead of a separate TAP card. TAP cards are used to load currency for both Metro trains and Foothill Transit buses.
Foothill Transit Special Projects Manager Katie Gagnon said the TAP microchip technology works the same no matter what form it is in.
"The chip as a sticker will be a new installment for the bus passes," Gagnon said.
Rather than issue TAP cards that do not require specific information for use, a microchip sticker will be issued and adhered to Citrus College student IDs to prevent fraud.
In addition, the stickers will easily tear when removed from IDs to prevent theft or sharing, Tolano-Leveque said.
The University of LA Verne is another college that works with Foothill Transit to provide free bus passes for their students. Both Mt.SAC and ULV use a Blue TAP card separate from their IDs to ride.
Gagnon said both schools will switch to microchip stickers in the fall as well.
Once implemented, the free bus pass will only be available for students during the spring and fall semesters, the time when students fees are paid in full. Tolano-Leveque said in the upcoming summer semester, she will invite about 30 to 40 students to try out the Class Pass.
Foothill Transit Deputy Executive Director Kevin Parks McDonald said the TAP microchip sticker will allow Foothill Transit and Citrus to gather ridership information during the pilot year.
"This is a good way to get exact ridership numbers," he said, "and students can vote to pay for the program after the initial launch."
He said the fee students will vote on will directly reflect these ongoing numbers.
She said students taking fewer than 12 units in spring will pay a prorated rate, usually $1 less than the fee added.
If the Class Pass is not voted through at Citrus, Tolano-Leveque said she would not consider bringing the program back for another five years based on the average completion rate of students.
"If the students have spoken, then I think we need to give it the average of a student to matriculate through a community college is like three to four years," she said. "I don't want to come back to the same community of students and ask them to vote again."
She said she hopes the pilot program encourages support but would not want to force it on the students.
"People have different reasons for supporting the Class Pass," Tolano-Leveque said. "That does not mean Citrus students will support it and that is OK."
Santos said he will most likely vote in favor of the pass because he wants to give it a try.
"I want to see how it goes," he said. "It'll help students in the long run."
Tolano-Leveque said she is excited about public transportation and students wanting to use it.
"But I am more excited about the idea of helping students who have a hard time getting to school," she said.
"The idea of helping students get to their education for free is really exciting."
Update: This story has been updated with edits from its print version
---
---