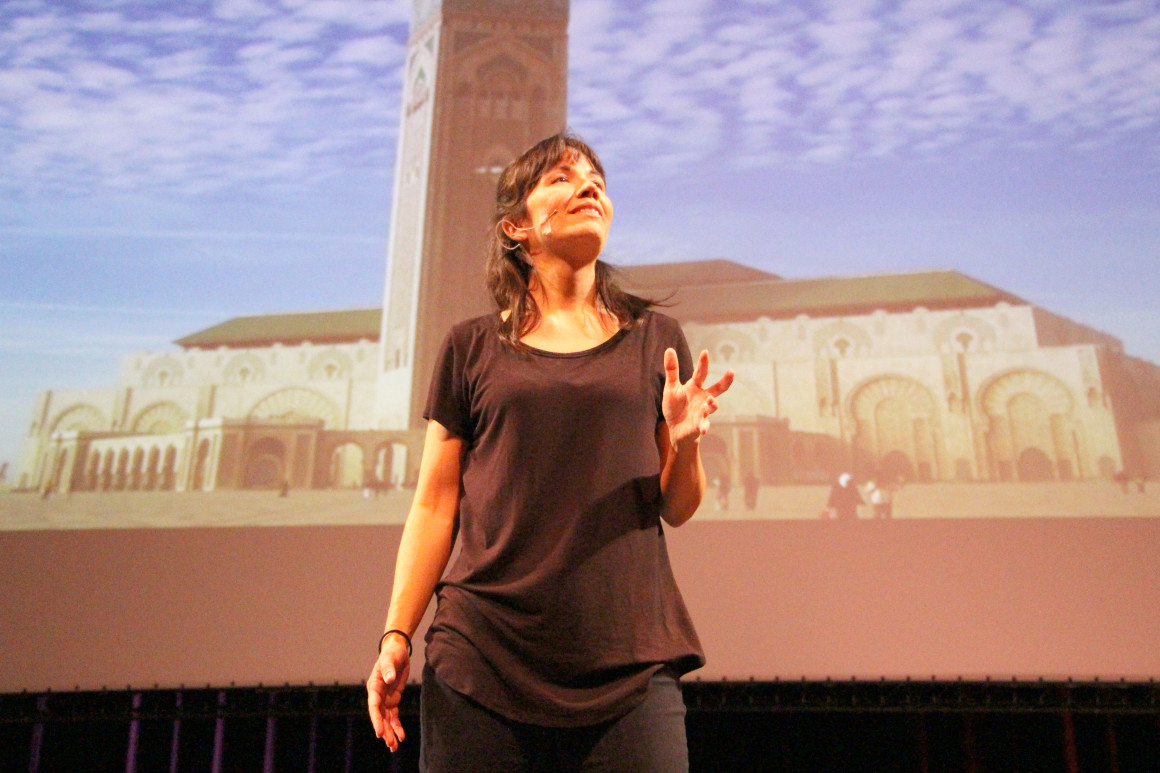 ---
There is the old saying that home is where the heart is, but when your heart belongs to the pyramids in Egypt, the lush rain forests of Central America, and the cold winters of New England, it becomes difficult to decide which one is really home.
Elizabeth Liang's monologue, "Alien Citizen: An Earth Odyssey," follows the true story of discovering her cultural identity as a "third culture kid," or "TCK."
Her performance, on May 5 in the Haugh Performing Arts Center as part of a Speaker Series sponsored by the Faculty Learning Institute, explores an idea of identity and home that goes beyond four walls and a roof.
The monologue opens on a projector photo of the earth viewed from space, a deep booming voice demands to know, "Who are you, where are you from?"
A spotlight opens on a woman with a makeshift alien hat on her head as the deep voice bellows, "What are you?"
Liang is confused at first but with a smile and a shrug, she removes her hat and begins the journey into her memory of growing up as a global citizen.
For some the question of who or what they are is immediately clear: Mexican, Chinese, White and more are acceptable answers to this question. For others, such as Liang, answering this question is restricting.
She defines a TCK as "a person who has spent a significant part of their developmental years outside the parents' culture. They build relationships to all of the cultures, while not having full ownership in any."
Liang's earliest memories of multi-cultural identity are when she is teased by young boys in a small town in New England over the shape of her eyes.
The early bullying made her realize she was different and before she could dwell on it, she moved to Panama.
She was born in Guatemala to a Guatemalan father of  Chinese-Spanish decent and an American mother of " European hodgepodge decent." At a young age she realized  she does not look Guatemalan, but does look Chinese. She is assimilated to Guatemalan culture but does not know more than the small amount she was exposed to.
She has moved from Guatemala, to Costa Rica,to the United States, to Panama, back to the US, to Morocco, to Egypt and then back once more to the US.
She only spent a few years at each location because of her father's work for Xerox.
As a child discovering the world and herself in different countries, she consistently encountered an overshadowing message while trying to understand  and describe her culture and identity, "I don't have the words."
As she attempted to settle down in each place, make new friends, maintain relationships and discover the dangers of being a woman in different cultures, she tried desperately to fit in to each environment and mold.
Liang finds herself angry, stifled and silent.
Because she does not stay long enough in each place, she has no clear idea of "who" or "what" she is, but as she gets older she begins to understand it does not matter.
She is unique, she is all of these places and all of these cultures at once: she is an alien citizen.
By the time she finishes college, self-realization takes root in comedic relief and theater and Liang finally discovers a home.
The monologue served as a perfect narrative for telling one story of a TCK life and Liang cleverly portrays what it means to find a home within  herself.
"Alien Citizen: An Earth Odyssey,"will soon be available on DVD and can be booked for future showings.
---
---