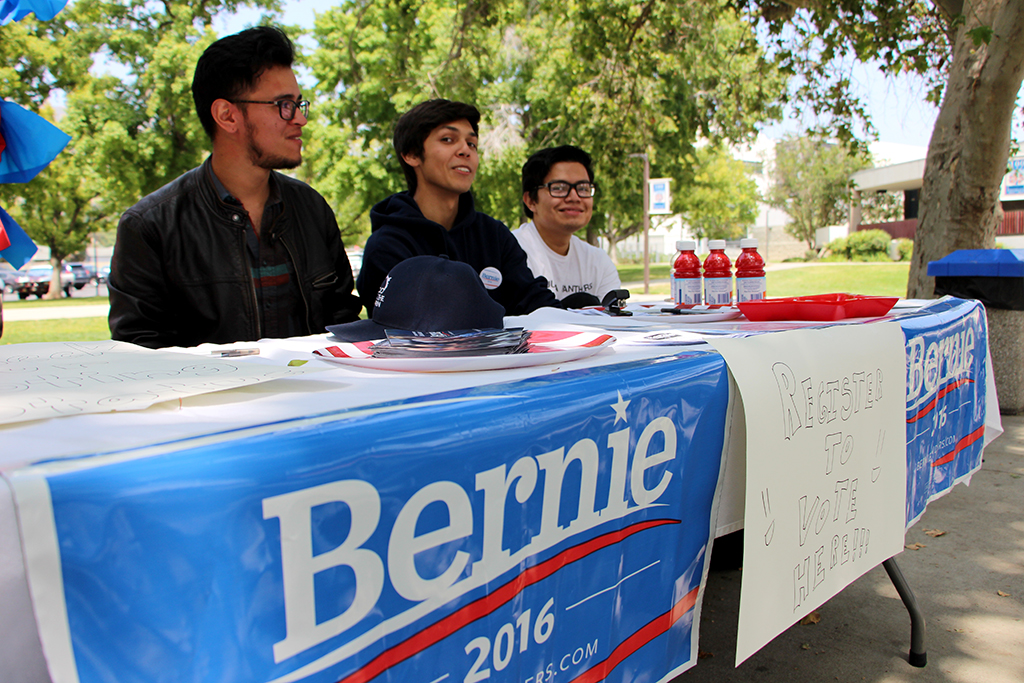 ---
An unofficial group calling themselves Citrus Students for Bernie decided it was time for Citrus College to feel the 'Bern.'
The group of student volunteers set up a campaign table May 10 in the Campus Center Mall and provided chocolate, handouts and personal laptops.
In addition to encouraging others to vote for Bernie Sanders as a candidate for the 2016 presidential race, Citrus Students for Bernie also encouraged students to register to vote and invited them to share varying political views.
Organizer and communications major Matthew Luna, 24, said he wanted students to feel open about their support for any presidential candidate.
"Libertarian, Conservative – it doesn't matter what your political party is at all," he said.
Luna had attended a march for Bernie April in Los Angeles in April where he encountered the National Nurses Union and a group called California State University Northridge for Bernie.
Through these contacts and friends who are connected to the Bernie campaign, the inspiration and posters to table at Citrus.
The volunteer students working the booth invited any one passing by to check their voter registration and indulge in a conversation on what matters to them.
Luna said growing up he organized events to support the homeless and has a lot experience organizing events like these.
The table also attracted students who did not support Bernie Sanders such as Donald Trump supporter and history major Anthony Quaternik.
Quaternik said he has experienced angry treatment from Sanders supporters because he does not fit the typical Trump voting demographic.
"I'm Hispanic, I'm under 40, I'm gay and I support Donald Trump," he said. "Everyone's so afraid of stepping on toes…they're too afraid to stand up for something."
He said this makes Donald Trump unique because he doesn't care about stepping on toes.
He said his experience with the Citrus Sanders supporters has been a pleasant one.
"They're good people," Quaternik said, "I'm impressed that they're trying to register people to vote."
With Qauternik was a registered Citrus student voter, Jack McLeod, who feels if he has to choose between Hillary Clinton or Donald Trump, it'll most like be Trump.
McLeod was circling the Sanders table with Qauternik and the two engaged the Sanders supporters in political conversation.
"I can't stand Bernie Sanders," McLeod said, "He has communist views, the whole utopia of everyone winning everything…"
McClaud said he is not a fan of Hillary Clinton due to her ties to Benghazi.
For Luna, who was previously a Trump supporter himself, encouraging conversation is more important than which political candidate they support.
Despite varying opinions, all of the students engaged those passing by to register to vote.
"What matters is that you're trying to speak about something that you know of and learn something that you don't," he said. "Exchange information and find out what we think is best."
The unofficial group of Citrus students who support Bernie plan on tabling throughout the week and again on May 17.
---
---