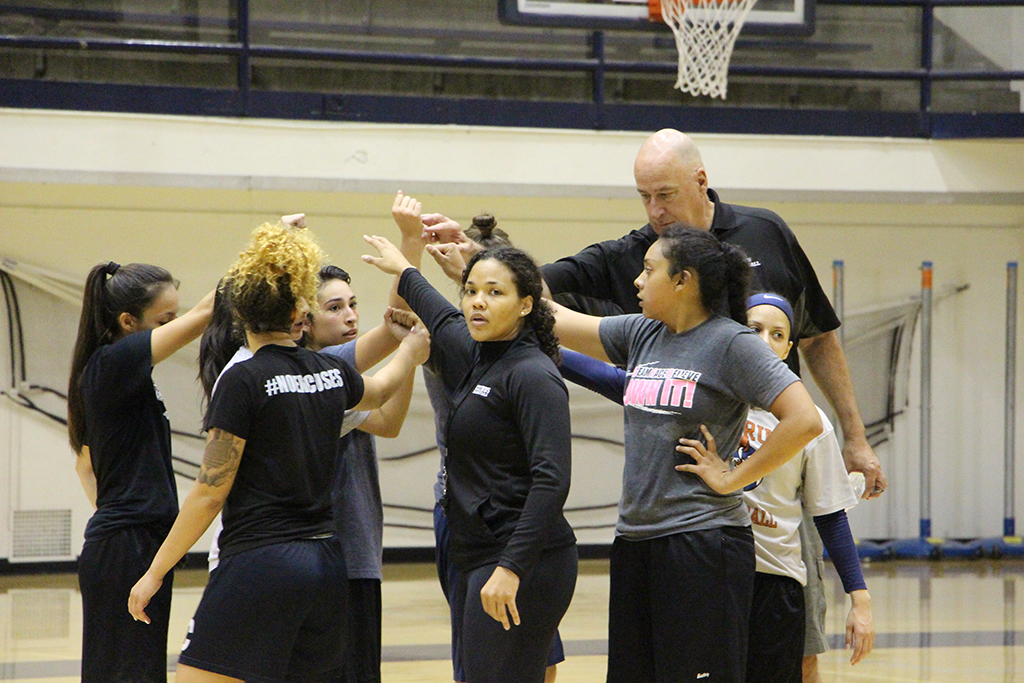 ---

Citrus College head coach Linnae Barber Matthews, center. huddles up with her team after practice Monday, May 16, at the Owl's Nest. The Citrus women will open up their 2016-2017 season Nov. 4 at the Mt. San Antonio College tournament. (John Michaelides/Clarion)
A new era for Citrus College women's basketball began with the hiring of Linnae Barber Matthews as head coach.
Barber Matthews served as an assistant coach in her first season at Citrus last season. With Loree Moore stepping away, Barber Matthews steps into Moore's role.
"It's a dream come true," Barber Matthews said.
With nine years of coaching, the majority of it spent at College of the Canyons, Barber Matthews said it was not until her third year coaching that she realized she could become a head coach someday.
"I realized I had a special gift connecting with student-athletes, as far as the mental side," Barber Matthews said.
Barber Matthews said some student-athletes deal with issues off the court, whether related to family, grades or life choices.
"I knew once I was able to help them out off the court, they'll shine on the court," Barber Matthews said.
Barber Matthews enjoyed her time at Canyons, but with Greg Herrick at the helm for 23 seasons, Barber Matthews knew she had to find an opportunity elsewhere to follow her dream of becoming a head coach.
Because she needed to grow as a coach, she took a leap of faith and joined Moore's coaching staff last season.
Barber Matthews said she knew something was special about the team last season. Citrus finished with an 18-11 record in 2015-16, going 10-4 in conference play. Citrus earned a playoff spot for the first time in seven seasons and advanced to the second round before falling to Mt. San Jacinto College.
Barber Matthews will take a similar coaching philosophy as Moore last season – it will just be a new voice for the players. She said her competitive nature is more intense than Moore's. Barber Matthews played college basketball at Canyons, so rivalries like Mt. San Antonio College have more meaning to her, having played and coached against them.
Looking ahead to the 2016-17 season, Barber Matthews said preseason and early tournaments will be important.
"You have to play top teams," Barber Matthews said. "These girls need to see what it is to compete, so when we play in conference, it's easier. We're ready to go."
Citrus will open up the new season participating in the Mt. San Antonio College tournament. Barber Matthews said she is excited about the freshmen that will return for their second seasons after learning from and pushing the sophomores last season.
"In the offseason right now, we're working hard," Barber Matthews said. "We are doing a lot of fundamentals, getting them in shape and now I'm just bringing out the confidence in them."
Barber Matthews said she believes Citrus can compete for a conference championship in the 2016-17 season with the pieces that are in place.
"Our post play is really good," Barber Matthews said. "Marisol Chavez-Delgado, she was an underdog, trying to learn from her sophomores. For her coming back this season, she's ready."
Barber Matthews said Chavez-Delgado's versatility will allow her to play both forward positions and Jessica Rosas at the guard position will play a big part in what Citrus does, offensively.
"We just have good pieces coming back," Barber Matthews said. "Our conference, in how it's set up, I definitely think that we have a chance to win it."
The women's 2016-17 campaign will begin Nov. 4 at the Mt. San Antonio College tournament, followed by the Mt. San Jacinto College tournament Nov. 11.
Citrus will participate in five tournaments during the regular season.
---
---