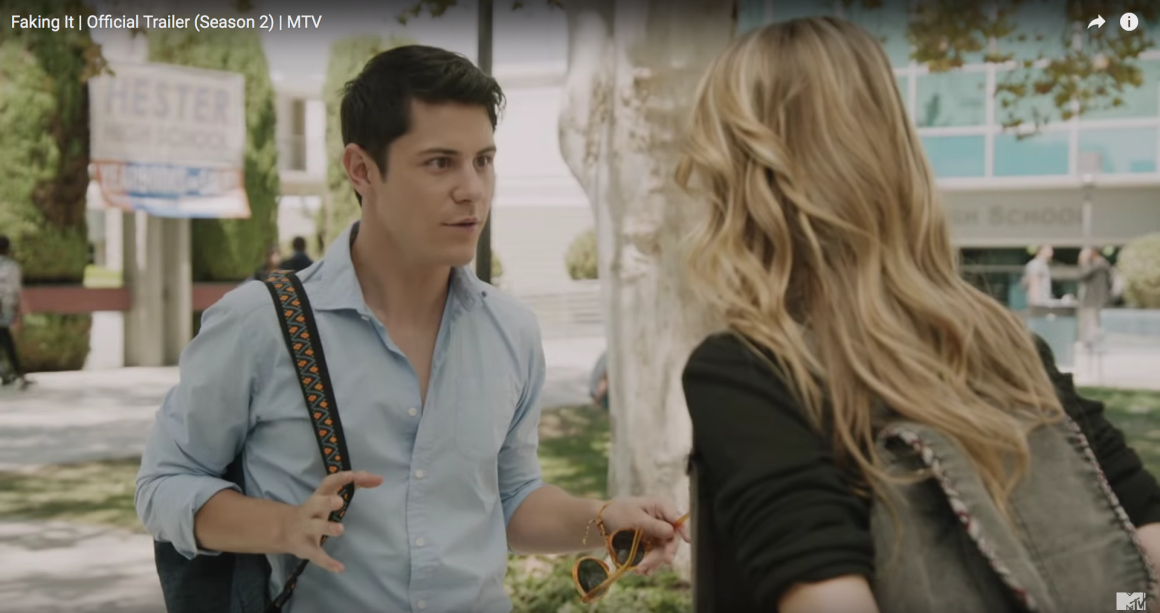 ---

This screenshot features characters from MTV's "Faking It" standing in the Campus Center Mall in front of the Hayden Memorial Library. "Faking It" frequently films at the Citrus College campus. .)

(Photo: YouTube Screenshot from MTV'S Faking It)
In addition to classrooms, professors and homework, students at Citrus College can find Actors such as Tom Hanks, Emma Watson and the cast of Faking It.
Last month, Fine Brothers Entertainment, creators of the React series on YouTube, chose this campus to film their first movie.
On any given day, students have an opportunity to see a celebrity, because Citrus is constantly used as a popular film location.
Out of all rentals, including sports games, performances at the Haugh, summer camps and conferences on campus, about 40 percent of rental requests are filming, said Facility Rentals Supervisor Judy Rojas.
Rojas said Citrus makes $100 to $600 an hour depending on the location when production companies come on campus to film for movies, TV shows and commercials.
"It's a good source of income for us," Rojas said about the money which goes into a capital outlay fund for emergency repairs around campus.
Citrus is chosen as a popular filming location because it lies inside the Hollywood Studio Zone, also known as the Thirty Mile Zone.
The TMZ, not to be confused with the celebrity website, starts at the intersection of Beverly Boulevard and North La Cienega Boulevard in Hollywood and extends in a circle with a 30-mile radius, according to the California Film Commission.
Within this zone, filming is less expensive for studios. If the studios want to film outside of the zone they are responsible for some compensations, including transportation and meals for the workers on set, Studio Labor and the Origins of Hollywood's Thirty-Mile Zone, or TMZ explains.
This zone was set up as an agreement between the International Alliance of Theatrical Stage Employees and the Alliance of Motion Picture and Television Producers.
The MTV show "Faking It" chose Citrus from a number of possible locations within the zone and has filmed on campus multiple times.
The "Faking It" cast and crew originally filmed the pilot for the show at another school, then decided on filming at Citrus.
"They weren't as production friendly and the school wasn't as pretty and green," one writer Carrie Rosen said in an email. "Since the whole premise of Faking it is that Hester is an aspirational school, we wanted it to look aspirational too, and Citrus totally fit the bill!"
---
---