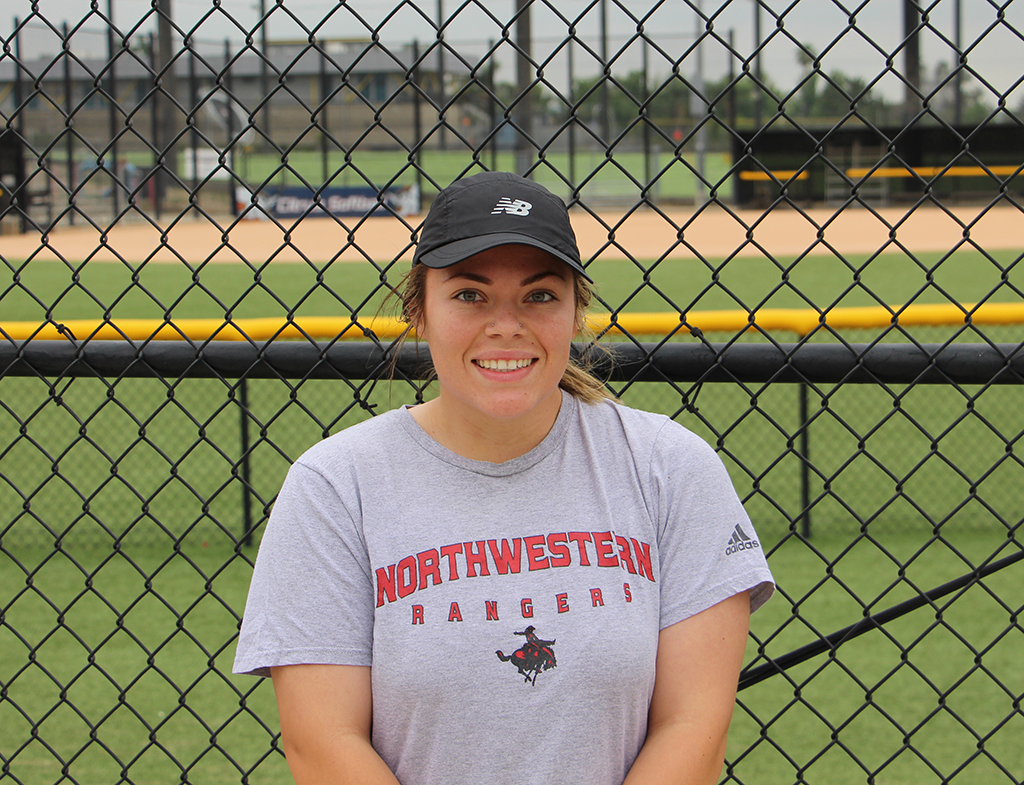 ---

Sophomore infielder Autumn Bartholomy stands outside of her home field the on Monday, May 16, at Citrus College. She appeared in 82 games over two seasons for Citrus, with a .307 batting average and 3.79 ERA. (John Michaelides/Clarion)
Autumn Bartholomy is driven both on and off the softball field.
Her personality makes it easy to understand why the 20-year-old sophomore infielder at Citrus College is loved by her friends and family.
"She can be very down to earth and understanding," sophomore teammate Kali Smith said. "But then she can be crazy and fun and say awkward things that will make everyone laugh."
Bartholomy's easy-going personality complements her leadership and competitive nature on the softball field. She credited her parents for constantly pushing her to follow her dreams.
"My dad and my mom always raised me to be generous and kind to everyone and to always go for what I want," Bartholomy said.
Bartholomy is the youngest in her family and has two older brothers, Damien, 30 and Devin, 22. She is close to both her brothers, but being a couple years apart with Devin, Bartholomy looked up to him growing up.
"She always knows how to cheer the family up and make us laugh," Devin Bartholomy said. "Growing up with her has been amazing, especially us being so close in age."
Bartholomy said her brother taught her a lot and deserves credit for who she is as a person. Family is important to Bartholomy, because it was there during the roughest time in her life.
During her sophomore year at Pomona Catholic High School, Bartholomy was hit in the face by a ball in a game and has dealt with post-traumatic anxiety as a result. A few months later, her uncle died unexpectedly of a heart attack.
"He was like another father to me," Bartholomy said. "Me and him were really close."
The death of her uncle and her brother Devin's diagnosis of multiple sclerosis in 2011, were eye-openers for her.
"You only get a certain amount of time with people on earth," Bartholomy said. "I am a believer that you have to go through things."
Bartholomy, who has played softball since she was 8, said softball is her escape place from the stress in her life. Citrus head coach Jackie Boxley helped her fall in love with the game.
"She's your coach, but she's also your friend," Bartholomy said.
Boxley notes how her family has always been supportive of her softball career and attributes Bartholomy's success on the field to her upbringing.
"Autumn is a good student, a great teammate," Boxley said. "She is funny and a person that others want to be around."
Boxley provided a family environment and Bartholomy said her teammates have become sisters to her.
With only Smith and Bartholomy returning from the 2015 team, a team that went 32-11 record, including a conference-best 18-3 record, Bartholomy now found herself a leader for the young 2016 team.
Bartholomy was impressed with how well the team built chemistry this season.
"We had a whole new team," she said. "Meeting all these girls…they are all so outgoing and supportive. It was really easy to get along."
Freshman teammate Jade Nua said being a first-year player, she did not expect to have a connection with the sophomores.
"I expected they'd probably hate me, 'cause I'm the young one," Nua said. "But they were really accepting, especially Autumn. She actually came up and talked to me."
After a slow start to the season as the players learned to play alongside each other, Citrus won eight of its final 11 games, just falling short of a playoff berth on the final day of the season. Bartholomy appeared in all 40 games in 2016 and had a .260 batting average, 24 RBIs and two home runs. She also pitched in 18 games, finishing with a 5-9 record and a 4.05 ERA. She appeared in 82 games over two seasons for the Owls.
"She was a leader that her teammates looked up to in so many ways, not just softball," Boxley said. "I'm going to miss Autumn, but she is going to be a success in no matter what she does."
The next stage of Bartholomy's life is sure to be a change for her. Bartholomy has been talking with the softball coach at Carson-Newman University, a Division II school in Jefferson City, Tennessee.
Although nothing is set in stone, Bartholomy said she is nervous, because she has been a homebody and had a supportive family. She admitted that her mother has tried convincing her to stay nearby at Azusa Pacific University, where she said she has already been accepted, while her father has seen the positive that Bartholomy has already completed two years at Citrus, so she is halfway through her schooling.
"I think it'd be great to just go out and become dependent on myself," Bartholomy said. "They've always been there."
Bartholomy said her dream is to go into forensic psychology. With her father being a parole agent, she said she grew up being interested in the criminal justice programs. She said she enjoyed her time at Citrus but is ready to follow her dreams.
Aside from working in criminal justice, Bartholomy's dream is to start a family and "be as great of a parent as my parents were to me."
As Bartholomy prepares to make important life choices over the next few months, she is ready to make her family and the game she loves proud.
"My belief with softball is you will enjoy the game if you have that support behind you," she said.
---
---