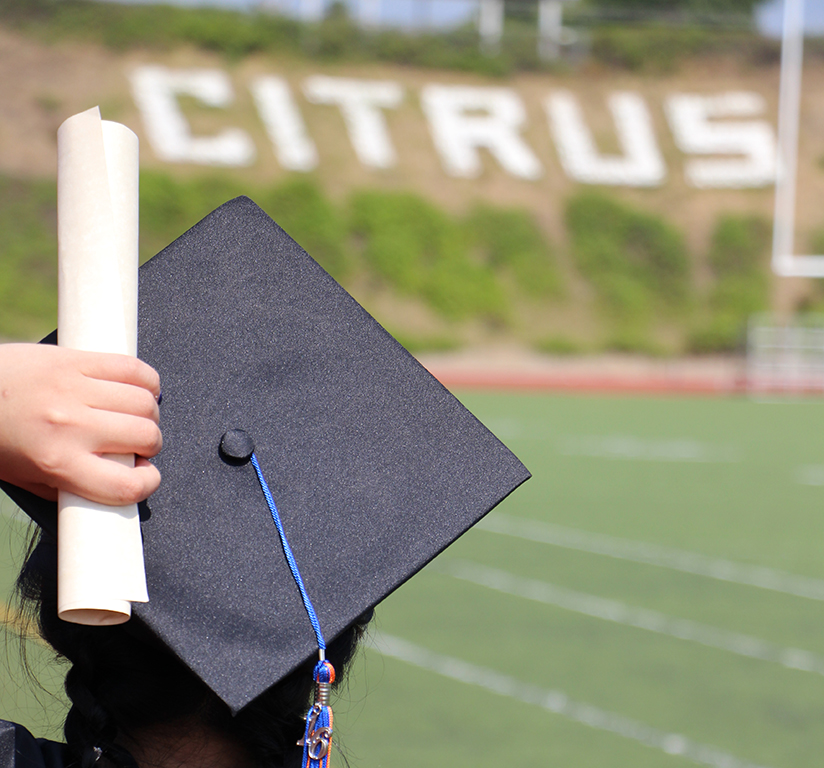 ---
The graduating class of Citrus College in 1917 was both the first and smallest. Four students out of 27 completed their studies at Citrus just two years after it opened.
Today, the spring 2016 commencement marks the 100th graduating class of Citrus where 3,156 total degrees will be awarded to 1,425 students at 9 a.m. June 11 in the Owl Stadium.
Citrus' history said Citrus opened in 1915 with 27 students, six faculty members and a curriculum focused on "advanced college preparatory studies."
Citrus now offers associate degrees, associate degrees for transfer and career and technical certificates in over 100 programs and areas of study. Today, of the 1,425 students graduating, 680 will receive multiple degrees.
Superintendent/President Geraldine M. Perri said she feels it seems every week there is recognition of students who are excelling.
"They're all doing something phenomenal," she said.
Perri pointed out several accolades and accomplishments of Citrus students in the last year. Some of those included Hispanic student completion and associate degree award recognition.
She said Citrus was ranked 12th among the nation's community colleges for number of degrees awarded to Hispanic students by 1,655 community colleges in the use by "The Hispanic Outlook in Higher Education."
Of this graduating class over half  are Hispanic students receiving degrees.
Perri also pointed out Citrus was recognized nationally by "Community College Week"  as one the the "Top Producers" of associate degrees in the United States.
2016 marks Perri's eighth year as Superintendent/President at Citrus. She said over eight years she has seen a major commitment from faculty, students and staff coming together to be a college of completion.
"I've seen a real dedication on the part of faculty and staff to help students get through," Perri said. "From within the classroom and outside of the classroom…It's a real family effort of everyone trying to do their part to see students succeed at Citrus College."
Lopez said she was nervous when she arrived at Citrus but the guidance she received from her golf coach helped her a lot and steered her in the right direction.
Director of the Citrus College Foundation Christina Garcia said she congratulates the 100th graduating class of Citrus.
"Achieving this major educational milestone is a great success and your education is something that once you have no one can ever take away," she said in an email.
The Foundation, a non-profit organization that manages fundraising, community relations and alumni relations, works closely with students after they complete their education at Citrus.
"Statistically and anecdotally, Citrus College alumni do really well and those of us who work at the college through year after year of graduating students could not be more thrilled," Garcia said.
As Lopez completes her education at Citrus even she is looking forward to the future.
"It's a relief to know that I'm closing this chapter of my life and starting a new one," she said.
Perri said she wanted to commend and congratulate the students of the 100th graduating class for meeting their educational goal.
"I encourage them to continue on this path to success and meet the next milestone in their educational journey," she said. "For those who are still working on their degree I look forward to congratulating them in the future as they cross the stage at commencement."
---
---