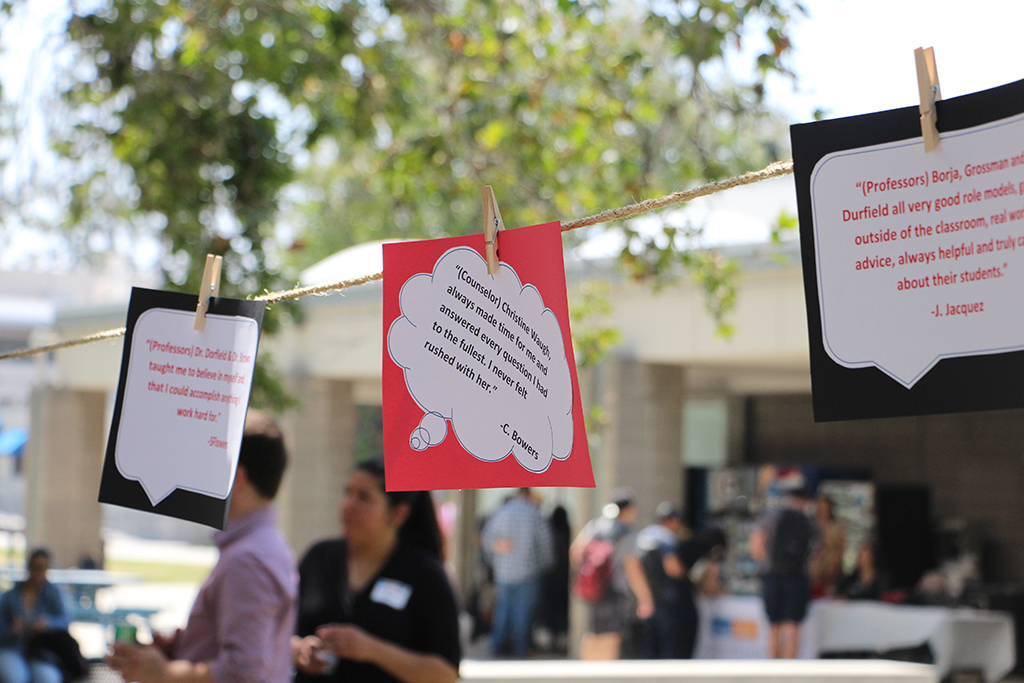 ---
Surrounding the seating area was a line of quotes sent in from transferring students giving credit to influential faculty, staff or friends who have influenced their lives on at the Transfer Achievement Reception June 2 in the Campus Center Mall.
The road to success often begins at a community college but does not end there.
Citrus College sent their transfer students on to their next steps with a happy farewell at the Transfer Achievement Reception on June 2 in the Campus Center Mall. Students attending received achievement awards for their completion as well as raffle prizes from the Transfer Center.
Transfer Center Coordinator Natalie Paredes, who spearheaded the event, put the size of an average transfer class into perspective.
"As a community college we typically have a roughly a thousand students who transfer every year," she said. "You represent that transfer class of 2016 and we are so happy you found time in your schedule to be here for us."
Citrus alumni were invited to share their transfer experiences and success. Zahra Shah, an alumna who graduated with four degrees, left students with advice on succeeding as they move on.
"The university setting is a treasure trove of opportunities," she said as she encouraged students to take advantage of what they can offer.
"Like (Shah) said, (Citrus) is a stepping stone for our futures," said Sociology major Lori Contrares. "It's nice to know that not just me but everyone else is celebrating their successes."
Contrares said she thinks it is nice to know the transfer students are being acknowledged for their work. She will be transferring from Citrus to University of California Riverside.
Citrus' spring 2016 commencement will start at 9:00 a.m. June 11 at the Stadium. No reservations are necessary to attend.
---
---