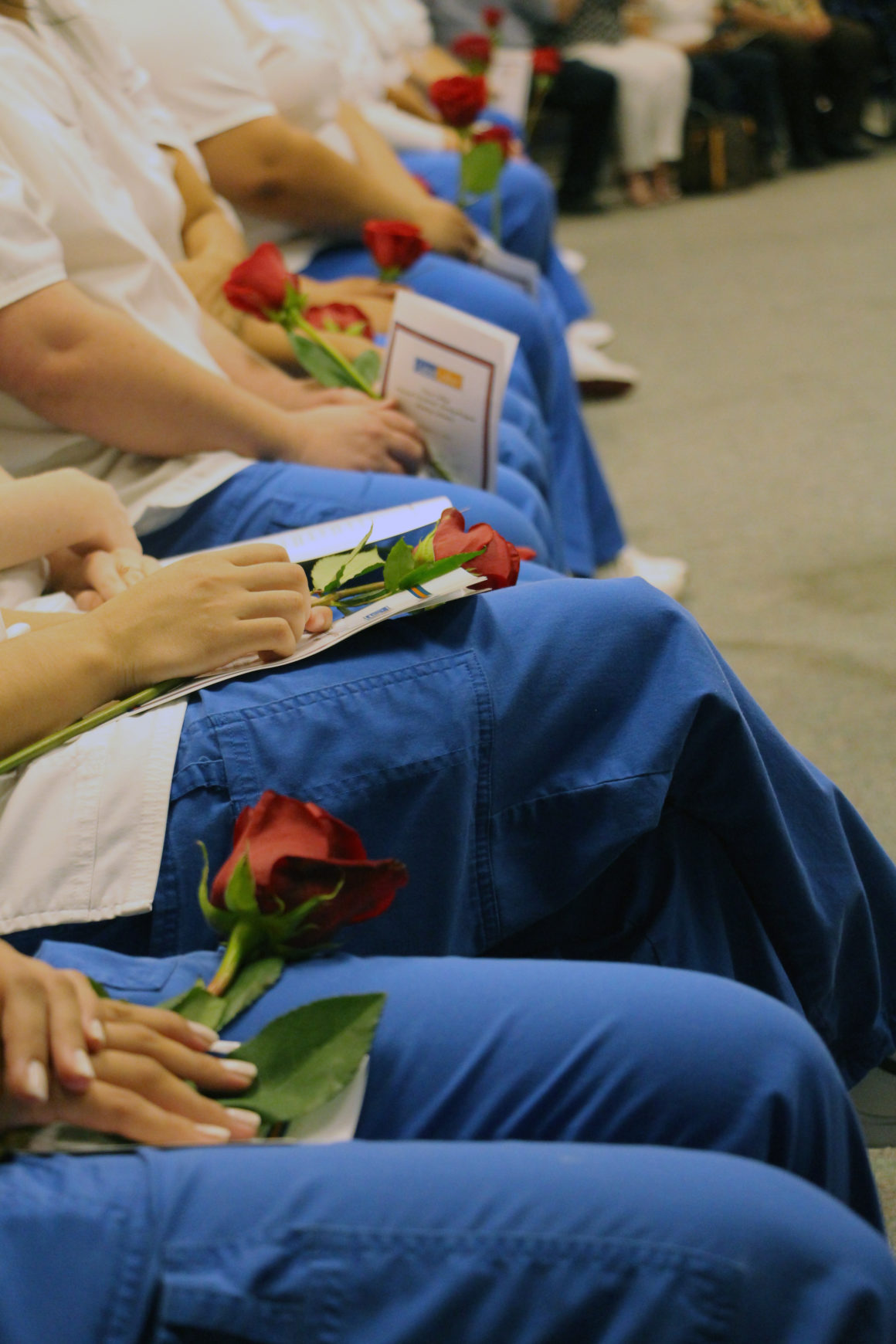 ---
Emma Collins, a mother of five, decided to attend Citrus College to pursue her lifelong dream of becoming a nurse last year after working to support her family for about 30 years.
Collins was one of 19 students to receive their nursing pins on Aug. 25, finally accomplishing that dream.
The pins represent the nursing students' new titles as licensed vocational nurses.
When she was nine years old, Collins knew she wanted to work in the medical field. As a teenager she got her first taste by getting a job as a Spanish interpreter for doctors in the emergency room.
"My life took a different course. Instead of going to college directly after high school, I became a mother," Collins said.
As the mother of five children whose ages now range from 18-27, she had to work, putting her hopes of becoming a nurse on the back burner.
Nursing Education professor Julie Wong said Collins was one of the students that held the class together.
"Students starting the program after age 35 can be in a scary position," Wong said, "because they have to distance themselves from their family in order to do something for themselves and better their family."
When Collins turned 45, her husband told her to quit her job at Master Halco, a fence manufacturing company in Corona, and start going to school.
"If you're not in the academic swim for a long time, then you think that maybe you can't swim as fast as the rest of them," her aunt and god mother Rebecca Butler said. "But Emma has had exceptional grades."
The day of their pinning, Collins received the award in recognition of professional academic and clinical excellence.
Coming to Citrus, the biggest obstacle was her fear. She was afraid that without her income, the family would not be able to keep afloat.
"My husband said, 'We will be ok.' I trusted him," Collins said. "He allowed me to live my dream."
She took a leap of faith and started off her year on the wrong foot by failing her second exam.
Though Collins was shaken, her family was supportive of her going to school. They pushed her and asked what needed to be done to help Collins get through the program.
There were times when Collins took one class a semester because she was busy with work, slowly working towards her goal.
She was raising a family, buying a home, caring for her husband, and taking care of her late incapacitated mother full time.
The past year in the nursing program has been a roller coaster, with tears of joy and sadness and having to live off of granola bars and coffee, Collins said.
In spite of difficulty, her patients have positively influenced her.
Collins and fellow licensed vocational nurse Rebecca Búcaro, took care of a patient who was taken to the ER at the Foothill Presbyterian Hospital in Glendora.
Though the patient was curious to know about who the nurses were and what school they were from, at the time Collins did not think anything of it.
She did not expect to receive a handwritten note from the patient expressing their thanks.
"It was invigorating to see the excitement and smiles on their faces while they attended the patients," the letter read. "I myself am a 75 year old retired LVN that graduated from Mt. Sac and seeing the manner in which they perform their duties brought back many memories and a smile to my face."
Collins said she is going to complete her general education at Citrus and then wants to either get her associate's degree or transfer to get her Bachelors of Science in nursing. Her ultimate goal is to become a nurse practitioner.
Collins is just one of 19 who will go on to live out their careers as licensed vocational nurses. She, along with other LVNs, are planning to continue their path in education to becoming registered nurses.
---
---