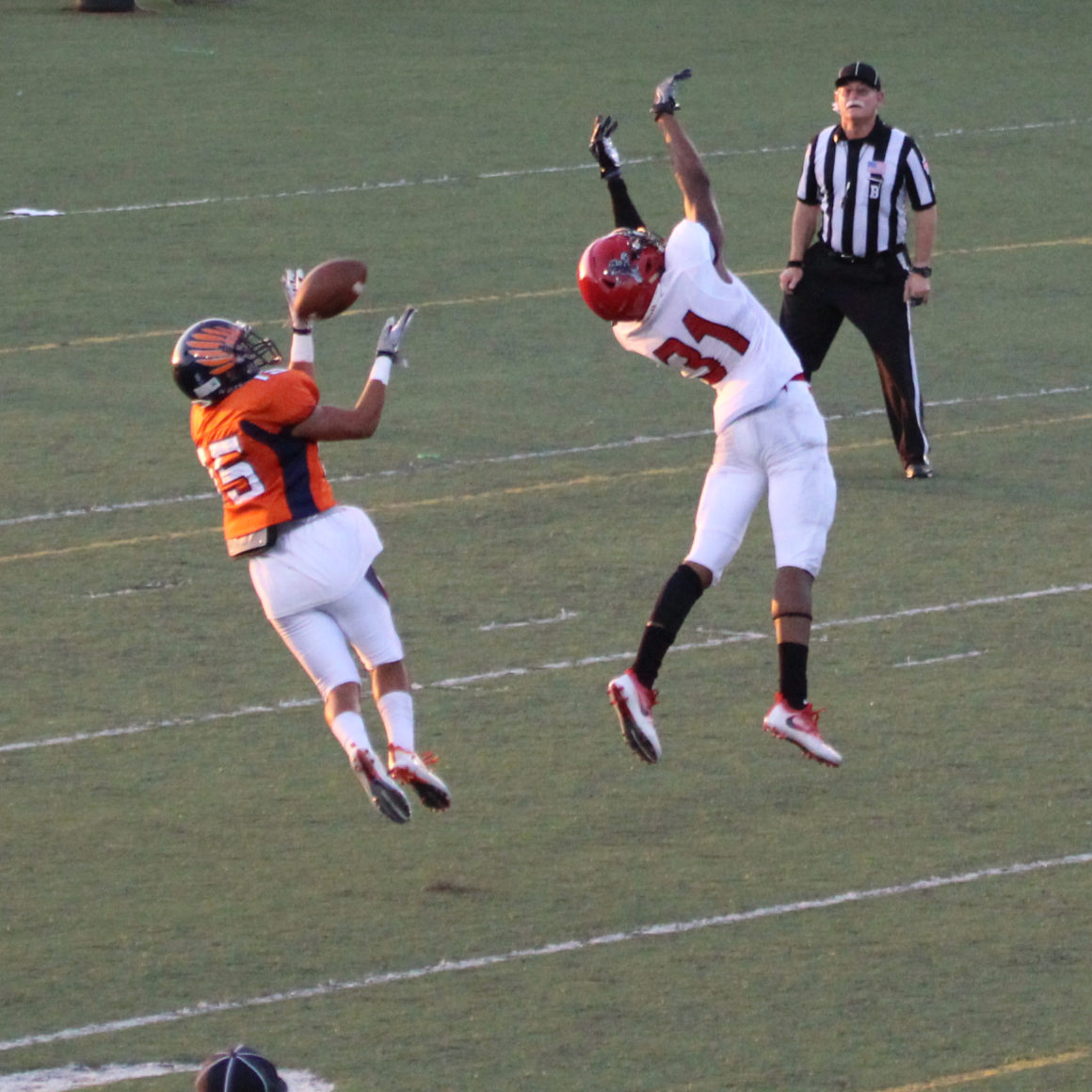 ---
With five minutes left in the first game of the season, Citrus College converted a field goal to give the Owls a narrow five-point lead over the Chaffey College Panthers.
On the next play, Panthers' sophomore kick returner Ryan Kinard took the ensuing kickoff back 99 yards to give the visitors their first lead since the first half, erasing the work Citrus put in holding a lead. After a two-point conversion, Chaffey led by three with 4:46 to play.
The sequence was reminiscent of a game  last season when Citrus lost in the final minutes to Golden West on a game-winning punt return for a touchdown. The 2016 Owls answered back.
With help from a roughing the passer penalty against Chaffey on 4th down, sophomore quarterback Brian Meyette orchestrated a 13-play drive that set up a 26-yard field with three seconds to play in regulation, sending the game to overtime.
In overtime, Citrus sophomore running back Lawon Carney found the end zone on a 7-yard run and the defense stopped Chaffey on 4th and 14 to secure a 48-41 win.
"We had our ups and downs, but we fought through adversity and we came out with the win," sophomore wide receiver Gino Mastandrea said.
After a scoreless first quarter, Chaffey got on the board first when sophomore linebacker Jedadiah Lulu jumped a Meyette pass for a 15-yard interception for touchdown with 9:56 to go in the second half.
Chaffey had an opportunity to extend their lead, but freshman defensive back Tamas Stewart muffed a punt and Citrus recovered.
The Owls capitalized on the turnover with a 5-play drive that ended with 1-yard touchdown from Carney.
Citrus had a big first half from sophomore defensive back Carlos Delgado, who intercepted Chaffey sophomore quarterback Jordan Velarde three times.
"We didn't execute on offense, came out flat and they got us," Velarde said.
Early in the third quarter, Meyette extended the lead with a 42-yard scramble for a touchdown. Chaffey responded less than a minute later with a 64-yard rushing touchdown from sophomore running back Robert Hampton, but Mastandrea quickly answered with a 97-yard kick return for touchdown to give Citrus a 28-13 lead with 10:11 to go in the third quarter.
Chaffey's running game kept the Panthers in the game. Hampton scored his second touchdown of the day and freshman running back Justin King scored on a 4-yard run, narrowing the deficit to two, 28-26. The Panthers ran for 307 yards as a team.
Meyette and Velarde traded touchdown passes early in the fourth quarter before the game went to overtime.
Chaffey entered the game ranked No. 14 in the state. Citrus head coach Ron Ponciano said it was a big win for the Owls.
"The offense did what we expected to do, except one play," Ponciano said, referring to the pick-six. "Defensively, we did good. They came back in overtime."
Meyette finished 22-38 for 301 yards, with one touchdown and one interception, and had the 42-yard rushing touchdown.
Mastandrea finished with a game-high seven catches and 105 yards to go along with his 97-yard kick return for a touchdown.
"All the hard work we put in the summer, we expect to be on the winning side," Delgado said.
Up next, Citrus (1-0) faces Santa Ana (0-1) at 6 p.m. Sept. 10 at Santa Ana College.
---
---