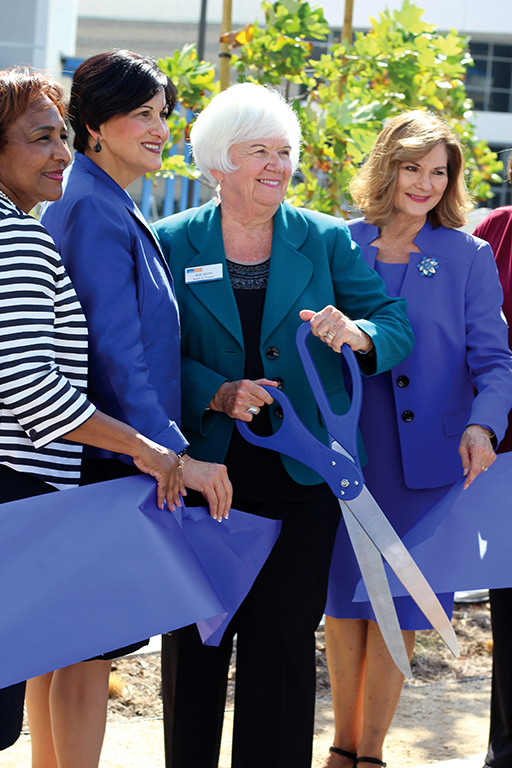 ---
After twelve years of collaboration and $121 million in bonds, the new Visual Arts Building has been completed. The dedication ceremony on Sept. 6 included the Citrus College board of trustees, administration, staff, faculty and community right outside of the building.
The VA building is the final construction project of the Measure G facilities construction bond that was voted on back 2004.  The VA building cost about $19.2 million.
"While we did have to jump through a few hoops to secure the financing for this project I can confidently say it was well worth the wait," said Vice President of Financial and Administrative Services Claudette Dain at the ceremony. "Today, two years after I got started on this project, I know that many of our faculty and staff are thrilled to call this new building home."
This building is replacing the old art building that Dean of Visual and Performing Arts Bob Slack said desperately needed the upgrade. "The other one was built in the sixties and was completely outdated," Slack said.
"So the faculty spent a  lot of time looking at other facilities and what they hope to achieve with this building…It's got tremendous capacity, it brings the performing arts and the visual arts closer together."
As stated in the dedication pamphlet, the previous building was only one story with only 12,000 square feet on the new building's 36,938 square feet.
Each floor is dedicated to a specific kind of art. Ceramics and Art History classes are located on the first floor, Photography, the newspaper and computer art classes are located on the second floor and drawing and painting resides on the third floor.
Construction for this building was finished in 23 months and was considered right on schedule.
"It's been built to really start a whole new generation of our students on the right path in the industry we represent, arts and media," Slack said. "We are in Los Angeles. It's a huge market and how we collaborate in the businesses how we work together how we give the students that opportunity, it's challenging."
Slack said departments and classes are still in the process of moving in and are figuring out some minor details before being completely settled.
"It's daunting but it's good," he said on the building being open.
"We can really collaborate, do so much more and can offer so many more opportunities for students."
---
---