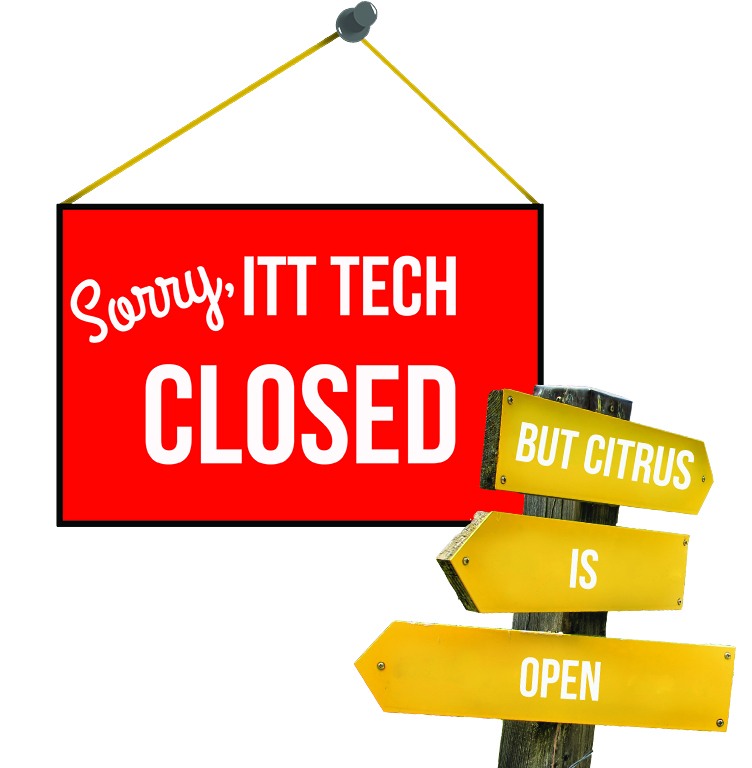 ---
ITT Technical Institute students found locked doors when the vocational school shut down all campuses due to federal sanctions from the U.S. Department of Education on Sept. 6.
The shutdown has left students, such as those of the San Dimas campus, wondering where they will go with their earned credits, partial degrees and debt.
Citrus College announced its plan to help students of the closed ITT Technical Institute campuses in the area in a press release on Sept. 16.
"To assist recently displaced ITT Technical Institute students, Citrus College will hold a special information session for those students to learn about the programs and opportunities available at the college," Citrus said in a press release.
The session will take place from 1 p.m. to 3 p.m. on Sept. 22 in room 281 in the Student Services building.
The press release said representatives from academic advising, financial aid and admissions departments will be present to answer questions and guide students and that students still have time to enroll for the winter semester.
It is too late to register for the current classes, but ITT students can register for late-start classes by Oct. 17, Director of Financial Aid Carol Thomas said.
Former ITT students can find a PDF from the Department of Education on the Citrus website under financial aid.
The PDF contains information on what to do and who to contact to situate their finances and a list of schools that are offering comparable programs to the ones they were apart of at ITT Technical Institute.
"With the sudden announcement, we want to make sure ITT students are aware of our offerings here at the college and how our staff is ready to assist them," Vice President of Student Services Martha McDonald said in a press release.
Some community colleges in the area responded to the shutdown by offering help to the displaced students for fall despite having already began the semester.
An article in the Pasadena Star-News on Sept. 9 reported that Mt. San Antonio College, whose semester began Aug. 29, began developing a plan to get ITT students who enrolled caught up.
Rio Hondo College offered help to students via Twitter on Sept. 9, inviting them to check out the school as an option.
A press release from ITT Technical Institute on Sept. 6 announcing the closure of more than 130 campuses, because of the U.S. Department of Education, said their actions were unfair.
ITT students were left scrambling due to the institution's changed Heightened Cash Monitoring Level.
When the school was on Level 1, they received funds to cover the money they loaned to students on an Advance Payment Method. On Level 2, the funds were cut off, leaving them no choice but to shut down, an ITT Tech press release said..
U.S. Secretary of Education, John B. King Jr. addressed ITT students and the closure they were experiencing the day of the announcement, sympathizing with their situation and summarizing the accrediting issues the company was facing.
"In recent years, ITT has increasingly been the subject of numerous state and federal investigations. In August, ITT's accreditor, the Accrediting Council for Independent Colleges and Schools (ACICS) determined that ITT 'is not in compliance, and is unlikely to become in compliance with (ACICS) Accreditation Criteria,'" King Jr. said.
The California Bureau for Private Postsecondary Education has hosted meetings near closed campuses to assist displaced students.
The next and closest meeting will be held in two sessions at 10 a.m. and 5 p.m. on Sept. 21 at the San Bernardino Community College District Professional Development Center.
If the ITT students are still struggling by the winter, then Citrus will continue to offer resources next semester.
The hardest part for the administration is getting the information out. To help, they ask that students share that Citrus is reaching out to ITT students.
---
---