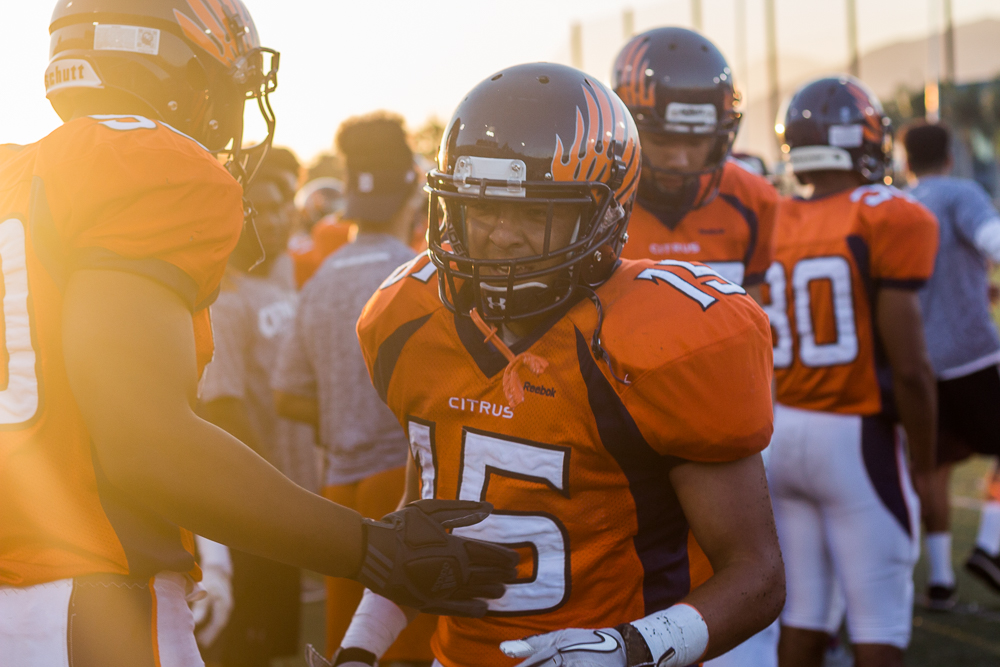 ---
The Citrus College Fighting Owls head into their bye week with a 3-0 record, their best start to a season in three years.
With an offense averaging 43 points per game and a defense that has forced 11 turnovers, the Owls have found early success as the team looks to improve.
"We've stayed healthy and that's the biggest part," head coach Ron Ponciano said referring to the past couple injury-riddled seasons.
The defense, despite losing key starters from last year, has made its mark by creating turnovers.
Led by sophomore defensive back Carlos Delgado's team-leading four interceptions, the team has averaged almost four takeaways per game.
"Obviously, if you can win the turnover war, you are going to end up winning," Ponciano said.
The offense, led by sophomore quarterback Brian Meyette, has benefited from the defense's takeaways.
"If the defense can continue getting takeaways and get stops, then it's always going to put you in a position to score points," Ponciano said.
Through three games, Meyette has completed 58 percent of his passes for 660 yards, six touchdowns with only two interceptions.
Ponciano said Meyette has reduced his turnovers from last season which has resulted in the fast start this season.
Citrus has also averaged 169 rushing yards per game as a team.
Freshman running back Devin Floyd leads the Owls' running backs with 228 rushing yards and three touchdowns.
Sophomore wide receiver Gino Mastandrea has continued to make plays for the Owls with one touchdown each game, including a 97-yard kick return in the season opener. Mastandrea has a team-high 19 receptions for 240 yards.
"He's clearly an outstanding football player, but everyone that knows him appreciates him as a person and friend," Ponciano said. "He's just a great example for everyone on our football team and he's a lot of fun to watch."
After a slow start in Citrus' 33-9 victory over San Bernardino Sept. 17, Ponciano said the Owls did not have a good week of practice heading into the game. Citrus went into the half holding on to a narrow 10-9 lead.
The Owls started the second half with a drive that concluded with a 7-yard touchdown pass from Meyette to Mastandrea that finally put Citrus in control for the rest of the game.
"Hopefully the kids have learned that you play how you practice," Ponciano said. "It always carries over."
With two games left before conference play begins, Citrus will be in action next when it hosts Southwestern College at 6 p.m. Oct. 1 at Citrus Stadium.
"If we can put in a good week and a half of solid practices, then we're gonna have a great shot at getting Southwestern," Ponciano said. "That is an exceptional football team."
---
---