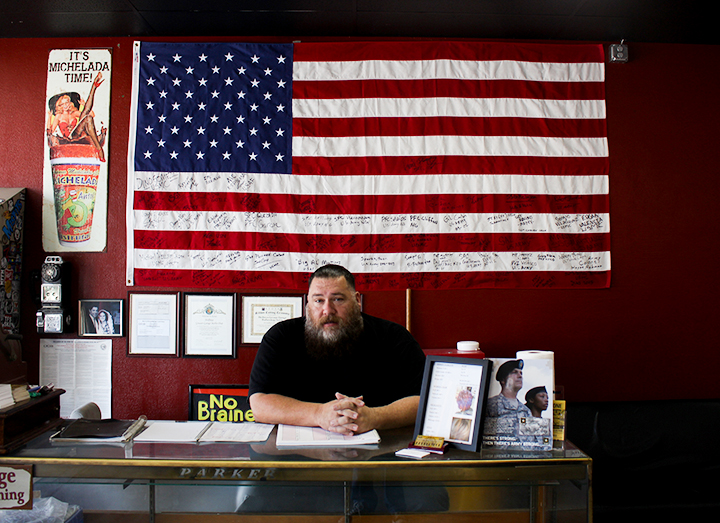 ---
Now that extension of Citrus Avenue is officially open, the next destination for students should be downtown Azusa, The closest stop to the Azusa Pacific University/ Citrus College Gold Line station.
Although this stop has something to offer all age groups, there are many restaurants and bars that make for a good time if you're 21 or older.
The downtown Azusa stop is only a three-minute ride from the APU/Citrus station, making food, bars and shopping just a quick ride away.
Bars such as Maria's Bar and the Congregation Ale House make for a perfect rendezvous for students after a long day at school whether you attend Citrus or APU.
Hellboys Greaser Garage Barbershop, a two-minute walk from the stop, is a vintage themed barbershop owned by Mike Kane and his wife April.
Antiques and memorabilia hung up on the walls give Hellboys a real raw greaser feel. Kane and his employees do a terrific job of giving keeping their shop authentic and prove it to with either with a great haircut or great hospitality.
For patrons over 21, Hellboys offers a free beer with every haircut. Students receive a $5 discount with their student ID.
Downtown Azusa isn't only limited to bar-hopping though.
The recently opened and popular study spot Mantra Coffee Co. is also a five to eight-minute walk from the Azusa Downtown stop.
This coffee shop opened in December 2015 and has quickly become a frequent study spot for all students in the area. It features local artist work from sculptures, paintings and open mic nights.
For late night coffee drinkers and late night study sessions Mantra is open till 1 a.m. everyday. The coffee shop also provides free WiFi and a pay it forward option for friends.
Patrons can leave their friends name, phone number and $5 or more with a cashier. The cashier will write the name on their chalkboard and the lucky recipient will receive a text message letting them know they have a drink waiting for them.
Many restaurants such as Max's Mexican Cuisine have become well known not only for the Azusa citizens but is also frequented by citizens of surrounding cities.
Max's, along with delicious food, is another option for a night out. Expect to stay a little longer to enjoy the food and the very alluring decor that it provides, mainly the thousands of dollar bills hung up and drawn on by previous customers that have been collected throughout the years.
Max's has been open since 2008 and has well established its name in Azusa and now in Monrovia after the opening of their second store. A new location is set to open in San Dimas within the next year.
None of these restaurants are more than a five-minute walk from the stop making any one of them an easy destination to reach.
Though the scene is set for an older crowd, students of all ages are bound to find something to their liking in downtown Azusa.  Make this stop your next destination on the Gold Line.
---
---