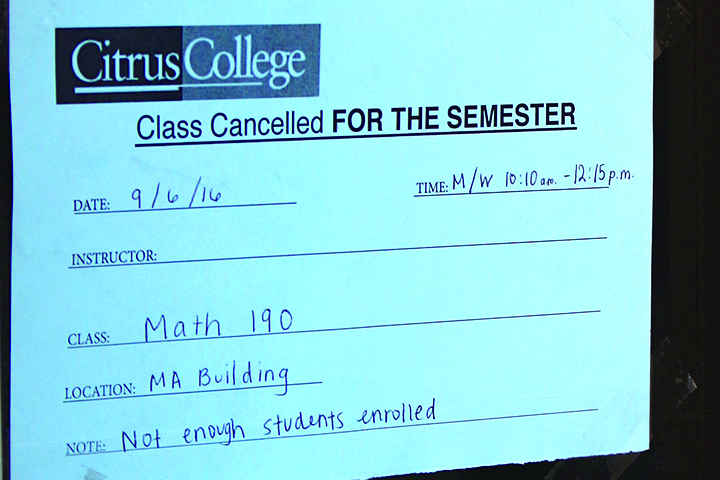 ---
By Sahara Barba and Stephen Im
More than 30 sections of classes were canceled this semester, the highest Citrus has seen in recent years.
While a majority of these class cancellations were of less desirable times and days, students were scrambling to find open sections to fulfill requirements or fill their schedules.
Citrus student Kassandra Lopez planned her schedule well in advance and was able to choose classes because of early with priority registration.
"Math 190 with Mr. Anderson was cut and that really affected my schedule," Lopez said via Facebook messenger. "I couldn't wait another semester because that would set me too far behind and most of the classes were filled."
It was hard for Lopez to rearrange her schedule and ultimately had to settle for a night class, she said.
To be financially responsible, classes at Citrus need to have a minimum amount of students to remain offered. For example, a class with a cap of 45 students would need to have at least 20 registered students to avoid cancellation.
Sam Lee, Dean of Language Arts and Enrollment Management, said he acknowledges that canceling classes at Citrus hurts students and their ability to finish their program in a timely matter.
"At Citrus we want to make sure every student has a class at the time and day they need it so they can keep their progress going, and graduate as soon as possible," Lee said.
While it seems a large number of class cancellations would be due to low enrollment, it is actually a matter of how high in demand a class is.
Lee believes there a multitude of contributing factors that lead to a lower demand in classes.
With a rise in class offerings at nearby community colleges, students  are not forced to choose a class that does not fit their schedule.
In the past, Citrus has been a haven for California State University and University of California students needing to fulfill classes that were over impacted on their respective campus. However, with more course offerings at CSU or UC campuses, their students no longer need to find courses for their degree at Citrus.
Another factor for low demand is the competition from other community colleges.
65 percent of current Citrus students live outside of the five-city districts of Azusa, Claremont, Duarte, Glendora and Monrovia, Lee said.
Lending to the notion that all the community colleges within the San Gabriel Valley region are competing for the same students.
After experiencing a Wingspan technical malfunction earlier this semester that rolled out a couple hundred students of their classes, Citrus' course offerings will need to be attractive to incoming students that want the primetime classes between 8:30 a.m. – 4:00 p.m.
Planning for the 2017-18 academic year is already under way. Planning this far ahead is required for deans in their respective divisions to not only focus on which classes to offer but also on determining where classes will take place.
Despite Citrus' established goal for meeting the students' needs in providing classes, this semester has not gone according to plan.
"There's a curious combination of canceling classes for low enrollment and turning students away who wanted to register for classes," Lee said.
When a class does not meet the minimum requirement, it is not typically canceled by the first day of a term.
"From a dean's point of view, you want to give that class every chance to get enough students. Lee said. "Often we'll let it go until the drop deadline."
A class that is canceled as late as two weeks into the semester leaves students in a precarious position to replace it with another class offering.
The responsibility for a student needing to find a new class should be shared with Citrus administration and faculty, but it's not an issue they are not used to dealing with.
Citrus needs to work on a better process for helping students such as helping them find a new class to replace their dropped one, Lee said.
Students whose classes were canceled  and still need units for the fall term still have an opportunity to register for 8-week, condensed courses, most of which are offered via Citrus' distance education platform.
---
---