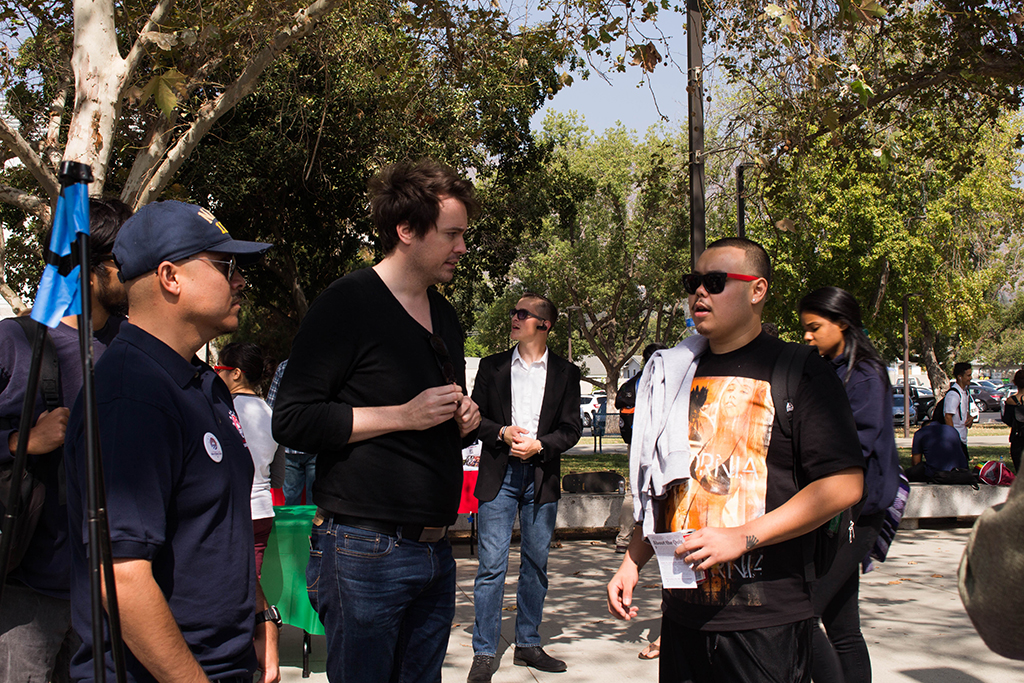 ---
When representatives from the Los Angeles County Democratic Party reached out to the Associated Students of Citrus College to table, ASCC decided to take it a step further.
Student Trustee Jennifer Chavez and Senator Andrew Di Giovanna co-authored a Proposition to expand the idea to the first political event of this kind, just in time for students to register to vote by Oct. 24.
"Jen came to me saying the Democrats wanted to table," Di Giovanna said. "In order for that to be fair and balanced I suggested inviting several parties, hence a 'party party.'"
Representatives from the Libertarian Party of Pasadena and the Libertarian Party of California, the LACDP, the East San Gabriel Valley Republican Center and the East San Gabriel Valley Republican Women Federated set up booths at ASCC's Party Party on Oct. 11 and Oct. 12 from 10 a.m. to 1 p.m. in the Campus Center Mall.
Student government set up some music and refreshments to hook students and generate political conversation. They also provided voter registration forms in case students were not yet registered or wished to switch parties after talking to representatives.
An event like this would be beneficial to students if there were more key groups giving out information, such as representatives from the LGBT community and Black Lives Matter, Alexis Troy, sociology major said.
Vice Chair of the Libertarians of Pasadena Joshua D. Glawson said it was awesome being able to connect with students this way. He offered students a brief political test to find out where they might lie on the political spectrum.
"Most people are "maybe" people," he said. "Today I found a lot of left leaning libertarians."
Although I have not been following this election, I found out that I actually sided more with Libertarian thought than Democrat, Andrew Mozzini, business major said.
Glawson said he admits the test is not in-depth but does give a small idea of where someone's preference might lay. Also present was Boomer Shannon, former California Director for the Gary Johnson 2016 campaign and current advisory board member at large for the Libertarian Party of California.
Representative of the ESGV Republican Women Federated Jerri Potras said Citrus provided a diverse group of students and said they were "engaged and supportive." Also present was a table for the East San Gabriel Valley Republican Center who mostly focuses on social outreach and events.
"It was nice talking to her because she said that she used to be a Democrat, then went to the Green party, then Republican," Troy said about Potras. "It was interesting talking to someone who has converted parties."
Across from the Republicans were the LACDP providing brief summaries on the propositions on the California ballots as well as information on the available candidates for the November election.
Registered Nursing student Anthony Ha circled the Campus Center Mall briefly chatting with each party about his political preference.
"It is great for students to expand their knowledge on these political parties," Ha said after taking the political preference test provided by the Libertarians. "Especially the way things in the country are going."
The event might not have enough information to convince undecided voters who to vote for but if there was a panel where speakers answer questions from students about the parties and propositions then they might, Troy said.
Ha found his preferences falling in the Centrist and Statist part of the spectrum. Ha is not registered but said he is leaning towards the Republican party.
As waves of students ebbed and flowed between classes Di Giovanna urged them to converse and snack.
There are 11 days left to register to vote in California in order to participate in the November 8 election. Students who missed Party Party can find registration forms in the Campus Center or can register online.
---
---