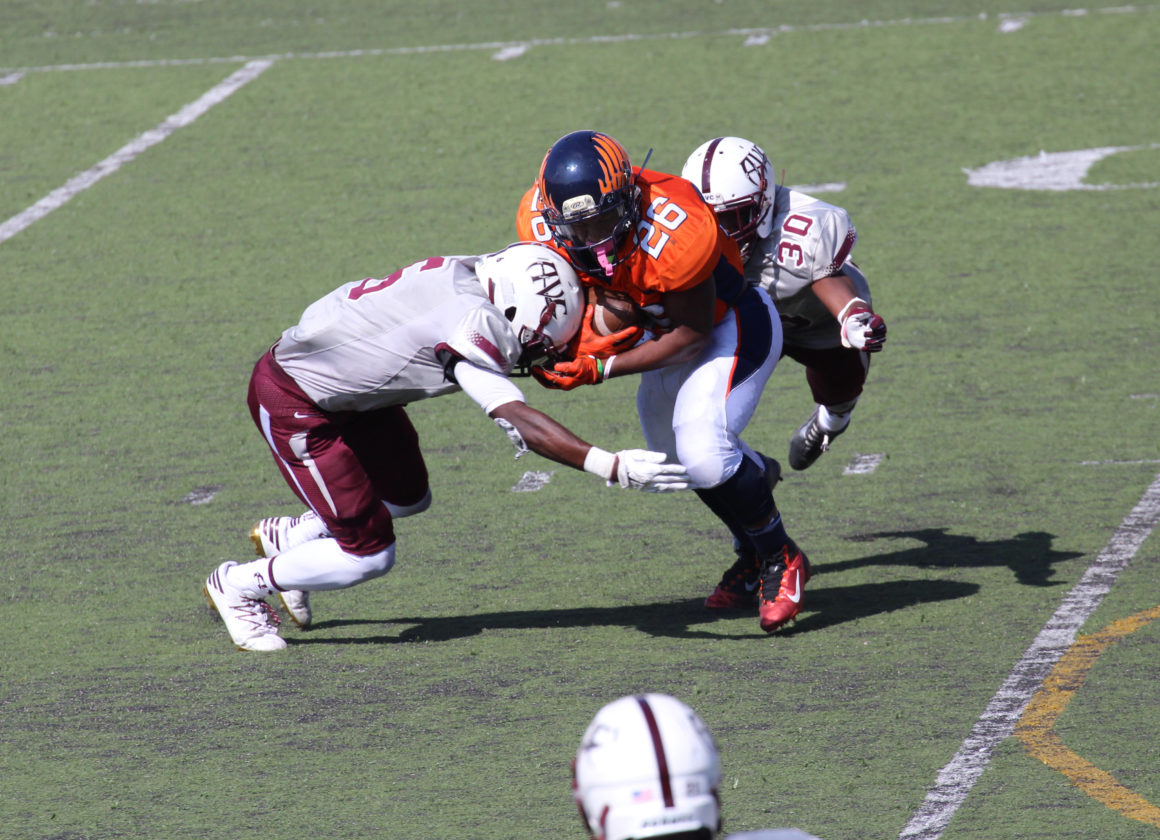 ---
With both teams coming in with identical records of 3-2 and each playing its first conference game, Citrus College and Antelope Valley College knew they needed big plays. Antelope Valley got them.
The Marauders defeated the Fighting Owls 38-30 in a game that was decided by a couple extra big plays for the visitors Oct. 15 at Citrus Stadium.
Two minutes into the game, Antelope Valley sophomore quarterback Blake Shepherd found freshman wide receiver Donte Ross deep downfield for a 70-yard touchdown.
After Antelope Valley sophomore running back Tre Coleman made the score 14-0 on a short touchdown run, Citrus had an opportunity to score after a juggling catch by freshman wide receiver Manuel Lua went for 50 yards, but a fumble at the 2-yard line by sophomore wide receiver Andre Long ended the promising drive.
Antelope Valley capitalized right away on the turnover with Shepherd hooking up with Ross again for a 76-yard touchdown.
The Owls found themselves in a 21-point hole just 12 minutes into the game.
"The coaches are always getting on me to make plays, because they know I have the capability of doing it," Ross said.
Citrus responded early in the second quarter with an 11-play, 68-yard drive that ended with a touchdown pass from sophomore quarterback Brian Meyette to freshman wide receiver Mackenzie Sternquist.
The Citrus defense forced a couple stops and the Owls tacked on a field goal to cut the deficit to 11 heading into the half.
Citrus continued chipping away at Antelope Valley's lead, going 76 yards in the first two minutes of the second half, ending with an 8-yard touchdown run from freshman running back Devin Floyd. Antelope Valley held on to a 21-17 lead.
Antelope Valley ended their quarter and a half drought with a nine-play, 81-yard drive and Shepherd found his favorite target Ross for their third touchdowns of the game.
The fourth quarter saw the Owls miss opportunities to take the lead after Floyd added his second touchdown on the ground.
Trailing 35-30 in the fourth and forcing Antelope Valley to punt, sophomore punter Jorge Bargas mishandled the snap and Citrus took over at Antelope Valley's 9-yard line. But a penalty pushed the Owls back and freshman kicker Carlos Benites' 30-yard field goal attempt was no good.
Sternquist said after the game that the turnovers and miscues hurt Citrus in their comeback attempt. Sternquist finished the game with eight receptions for 96 yards and two touchdowns.
After Antelope Valley added a field goal of their own, Citrus had one more chance, down 38-30 with 1:36 to go, but after driving downfield to the Marauders' 20-yard line, the visitors made the stop in the final seconds to secure the win.
"Just a lot of mistakes," Floyd said, who rushed for 139 yards and two touchdowns. "We beat ourselves, that's what I think. We definitely could of came out with a win, but that's just stuff we gotta go back in practice and fix up for next week."
Ross gave the Citrus defense trouble throughout the game, finishing with eight receptions for 240 yards and three touchdowns.
"I was prepared, I was ready," Ross said. "Super excited the whole week of practice and this game, I was just ready to do something, get the win for my team."
Antelope Valley came into the game averaging 193 passing yards per game, but got 475 yards through the air from Shepherd, to go along with four touchdown passes and no interceptions.
Sophomore wide receiver Carlon Smith Jr. had seven catches for 138 yards and one touchdown for Antelope Valley.
Meyette finished the game with 313 passing yards, two touchdowns and one interception.
Antelope Valley improves to 4-2, 1-0 in the conference. Citrus falls to 3-3, 0-1 in the conference.
Up next, the Owls will host L.A. Pierce College at 1 p.m. Oct. 22 at Citrus Stadium, looking to end their three-game slide after a 3-0 start to the season.
---
---