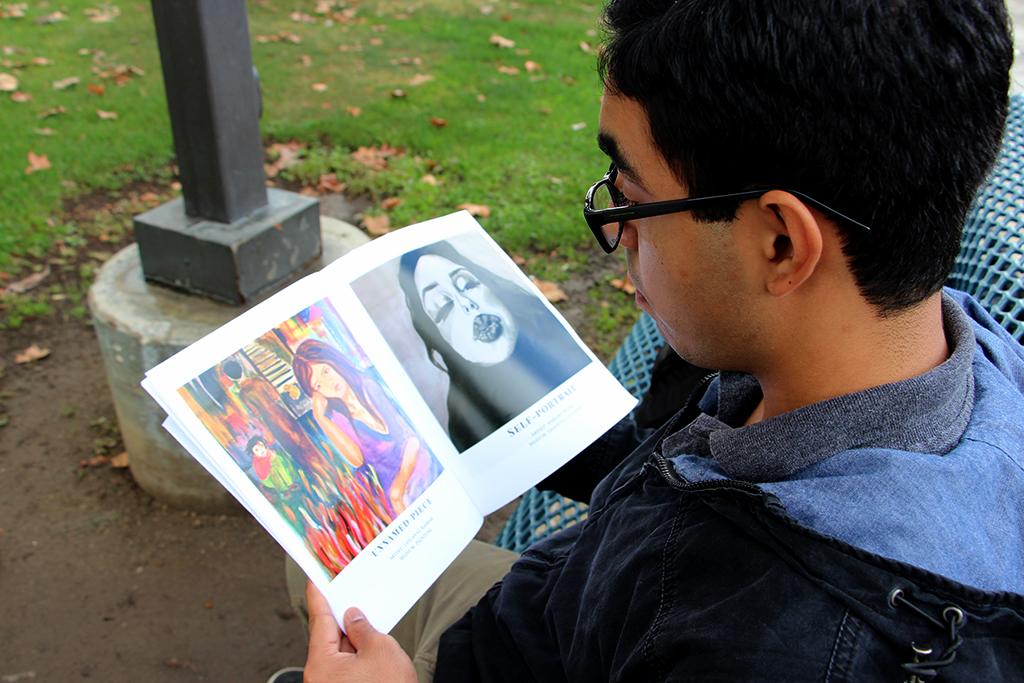 ---
Physics major Nestor Aquino and Citrus alumna Miranda Wheeler have given Citrus students the chance to have their work published on paper.
Aquino, founder of the Planetary Society in fall 2015, is also the founder of the student-created academic journal, Alis.
The name Alis comes from their former adviser, Brian Waddington, an honors transfer coordinator. His idea stemmed from the owl mascot and suggested Alis, the Latin word for "wings."
The types of works published in the journal range from scientific research, poetry, and short stories, to painting, drawing, printmaking, photography and sculpture.
Aquino approached Marianne Smith, director of the RACE to STEM program, to ask her to sponsor the production of the journal. The cost of the prints are about $500, he said.
RACE to STEM will continue to sponsor future Alis volumes until they can figure out a better solution, Aquino said.
The second volume of the academic journal will be made by Aquino and biological science major Angel Macias. Macias, whose work is printed in the first volume, will be filling in Wheeler's position.
Macias worked over 40 hours a week all semester to submit his best work. He imagines that other contributors put in as much time and effort as he did, he said in an email.
"It really puts my work into perspective and serves as a reminder how it applies to a bigger picture. It's really humbling," Macias said.
Alis gives students the opportunity to get their name and work published at an early stage in their careers.
"I decided that it was an opportunity that would help me grow as a person and broaden my perspective on academia," Alis contributor Justin Teng, political science major, said in an email.
Francisca Escobar, music/child development double major, submitted research on lupus to the first volume of Alis. Lupus, an autoimmune disorder, is an important issue in her family that she aims to increase awareness of.
By publishing their work, it can reach people beyond Citrus' campus.
"For me, I was excited about having the chance to kind of archive my work so that it isn't only accessible to me to share with immediate friends and family, but so that I can share a project that I was particularly proud of with a much broader network," Macias said.
Aquino said submitting work to Alis will not only benefit students by getting their work out into the world, but they can also put their contributions on their resumes.
For the next volume, Alis aims to improve. There will be a greater effort to promote through the English and fine arts departments to get a wider variety of submissions.
"In the first volume, there were no short story submissions, Aquino said." He said he hopes that this year there will be more.
"The printing quality could be better," Teng said. "Some of the photos' quality was hindered when it was put on the paper."
Escobar found out about Alis through an in-class announcement, and would like to see volume two promoted online more, she said.
The deadline for this semester's issue to submit work is Nov. 7. Students who have already had their work published in the first volume can also submit for volume two.
Submission details can be found at citrusalis.weebly.com.
Work submissions can be sent via email to citrusalis@gmail.com.
Students interested in submitting types of works not listed on the website are welcomed to email Aquino.
---
---