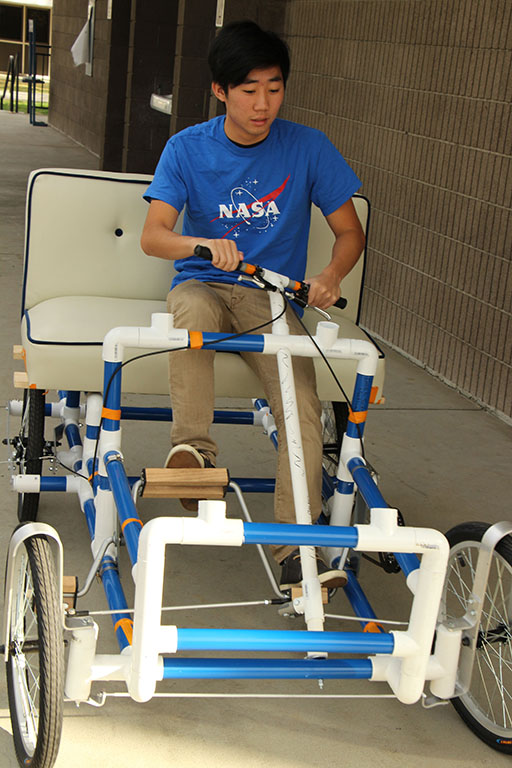 ---
The Research in Science and Engineering teams from Citrus College are in the early steps of preparation for a Student Launch Rocket challenge.
The Rocket Owls will be competing in the Student Launch competition and the Galactic Owls of RISE will be competing in the Human Exploration Rover challenge.
The competitions are separate but will be held in late March and early April 2017 in Huntsville, Alabama.
Collectively, the Rocket and the Galactic Owls are made up of 9 students who spend anywhere from 5 to 20 hours a week researching and designing their rocket and rover.
Five students are in the Rocket Owls and four are in the Galactic Owls and are all rookies to their respective teams.
"We started off this summer not knowing anything," said Brandon Tong, mechanical engineering major and member of the Galactic Owls.
"At first I thought it was going to be a little too much but the more we go about it seems definitely possible," said Jimmy Lopez, aerospace engineering major and Payload Specialist for the Rocket Owls. "We're all improving, this is the first time we have had to write anything of this size or at this level."
Out of 60 schools selected to compete in the Student Rocket Launch challenge, Citrus is one of only three community colleges selected.
"It is definitely really intense it is pretty stressful," Lopez said, "just comparing yourself to the other universities that have teams of 20 or 30 students it is a little overwhelming, but it does have its perks. Also just having such a small team makes it easier to make difficult decisions,"
Bigger schools competing in the contests typically have a bigger team as well as more funding.
Funding for the Citrus programs come from sponsors as well as fundraising events like the Junior Rocket Owls.
The Junior Rocket Owls are a group of 27 fifth-grade students who work with individuals from each team to build model rockets using physics and applying mathematical equations which help build their skills.
"With four people it feels like a lot of work," said biomedical engineering major and leader of the Galactic owls Christina Yu, "but I feel like with four people if we all work hard we can do it… it just takes more effort."
Captains from both teams said they feel accomplished in how much their teams have grown since the beginning of the competition because of how much they're learning about their subject and how many of their skills are being improved.
Yvonne Villapudua, leader of the Rocket Owls, said it is a great feeling knowing they're a community college and much smaller but doing just as good as any other school can do.
Last year, the Rocket Owls placed fourth in the whole competition.
Villapudua said she has "big shoes to fill" in trying to do as good as her predecessors.
The Rocket Owls turned in their 80 page proposal which got them accepted into the competition and will turn in their preliminary design review which has to be around 250 pages on Friday Nov. 4, along with their presentation.
The preliminary design review for their rocket will be the first of four reviews due before the launch.
Their rocket has to go about a mile in the air using no greater than an L class motor which is a small fraction of the strongest motor used on rockets, and has to carry a payload protecting fragile material.
The Galactic Owls have a prototype rover which is still being tested and changed before they make their final rover.
The Rover's purpose is to maneuver throughout Mars with little to no hiccups. It will be taken through 13 obstacles during their competition.
If the Galactic Owls do not have a completed version done by February 2017, their instructor Lucia Riderer will remove them from the
competition.
"I think we're pretty good on time we are designing the wheel right now and deciding what material we are going to use for the actual rover" said Yu.
The website for the Rocket Owls can be found at http://citruscollegerocketowls5.weebly.com
---
---