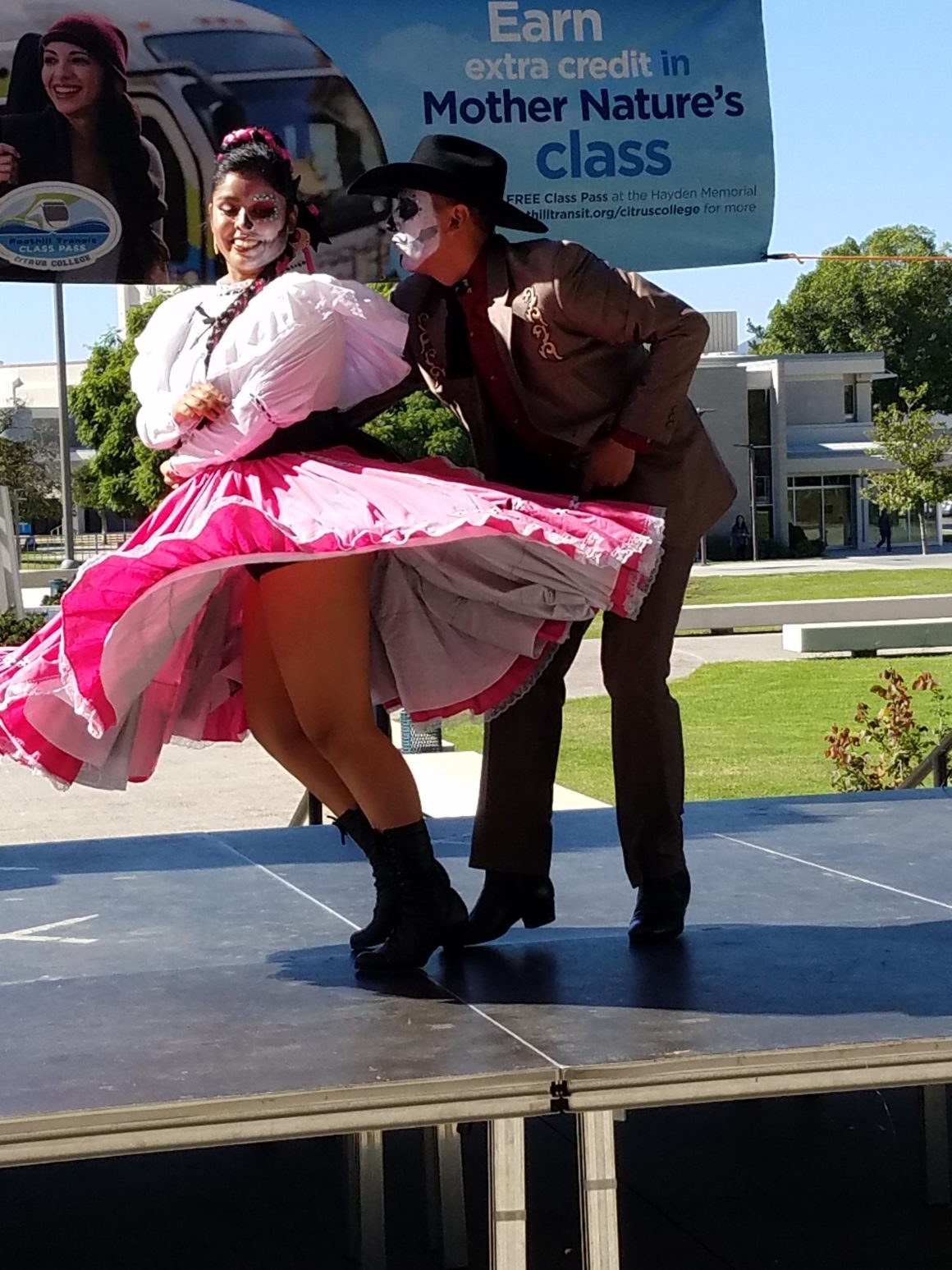 ---
Contrary to the doom and gloom of Halloween, the Day of the Dead is a colorful festive time of year dedicated to remembering loved ones that are no longer with us.
Citrus College Latinos Unidos Student Association organized a Dias de los Muertos celebration complete with dancers, food, music, face paint and an altar honoring the dead.
The altar on the side of campus hall was decorated with bright colors and art pieces, but also photos of people, both famous and not. A few recognizable faces included Prince and Robin Williams, celebrities who have recently died.
Cosmetology students applied Day of the Dead face paint on people for free next to a booth selling street tacos.
The Ballet Folklórico Zapateando Con Pasión dancers performing were a range of ages, with the youngest performer being around 3 years old.
Four young girls twirled and bounced to bubbly music, sometimes swaying out of place or spinning later than the rest.
These young girls performed multiple dance numbers with costume changes in between them.
The adult and young women revealed skeletal paint that decorated half their face with every turn. They smiled as they danced, displaying their long, brightly-colored skirts by waving them.
Unfortunately, there was a small crowd taking photos and videos, with very few students taking interest.
As of 2013, 59 percent of Citrus' students are Hispanic. Celebrating diverse cultures is a way for students to feel more at home while they study and attend classes here.
L.U.S.A. made the experience enjoyable and educational by supplying a graph that showed how to make your own day of the dead altar. Each color and decorative banner had meaning behind it, even the offerings or ofrenda represented important things the spirits of the dead may need.
---
---