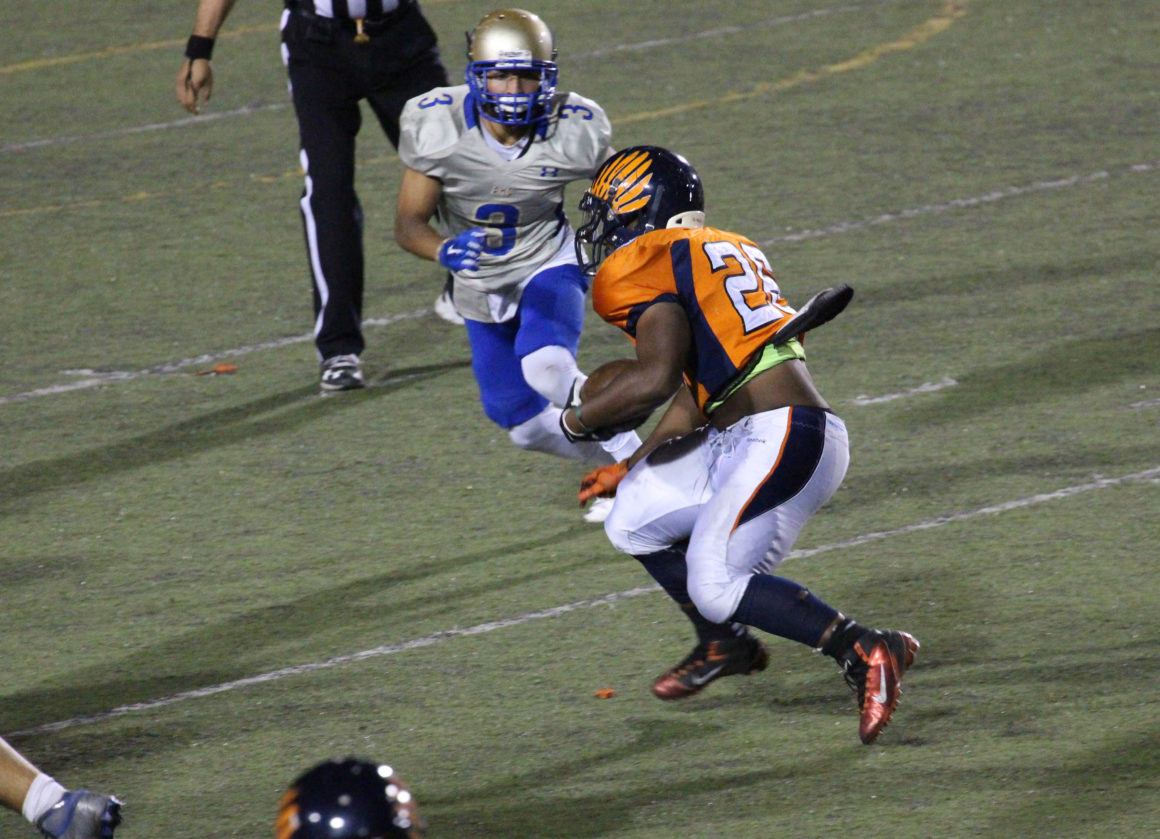 ---
A once promising season came to a close for the Citrus College Fighting Owls football team, with a 30-16 defeat to the Allan Hancock College Bulldogs on Nov. 12 at Citrus Stadium.
Citrus jumped out to an early 9-0 lead with a safety and a 17-yard touchdown pass from sophomore quarterback Brian Meyette to freshman running back Devin Floyd.
Allan Hancock responded with two touchdowns of their own, including a 42-yard strike from sophomore quarterback Matt Albright to sophomore wide receiver Kelvin Marion on the first play of the second quarter.
Sophomore running back Abel Morales gave Citrus a 16-14 lead with a 3-yard touchdown, but Allan Hancock answered before the end of the half with a 4-yard touchdown run by sophomore running back Jujuan Lankford.
Citrus could not capitalize on opportunities in the second half, including an Allan Hancock interception off a deflection. Allan Hancock added a field goal and a touchdown in the final minute to close out their season with a win.
Allan Hancock found success on the ground all game with Lankford finishing with 24 rushes for 166 yards and one touchdown and freshman wide receiver Alex Cecchi carried the ball 22 times for 104 yards and a score.
"I think it all began with the way we practiced the last few weeks," Lankford said. "We go over the basic things, like our blocking, where the hole might hit and we've been doing that for like the last five weeks."
Floyd had another productive game for Citrus with 86 total yards and a touchdown to close out an impressive freshman campaign for the Owls. Floyd became the first Owls' running back to rush for over 1,000 yards in a season since 2005.
"I just want to thank my linemen first and foremost," Floyd said. "I wouldn't be here without them. I want to thank the coaches for giving me a chance as a freshman."
Floyd finished the season with 1,007 rushing yards, 11 rushing touchdowns and added 155 receiving yards and a touchdown.
"I've never been on a team that never stops fighting as much as we do," Floyd said. "Heads never go down and even when we're down, we come back and keep fighting."
Sophomore defensive back Carlos Delgado came up with his team-high fifth interception in the final game of his Citrus career.
"We had a good squad," Delgado said. "I love each and every one of my teammates."
Citrus started the season off winning their first three games, but injuries and close losses hurt the Owls down the stretch.
The passing game was affected by the loss of leading sophomore wide receiver Gino Mastandrea after suffering a season-ending injury in the fourth game of the season.
Despite playing only four games, Mastandrea finished with a team-high 28 receptions for 321 yards and tied for a team-high four receiving touchdowns on the season. Mastandrea contributed to special teams as well with a 97-yard kickoff return for a touchdown.
Citrus sophomore quarterback Brian Meyette finished the season completing 57 percent of his passes for 2,198 yards, 18 touchdowns and five interceptions.
On the defensive side, freshman defensive back Henry Pigee led the Owls with 80 tackles, two interceptions and one fumble recovery.
The Owls finish the 2016 season 4-6, 1-4 in the conference.
---
---