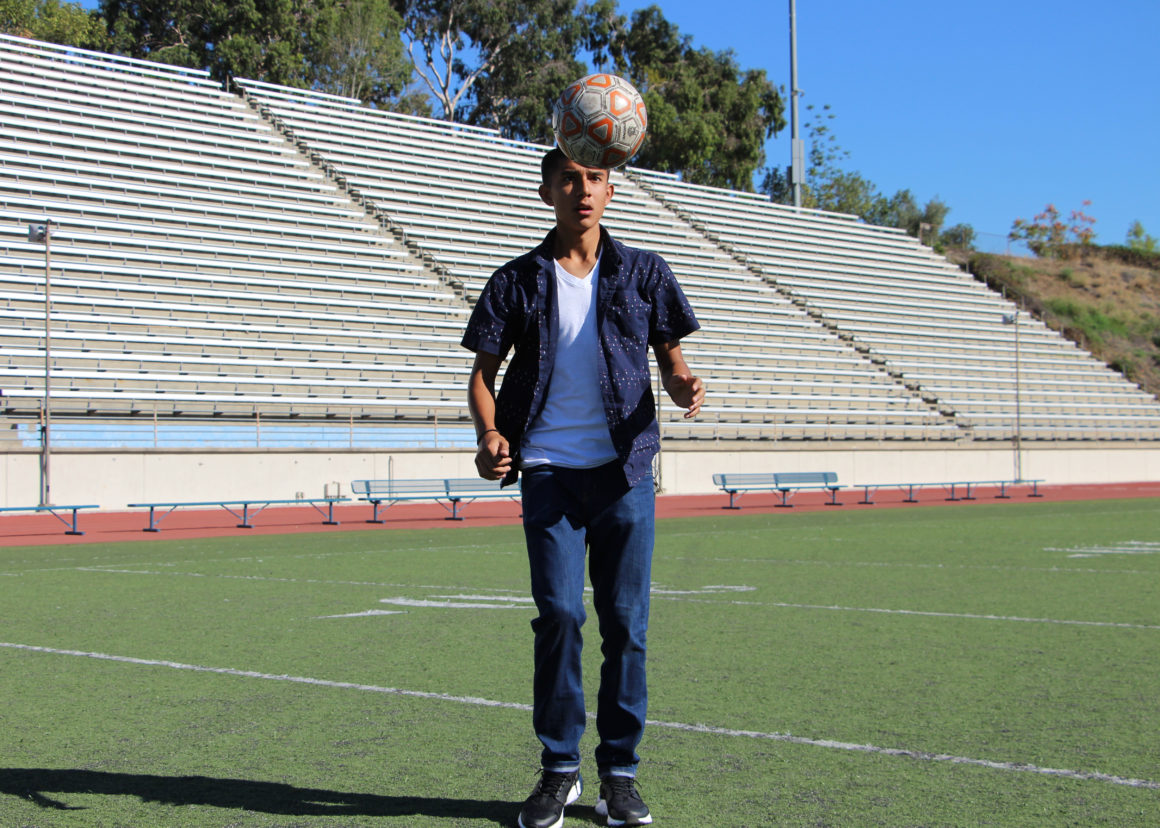 ---
Emilio Del Villar has made the most of his opportunities at Citrus College after his plans to attend Cal State Los Angeles were put on hold.
After graduating from Duarte High School in 2015 and unable to financially go forward with his plan to attend Cal State L.A., Del Villar chose Citrus College after being recruited by men's soccer head coach Fred Bruce-Oliver to join the team.
Del Villar, 19, saw it as an opportunity to work towards his goal of a four-year school.
"I took that as an advantage, to come here and get priorities to get my classes and to transfer out," Emilio Del Villar said.
Entering his sophomore season for the team, Bruce-Oliver named Del Villar a captain. Del Villar helped lead the Owls to its best season since 2008, with four goals and tied for a team-high three assists in 19 games.
Del Villar is used to having responsibilities and leading by example, being the oldest of four children.
"As an older brother, you gotta be a role model to your siblings," Emilio Del Villar said.
During his first year at Citrus, Del Villar did not have a job and focused solely on school.
"After my first year of college, I stepped up and said, 'Hey I gotta get a job, I need to get a car,' Emilio Del Villar said. "So that's the first thing I did and I accomplished it."
With his sister Tania Del Villar being only 11 months younger and two brothers, Jaime and Jesus Del Villar, in high school, the siblings are close and share the same passion for soccer, a passion Tania Del Villar credited to their father.
"My dad got all of us involved into soccer," Tania Del Villar said. "One of the greatest feelings as a family is to sit all together and just watch soccer games on TV."
Emilio Del Villar said growing up, their father coached a team and they all played for him. Emilio Del Villar still makes time out of his schedule to watch his brothers play.
"As a family, we appreciate the fact that he divides his time and attention to us, his hobbies and his personal life," Tania Del Villar said.
Freshman teammate Diego Pelayo has known Emilio Del Villar since second grade and the two played soccer together at Duarte High School.
"He's always around, not just for me, but for others," Pelayo said. "We grew up together and played soccer together for a very long time."
Knowing Pelayo's skills from their high school days, Emilio Del Villar recommended him to Bruce-Oliver prior to the season.
Pelayo said Emilio Del Villar is a caring person, always looking out for his friends and teammates, making sure they are okay. Pelayo also had high praise for his play on the field.
"He rarely makes mistakes and can play his position better than anyone I've ever seen," Pelayo said.
Emilio Del Villar's priority at Citrus College is to earn his criminal justice certificate, he said.
Although he is interested in becoming a California highway patrol officer, Emilio Del Villar does not think about the future and prefers to focus on the present.
"I just motivate myself to work hard every second of my life to get there," Emilio Del Villar said.
Tania Del Villar said he has been a "great leader to us," when describing what Emilio Del Villar has meant to her and her brothers.
"Emilio keeps the family together," Tania Del Villar said. "We grew in small homes with personal problems here and there and Emilio always has protected us from bad habits."
Tania Del Villar joked that her brother is a "clean freak" and likes to stay organized. She said although he seems like a serious person, he is "mostly joyful."
"He loves to make people laugh and build friendly relationships with everyone," Tania Del Villar said.
Although he has had to take a different path to pursue his future goals, Emilio Del Villar said he plans to transfer to Cal State Los Angeles soon as a criminal justice major, the school he always wanted to attend.
---
---