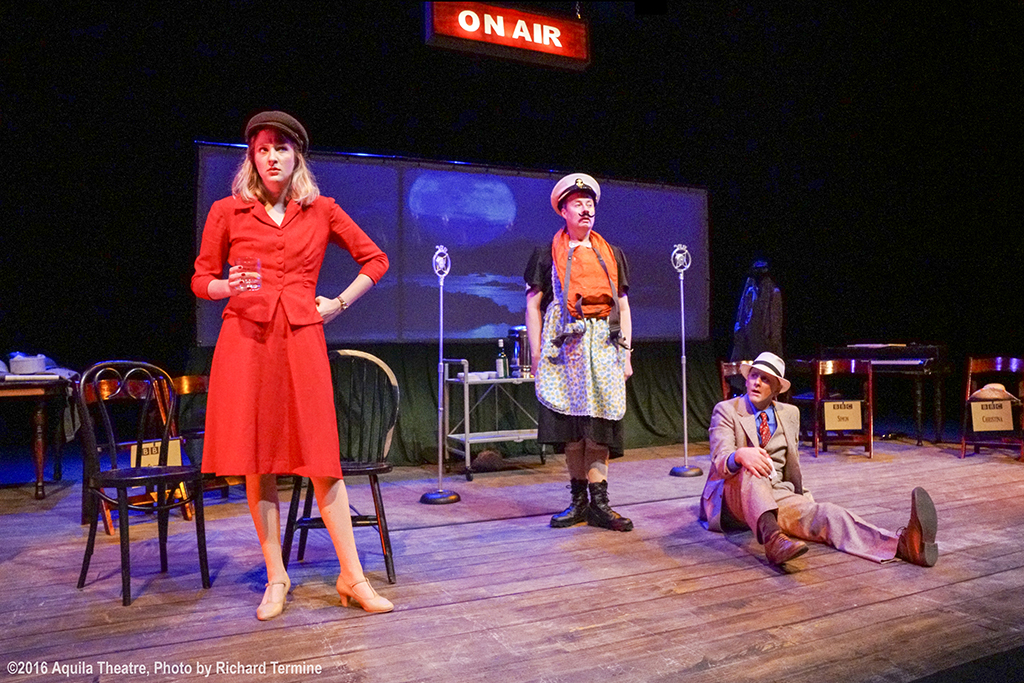 ---
Agatha Christie's Murder on the Nile
Directed by Peter Meineck, Agatha Christie's Murder on the Nile was a layered and hilarious re-imagined adaptation of Christie's play from 1944
The "whodunnit" murder mystery play, Agatha Christie's Murder on the Nile, was performed by Aquila Theatre at the Haugh Performing Arts Center on Nov. 13.
Unlike the original play, it is set in London in the BBC Home Service studios during World War II. The cast members of the studio prepare to do a live reading of Christie's Murder on the Nile on the radio, like a play within a play.
However, the bombings during their broadcast prevent all the cast members from showing up, leaving three members to play 16 parts by switching between characters, which added the comedy.
As the lights dimmed for the play to start, the "On Air" sign lit up, revealing several chairs on stage, each with a different hat on top.
Actors Lincoln Hudson, Palmyra Mattner and Toby Miller switched characters by putting on different hats and changing their voices, sometimes running around and switching hats for every other line, inciting laughter from the audience.
Hudson, Mattner and Miller had strong chemistry on stage because of how real and smooth their banter was. It was obvious they were having fun together because Mattner could not help but crack a few smiles and try to hide them behind her hat.
Despite playing several characters, the actors did an exceptional job staying true to them. They never used the wrong accent or forgot their unique mannerisms.
Costume designer James McDaniel was able to find hats reflective of each character's personality such as a bowler hat, paper boy hat and turban that provided background and clarity for each character.
The music contributed to the light-hearted mood of the play, such as when the cast danced to "Walk Like an Egyptian," during their break on the air. The air raid sirens contributed to the darker side by bursting the bubble with the reality of the situation they were really in.
There were parts of the play where only two characters would be interacting for a while and the other cast member would stand off to the side. Though it did look awkward for them to stand there and not off stage, it was probably done to establish that the cast was still in the BBC radio station.
The ending of the play was abrupt with the sounds of air raid sirens and the lights slowly fading out. If there was a few lines at the end about the actors' own reactions to their exuberant performance at the BBC Home Service studios or their opinion on being the only ones who made it to the studio, then it would have added closure.
Because of the combination of mystery and comedy, there was never a dull moment. The play took a creative risk by having three actors play all of the characters and it did a great job in doing so, making for a memorable performance.
---
---