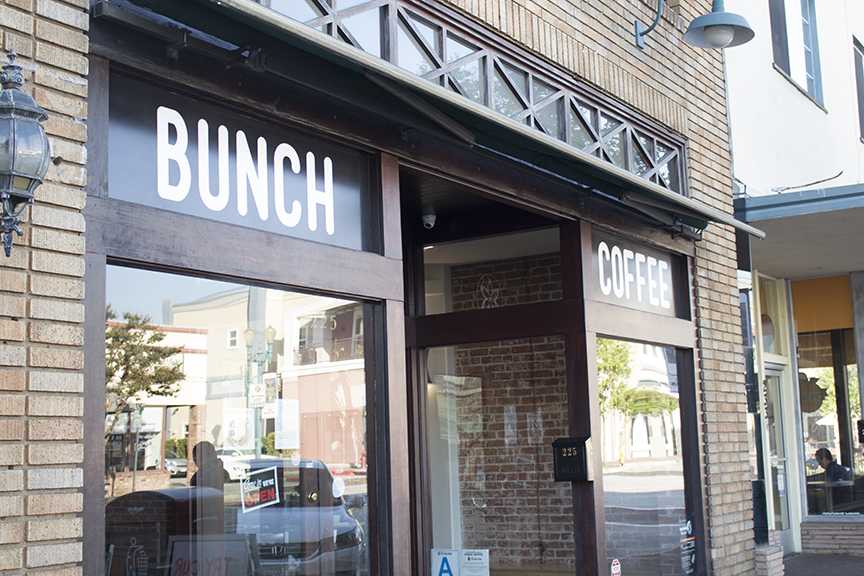 ---
Bunch Coffee is the cozy specialty coffee shop that Covina has been needing. It can be easy to miss, since the new storefront blends in with the retro looking buildings in Downtown Covina.
Bunch Coffee is co-owned by two childhood friends, Michelle Radogna and Matt Moreno. Radogna handles the business side and Moreno handles the coffee.
Though they met in elementary school when they were 11, their friendship is still going strong. Together, the two opened Bunch Coffee on Oct. 8, 24 years after they first met.
After transferring from Citrus College, to UC Berkeley, then UC Riverside, Moreno moved to New York where he found his passion for coffee.
Though he first worked at Starbucks, his appreciation for the technicalities of coffee brewing inspired Moreno to start his own coffee shop, Radogna said.
The large open space that encloses Bunch Coffee used to be Shell Shell's Sweet Shop, a candy shop owned by Radogna.
While Radogna sold candy at the shop, Moreno sold coffee alongside her until they decided it would be better to focus on one, which led to the birth of Bunch Coffee, Radogna said.
The formerly candy green walls of Shell Shell's have been painted a minimalist white on the arches over a brick pattern. The brick wall remained from the candy shop, though it suits the coffee shop even more.
For those with a sweet tooth who miss Shell Shell's Sweet Shop, Bunch still serves Fosselman's Ice Cream, a brand based in Alhambra.
Similar to the layout of the former candy shop, Bunch Coffee's large, open room may feel to some as a lack of coziness, like a home whose residents have not fully unpacked.
To others, the amount of room might feel more comfortable, with space to move around and the ability to talk without another table hearing the conversation.
For those who want a bit of seclusion, there is a panhandle section in the back that offers solitude without complete isolation.
Radogna and Moreno wanted to create a place where people of all ages can come to enjoy their coffee.
But it's not the decor that makes Bunch Coffee so attractive. It's the coffee.
Moreno focuses on the "third wave philosophy" of coffee-making. By making small, precisely measured servings, the freshest and highest quality cup of coffee is made.
"Instead of thinking about how many cups of coffee I can sell, I want to make one cup of coffee that will blow your mind," Moreno said.
Radogna talked about Moreno's mindset when it comes to brewing coffee.
"There's all these variables and he just took an interest in that," Radogna said. "The complexities of it. It's not just coffee."
While each cup of coffee is made to be consistent in craftsmanship, the flavor will always change, because the bean flavors are affected by the season.
Bunch Coffee's minimalist menu uses a rotation of beans from Compelling Coffee, an L.A. based cafe services company that sources beans from all over the world, scrutinizing for freshness and flavor.
Now, back in his hometown, Moreno wants to use his knowledge to improve his community.
Contrary to the bustling environment of Starbucks, Bunch Coffee provides a quiet niche to study in.
The walls have a set of power outlets at the base of every arch along the wall, eliminating the problem of low laptop battery life.
So far, business has been going fine for the co-owners, though Downtown Covina can be slow.
Growing up in Covina, Radogna and Moreno feel a connection to the city. They want to use their knowledge to better the community, Moreno said.
"Our downtown has been around for a long time but it needs some revitalization," Radogna said. "We're bringing young people back."
---
---