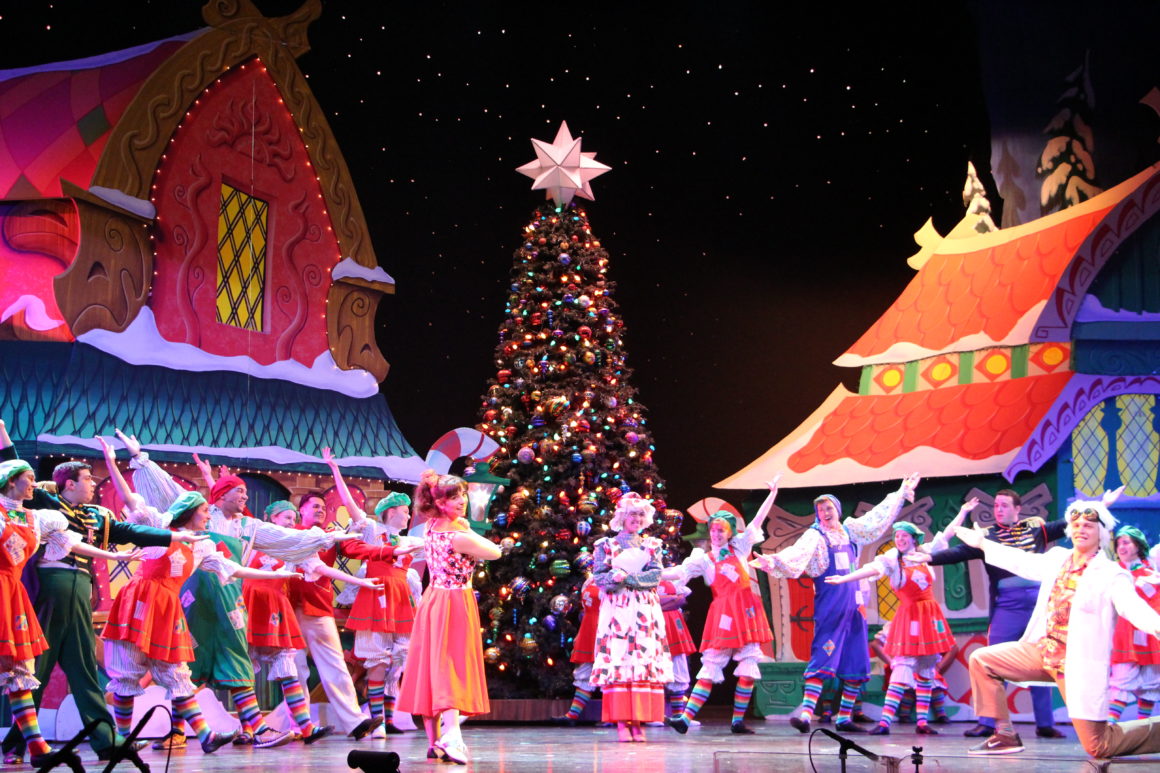 ---
'Tis the season for the Citrus Visual and Performing Arts Department's annual holiday spectacle "Christmas Is…."
Every year, the production is re-imagined with a new script written by Citrus consulting writer John Carroll. Director Doug Austin, who has been in charge of the production since 1989, called "Christmas Is…" a year-round process.
Austin, along with choreographers John Vaughan and Renee Liskey and set designer John Patrick, work together to find a concept for the story and share their ideas with Carroll.
"I have a set of notes that I'm starting to make about next year, because it's such good timing," Austin said. "You hear new songs, so you'll start making notes in December and January."
With "Christmas Is…" being a 365-day project, Austin reiterated how important it is to "stay on a pretty good timeline."
Austin said the team uses December and January to take notes, so by the time March arrives, they have the story concept.
"By May, we try to have set designs done," Austin said. "By July 1, they're into construction."
Patrick, in his 14th year as set designer, said July is when he and his crew of students start building, but sometimes will start sooner. With a week before the first show, Patrick and his crew of 12 students worked on finishing touches to set pieces.
"There's lots of activity going once we get it all and move it into the theatre, and that's what we're in the process of now," Patrick said.
Final preparations for the show include fitting the costumes to the performers, adding holiday lights to set pieces and hanging decorations.
The crew uses props from previous shows, but give the pieces a fresh, new look. Patrick and his crew used disco balls from a previous production and converted them into snowmen and repainted a car used for "Grease" and redesigned it as Santa Claus' car.
Patrick said the opportunity to design for the Haugh and the Little Theatre is what he enjoys the most from his job.
"That's the part I really enjoy, when we can put up a set and the curtain raises, and the audience goes, 'Wow,'" Patrick said.
Austin said every year the show is tailored to the strengths of the Citrus singers. If there was a really skilled student, Austin said his group creates a role or part for the singer to play up to those strengths. With 44 performers, the group still makes sure to give each performer "a moment to showcase themselves."
In a conversation as Patrick was prepping on stage, Patrick told Austin he was impressed with this year's performers. Austin responded, "Yeah, they are a very talented group."
Third-year Citrus singer Jenna Minor, who plays one of the main characters, Betty, said the play is set in San Francisco in the 1950s. After Betty's brother Bud stops believing in Christmas, Minor's character travels to the North Pole to find ways to help her brother Bud remember the spirit of Christmas.
"There's lots of fun music and dancing, with special appearances by Santa, Mama Claus, Frosty, the reindeer and Jack Frost, to name a few," Minor said.
With characters from the '50s, such as Lucy Ricardo, Fonzie from "Happy Days," to Marty McFly and Doc Brown in the show, this year's production will bring back nostalgia for the ones who grew up watching these characters on TV and the big screen.
"Christmas Is…" opens on Dec. 3 at 2 p.m., with the second show following on Dec. 4 at 2 p.m, at the Haugh Performing Arts Center.
Pre-sale tickets are available at $30, $25 and $20 each. Student and senior tickets are available at $28, $23 and $18 each. 16 and under tickets are available at $15, $12 and $10 each.
Tickets can be purchased at the box office or online at www.haughpac.com. Tickets can also be purchased at the door for $30 each.
Along with "Christmas Is…," the Citrus Singers will also perform 42 public concerts during the holidays, including the televised Christmas Eve at the Dorothy Chandler Pavilion in Los Angeles.
---
---