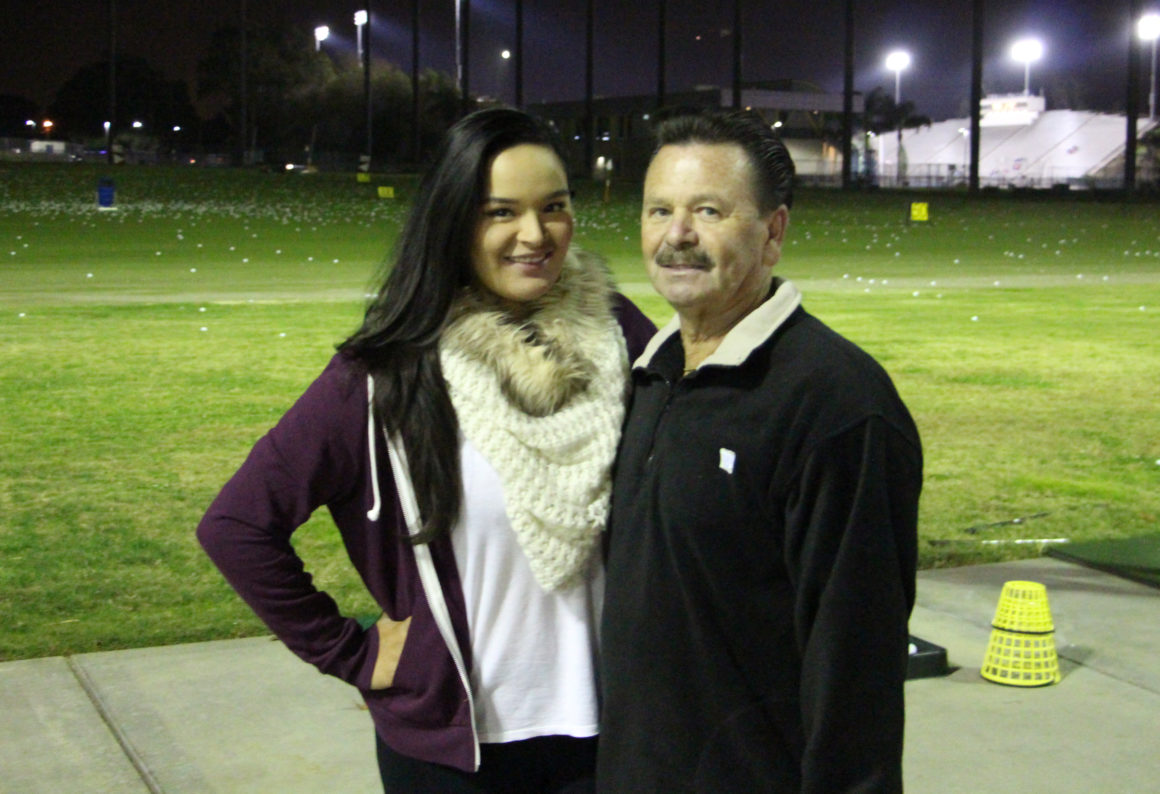 ---
Long before Lexi Tunstad was born, the seeds of her passion were planted. The 19-year-old Citrus College sophomore and member of the women's golf team has spent almost half her life on the golf course since her grandfather introduced her to the sport.
Tunstad grew up in a single-parent household, so her grandfather, Hector Tunstad, has provided her with a father figure. Passionate about golf, himself, it was an accomplishment for him to get Tunstad on the golf course.
"He was really into golf, so he tried to go through my aunts and mom, trying to get them to play and none of them stuck with it and so I happened to be the only one that stuck with it," Lexi Tunstad said.
After having three daughters of his own, Hector Tunstad said when his granddaughter came along, "she became my little golfing partner."
Hector Tunstad joked about the struggle of getting her to join him on the course early mornings.
"She would pretend to be asleep," Hector Tunstad said.
From any early age, Tunstad was interested in playing sports, such as softball and volleyball. Tunstad played on volleyball and basketball teams and said she did not give golf a shot until seventh grade.
"Once I picked up golf, I was like, 'This is definitely what I'm better at,'" Lexi Tunstad said.
Tunstad went on to play golf all four years at Azusa High School before being recruited by Citrus head coach "Trip" Horton. Last season in her freshman season, Tunstad was a part of the most successful team in program history.
"It was a lot of fun, because it was a totally different experience than it was in high school," Lexi Tunstad said. "It was a lot more fun, like trips and things like that. So basically last season, with how much fun it was, made me want to keep playing."
Tunstad said golf has become her number one hobby and works at the driving range on campus. Tunstad called the opportunity to work at the range "a good setup, honestly."
In her sophomore season, Tunstad's play in the Southern California Regionals earned her a spot in the state championships. Tunstad gave credit to her teammates for her successful season.
"They've really helped me loosen up a lot, have a lot of fun in the season and not harp on too much of bad scores," Lexi Tunstad said.
Tunstad also thanked Horton for his support for her over the past two seasons at Citrus.
"He's always been a big help to me," Lexi Tunstad said. "He's always been there to support me in golf and especially getting me a job at the range."
Hector Tunstad said he is very proud of his granddaughter, but joked that she is too nice to others on the golf course and she should have a "killer instinct."
"She does put in the hours and the results show," Hector Tunstad said. "She always gives 100 percent, that's all I ask."
Because of Tunstad's sportsmanship during tournaments, her grandfather said opponents always have nice things to say about her.
Off the golf course, athletics counselor Alicia Longyear has helped Tunstad stay on track with her classes and suggested she choose to major in sociology after Tunstad got a jump start on some of the required classes. Longyear described Tunstad as a "very positive and motivating young woman."
Longyear said Tunstad is also a two-time scholar baller, having sustained a 3.0 or higher GPA as a student-athlete.
Tunstad is keeping an open mind when it comes to her plans for the future. Aside from golf, she is interested in learning how to produce music and also has interest in working possibly for an advertising agency someday.
On track to graduate from Citrus in June 2017, Tunstad plans to transfer to a local four-year school, though she has not made a decision where she will pursue.
Tunstad said her ambition comes from her mother, watching her mother raise her as a single mom.
"We've always been close, because she's been my mom, my best friend and kind of my dad," Lexi Tunstad said. "I've always wanted to give back to her what she's given back to me."
Tunstad's support from her grandfather, her dedication to her mother and her commitment to her education has set up a promising future as Tunstad prepares to take the next step.
---
---