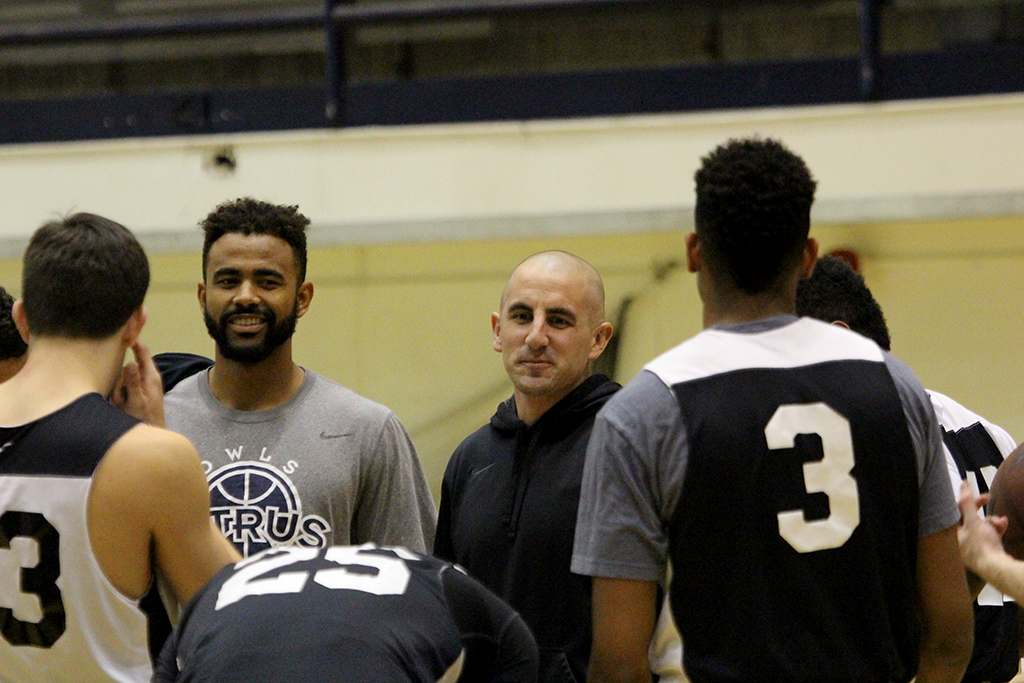 ---
Fourty-two 8"x10" photo frames of former Citrus players that moved on to four-year programs hang on the wall of new men's basketball coach Brett Lauer's office, within earshot of iron slung around by his players in the weight room.
"This is the goal, to get on this wall right here," Lauer said looking proudly at the framed photos. "We've had over 50 guys go on to get scholarships. These guys all leave a legacy. That's what we get most proud of and most excited about."
Lauer took the reins in August after previous head coach, Patrick Johnson, stepped down.
Johnson, who only coached for one year, took the 2015-16 Citrus team to the third round of the California Community College Athletic Association Southern California Regional Playoffs including an upset of No. 2 seeded San Bernardino Valley College.
Lauer steps into his first head coaching position with experience as an assistant coach at Concordia University, University of California, Riverside and Citrus.
"It's a great honor to be head coach," Lauer said. "A lot of great people have come through this program and helped build it to what it is today."
Lauer, like his players, said he attended and played for a junior college before transferring to University of California, Irvine.
Sophomore forward Calvin Martin expressed how important is having a coach that went through the junior college ranks to earn a scholarship as a coach and mentor.
"Everyone on this team wants to get something out of this program. They want to get a scholarship to play Division 2, Division 1," Martin said. "We all trust in him and let him really guide us through the process."
Michael Robinson, also new to the coaching staff, will serve as Lauer's assistant coach this season.
Robinson said he finished his senior season at California Baptist University in the spring where he played for former Citrus coach, Rick Croy.
"When I heard about the opportunity, that (Lauer) needed an assistant coach, I hopped on right away," Robinson said. "It's our first year, everything is new, everything is exciting."
Robinson said the opportunity he has with coach Lauer to build the program exactly the way they want to see it is something he does not take for granted.
"To develop the character of the program, our motto, our mantra and the future we want to have is something special," Robinson said.
The two coaches will have a good mix of first and second year players this season, which Lauer sees as an opportunity for the second year players to be leaders.
"They have a big responsibility to lead the young guys show them how it's done," Lauer said. "And show them what we want and how we want it done."
Biology major and sophomore forward Tyler LaCour was identified by Lauer as one of his leaders for incoming players.
LaCour said it's not about teaching them, but about holding new players accountable by setting an example of giving their all at all times.
For LaCour, the photos of players on the wall in Lauer's office set an example for him.
"Those guys are the guys that bought into the system, they gave their all, too. That's something we strive to be," LaCour said.
Lauer and Robinson are not afraid of being hands coaches to show their players how to get things done on the court.
Lauer finished his playing career with 113 3-point field goals at UC Irvine, good for 17th in school history in only two seasons played.
"Yeah, we definitely have to get a hand up on him when we're playing him," Martin said about defending Lauer.
Kidding aside, Lauer doesn't let his players forget, whether on the court or off, they must compete in everything they do.
Lauer said impressing on his players that competing hard leads to feeling good, whether that's in the weight room, at practice, in the classroom or at your job.
For Lauer and his small staff this season, building a team the Citrus fans and students can be proud of is a task they don't take lightly.
"We want people to see our program and say 'Dang, I want to be a part of that…that looks fun,'" Lauer said.
Citrus men's basketball is off to a strong start this season with a record of 7-1. The Owls' next game will be at 3 p.m. on Dec. 2 at Mt. San Antonio College where they will face Fresno City College in the Mountie Classic tournament.
---
---