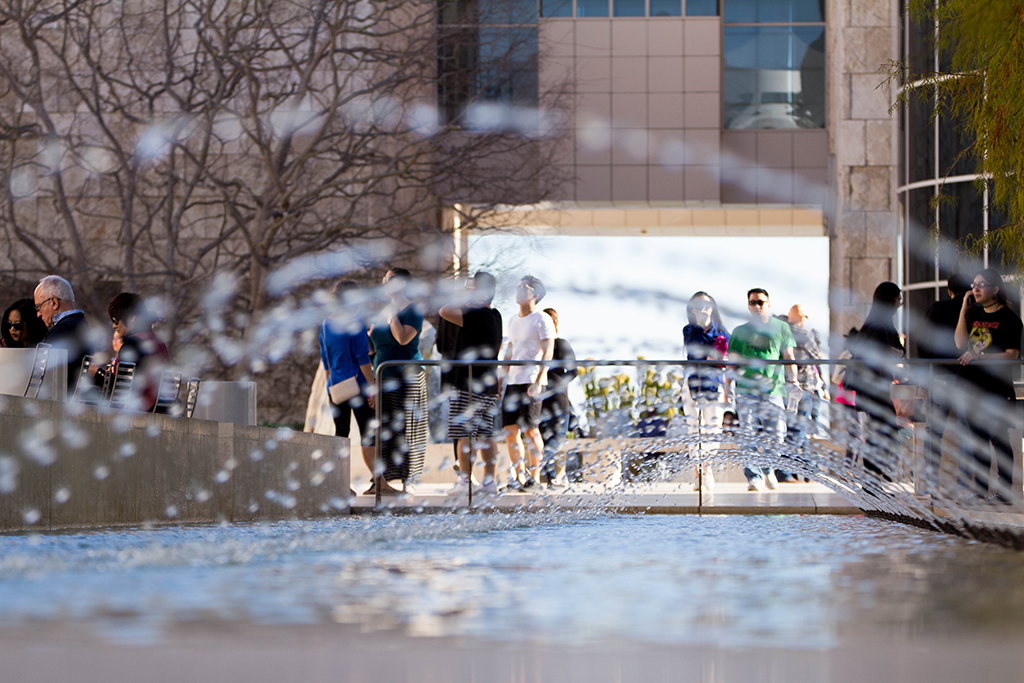 ---
Though the Los Angeles museums are available to locals at decent prices and occasionally for free, free museum day is a must-do in Los Angeles county.
The Getty Center is typically free but does require $15 for parking, with the exception of Jan. 29.
One of the first things any visitor should do is take a personal tour of the grounds. Though time consuming, the architecture is worth it.
Smooth, sleek and glistening, the Getty Center's white curved buildings create a science-fiction illusion of being on a different planet, with a mixture of white tile and giant glass windows.
The buildings and their curved edges and hard angles are an awesome sight and are offset by other buildings, walls and stairs made from travertine, rough and coarse beige blocks of stone.
The circular and sleek Getty Research Institute overlooks one of the many stunning views from the Santa Monica mountains and is eye-catching by its own merit.
Most buildings contained huge open terraces and were located next to beautiful gardens and fountains were visitors can sit and become lost in for hours.
On a clear day, in any direction, the view out to the ocean or to the mountains is breath taking at the least. In almost any direction there is beautiful landscape for miles.
After checking out the architecture and landscape, next on the list should be immediately choosing an exhibition to tour.
Several European and Greek art and sculpture exhibitions are on display for the standard art museum experience.
For those looking for some modern and contemporary art, one exhibit of prime and current interest was "Breaking News: Turning the lens on the media."
On display starting Dec. 20 2016 to April 30, the Breaking News exhibit is a thought provoking artistic interpretation of news and, indirectly, of the public and how it influences the news.
The concept of news as art may not be a new idea but it is a complex idea.
The exhibition features mostly political pieces from artists who use otherwise 'brief' or fleeting aspects of news and turn them into something more lasting.
Rather than focusing on the way journalists practice their craft as art, the exhibit was a display of how artists analyzed news through their own mediums.
For example, A video of loops of spliced CNN footage strung together to create an illusion that newscasters were speaking to the viewers on a personal level is oddly captivating.
The display, created by artist Omer Fast, creates an eerie feeling that these faces that make up the media are speaking to the viewer personally about an emotional issue between them.
"Listen to me, I want to tell you something, come closer…" one of the loops begins by splicing specific words together from different newscasters to form specific sentences, "Don't be upset and don't get emotional. Just get near me and pay attention, please."
Other displays attacked the idea of racism in magazine front pages such as LIFE magazine, the normalization of violence featuring real photos of people posing with dead bodies during war and photos created to make it look like the Vietnam war was in the home of the public.
The exhibit does not necessarily create an understanding for what the media is or does, but does cause viewers to think about how it is consumed and how media can also be used as art.
Also available, and easier to access on less crowded days, are a restaurant and multiple coffee stands as you tour the grounds.
If ever in the area, visiting the Getty Center should be at the top of the list. The views both outside and in are worth the stop.
---
---