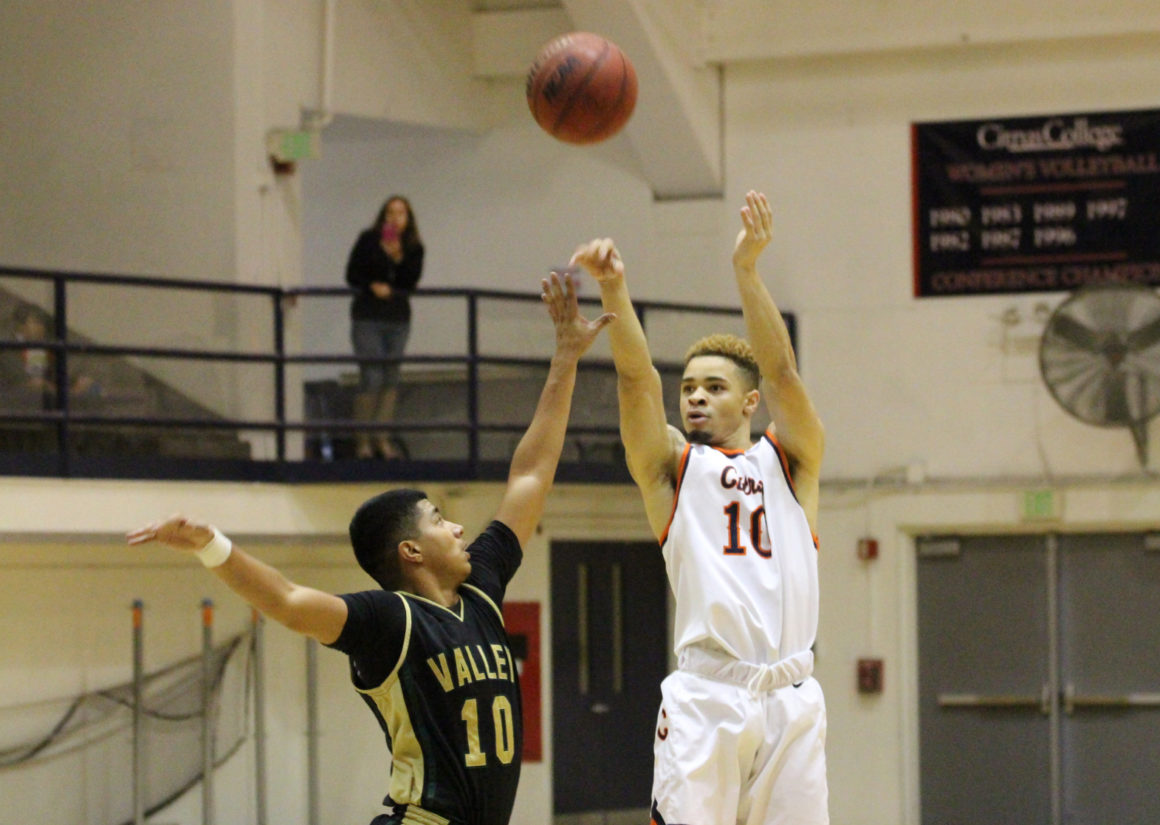 ---
The Citrus College men's basketball team came into its matchup against L.A. Valley College with a 19-5 record and an opportunity to avenge a two-point overtime loss on Jan. 14.
In the rematch, Citrus pulled away late from L.A. Valley for a 71-57 victory on Feb. 4 at the Owl's Nest.
With the win, Citrus remained perfect at home with a 5-0 record.
For the first 35 minutes of the game, both teams traded leads in a close game. L.A. Valley led 25-18 in the first half, but back-to-back three-pointers from sophomore guard Kenneth Cyprian kept the Owls within reach.
In a low-scoring first half, Citrus held on to a slim 27-26 lead.
Both teams traded the lead early in the second half. Citrus sophomore forward Tyler LaCour made a key three-pointer to give the Owls a 53-48 lead with a little over five minutes to play. The three ignited a run for the home team.
The Owls got big plays down the stretch from Cyprian, and freshmen Joshua Caston and Kyle Gray, to build a double-digit lead late to secure the win.
"I was really proud of guys stepping up," head coach Brett Lauer said after the game. "We've had different guys step up every game."
Gray provided a spark off the bench for the Owls with 15 points and four steals.
The Owls shot well below their season averages, making only 30 percent of their field goals and 19 percent from the three-point line, going 5-for-27 from long range.
"You gotta win ugly, you gotta win pretty," Lauer said. "I thought the Barstow game was pretty, this one was ugly. We gotta win both of them if you wanna have a great season."
Cyprian, who had an off game from long range made up for it by attacking the basket, going 8-for-10 from the free throw line. Cyprian finished the game with 14 points, four rebounds and four timely blocks to lead the Owls.
"I think we're maturing as the season goes along," Cyprian said. "It's not always going to be pretty. We're not always going to shoot well. It's important to make sure our energy and focus stays around our defense, so we can pull out these close games when we're not shooting well."
The Owls improved to 20-5 after the win, with a 5-1 conference record. The loss dropped the Monarchs to 9-13 and a 3-3 conference record.
With four games left to play in the regular season, first place Citrus College will look for its sixth straight win when they travel to face last place Victor Valley College at 5 p.m. Feb. 8. Citrus defeated Victor Valley 85-61 at home on Jan. 18.
---
---