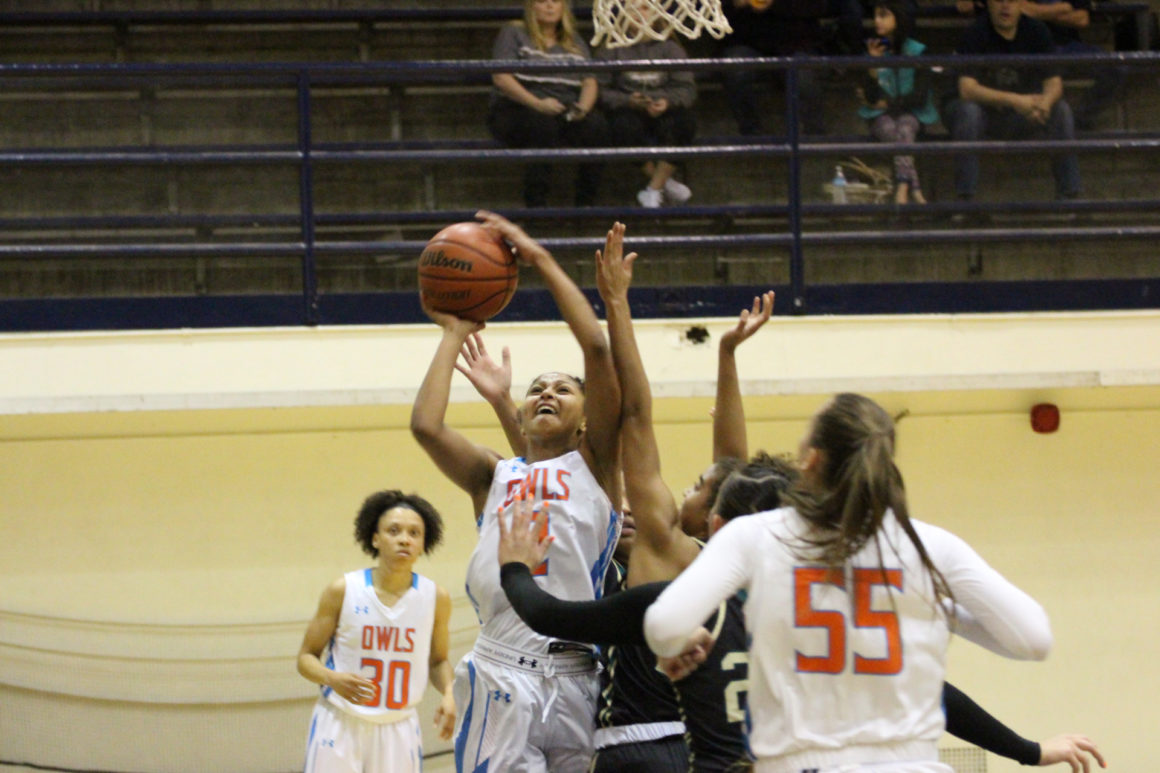 ---
The Citrus Owls women's basketball team looked to earn a split against the L.A. Valley Monarchs on the season, but fell to the visitors again by double digits, 77-56, on Feb. 4 at the Owl's Nest.
Freshman guard Rebecca Islas stepped up for the Monarchs, grabbing 22 points, 16 rebounds and four steals. Islas said it started with her mindset coming into the game.
"Two of our starters were not there," Islas said. "Emily, our main starter was out because something was wrong with her chest and then Diamond has the flu. So, my mindset was I'm gonna come in and do this for our team."
The Monarchs started the night with a 6-0 run, leading to a quick Citrus timeout.
The Owls committed seven turnovers and were unable to get on the scoreboard until sophomore guard Jessica Rosas made a layup at the 7:55 mark on the clock.
Citrus made 5-of-12 field goals, while L.A. Valley made 11-of-14 field goals and led the Owls 26-10 at the end of the first quarter.
L.A. Valley continued to push the Owls with their defensive intensity, but Citrus sophomore forward Marisa Brown posted up often and kept her team motivated, despite missing shots.
Islas dribbled down with four seconds left and made a buzzer-beater to finish the first half, giving the visitors a 44-21 lead at the break.
The second half gave the Owls a better idea of how to approach the game. Brown started the quarter with a three-pointer for the Owls.
Islas led the Monarchs in the third quarter by grabbing three offensive rebounds and four defensive rebounds in the 10 third quarter minutes.
Brown was the key contributor for the Owls during the third, scoring 10 points in 10 minutes. The Monarchs stayed strong heading into the fourth with a 60-42 lead.
It wouldn't be an easy finish for the Owls as the Monarchs continued to make plays on both ends of the court.
L.A. Valley sophomore guard Lydia Pope made a three-pointer to start the final quarter.
Rosas was a playmaker for Citrus in the fourth, making 4-of-6 field goals, but the Owls could not get within reach. Rosas finished with 23 points and five assists.
Owls' head coach, Linnae Barber Matthews said that making shots was a problem again.
"We actually put some numbers up tonight despite the loss," Barber Matthews said. "Our weakness all year has been scoring, the girls learning about spacing and understanding spacing, understanding pick-and-roll action, understanding who's on and who's off. That's something we've been facing all year."
Barber Matthews credited freshman point guard Cassandra Martinez, who never played the position until this year.
"She was a guard, but I made her point guard and she stepped up," Barber Matthews said. "About five girls got her good tonight and she held up good. I was very proud of her and her performance."
Barber Matthews credited team captain Jessica Rosas' play, saying Rosas played her best game in a "long time."
"She was versatile and was able to post up," Barber Matthews said. "She stepped up and I was very proud of her."
Citrus College (5-17, 1-5 in conference) will travel to face Victor Valley College (5-19, 0-6 in conference) at 7 p.m. Feb. 8.
---
---