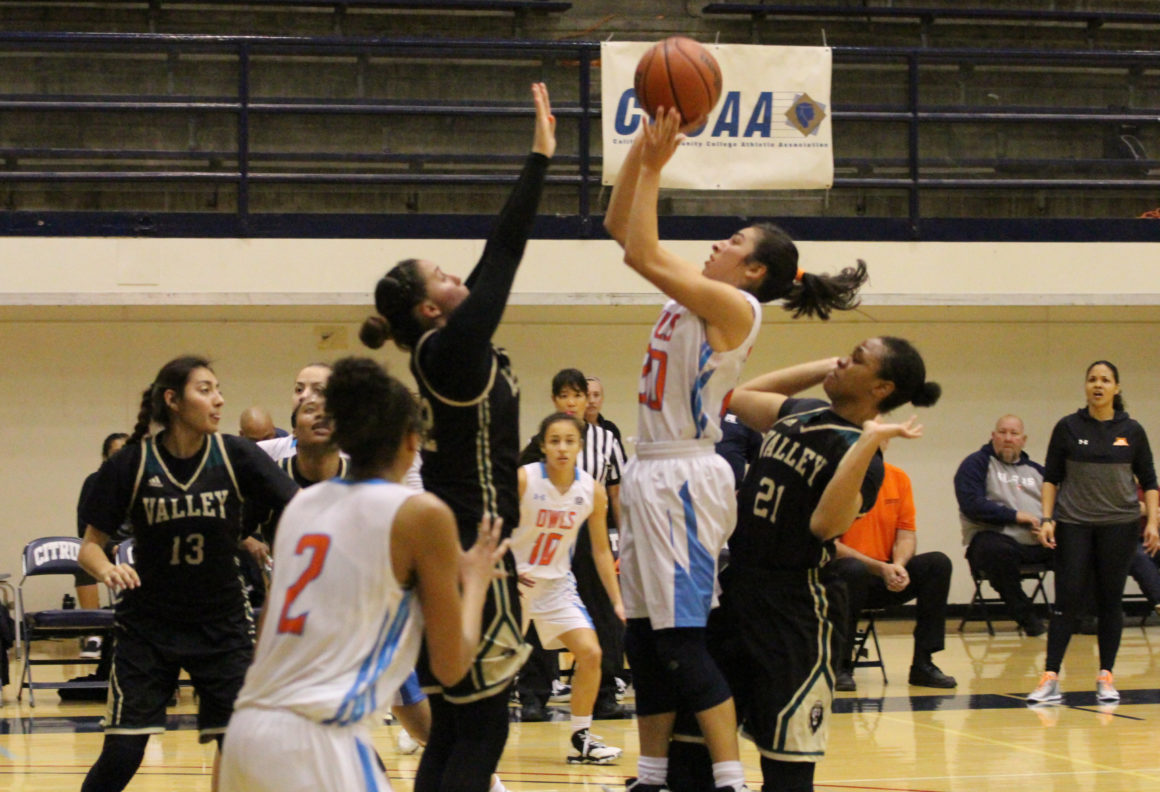 ---
Citrus College women's basketball (6-19, 2-7) had a tough matchup for their last home game of the season on Wed. Feb. 15, against Antelope Valley (13-13, 7-1).
Both teams were ice cold offensively, Antelope Valley shooting 30.4 perfect in the field and Citrus only 23.3 percent. The Marauders held off the Owls comeback in the third quarter to claim victory, 47-38.
The first quarter started slow, especially for the Owls. The Marauders surged on a 6-0 run before sophomore forward Marisa Brown made a layup to finally put Citrus on the scoreboard.  The Marauders headed into the second quarter with a 12-6 lead in a low-scoring quarter.
In the second quarter, Brown hit a free throw and teammate sophomore guard Jessica Rosas made a layup to push the Owls within three points of the Marauders.
Antelope Valley was unable to score in the first five minutes of play in the second quarter until freshman forward Tamia Huffman added two points to the scoreboard. Citrus outscored Antelope Valley 9-8, going into halftime trailing 20-15.
The Marauders came out strong offensively in the third quarter, forcing the Owls to call a timeout.
Sophomore guard Jasmine Meza scored her first points of the game after hitting a long three-pointer. However, Antelope Valley surged at the end of the third with the help of sophomore forward Katilin Stephenson, who added seven points, and sophomore guard Brieanna Perkins, who added five.  
Perkins ended the quarter with a huge three-pointer, which pushed the Marauders' lead to 34-26 going into the last quarter.
The Owls fought back in the fourth quarter, but the Marauders held on. Brown scored four points in the fourth-quarter and tallied up 15 points and 12 rebounds in the game.
Antelope Valley's Stephenson scored an additional eight points in the fourth quarter and led her team with 17 points and 10 rebounds.
After the loss, Brown had a positive mindset going into their final game of the season against Barstow.
"We're going to give it all we got and leave everything we have on the court," Brown said. "We have nothing to lose so we're going to get that win and end on a strong note."
The Owls season finale will be against Barstow (16-12, 6-4), whom the Owls have already faced in an 85-84 overtime loss, at 5 p.m. Feb. 18 at Barstow Community College.
---
---