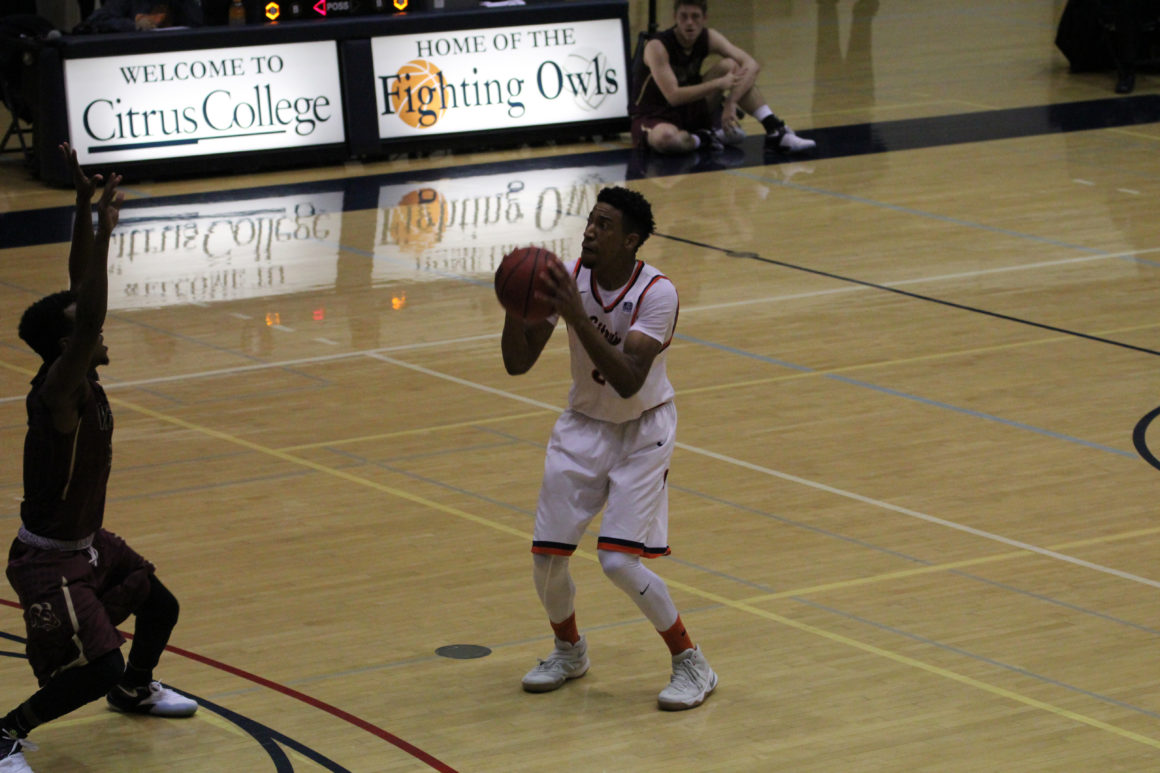 ---
On a night the sophomores were honored before their final home game, playing against an opponent seeking revenge and a seven-game winning streak on the line, the Citrus College men's basketball team avoided suffering any letdown.
The Owls defeated the Antelope Valley Marauders, 81-72, Feb. 15, at Citrus College, extending their winning-streak to eight games and sweeping the season series with one final game to play before the postseason.
Citrus built a 20-point lead early in the second half, but Antelope Valley kept within striking distance, cutting the deficit to single digits late.
In an otherwise evenly-matched game on the stat sheet, the Owls hurt the Marauders from long range, making 13-of-27 from deep to the Marauders' 3-of-12.
Citrus had an answer for Antelope Valley's runs with timely three-pointers. Seven different Owls players made a three-pointer.
"We're all unselfish," Citrus freshman guard Andrew Ammann said. "We are just playing for each other, we are genuinely excited for each other."
Freshman guard Jeremy Smith, who scored 20 points for the 11th time of the season, set the tone for Citrus early with three three-pointers in the first half.
"Jeremy's a great point guard," Citrus sophomore forward Calvin Martin said. "We always know that he's out to get his buckets and when he's hot, we feed him, we find him."
The Owls jumped out to an early 11-2 lead, with Smith and Ammann making three-pointers.
After getting back in the game, trailing 14-13, Antelope Valley fouled Citrus sophomore guard Donn-Christian Corbin on a three-point attempt. Corbin made all three free throws, adding to the woes the Marauders faced in defending the three-point line.
Citrus made nine three-pointers in the first half and outrebounded Antelope Valley by 10, heading into the break with a 44-32 lead.
The Owls started the second half with a made jumper by Smith and a big dunk from Martin, as Citrus built its biggest lead with 15:45 left to play.
Martin had a strong game for the Owls, notching his fifth double-double of the season with 14 points and 14 rebounds.
"Calvin did what he normally does, being a monster, rebounding, playing hard for us," Ammann said.
Antelope Valley had four players score in double figures, led by sophomore guard Reggie Byers, who scored 19 points off the bench.
"They were going at us, attacking the rim, aggressively just attacking," Byers said.
With the Marauders making one final push, Owls sophomore guard Kenneth Cyprian made back-to-back threes to swing momentum back to Citrus late in the second half.
In the final game of the regular season, first place Citrus College (23-5, 8-1) will travel to face Barstow College (14-11, 7-2) with a chance to clinch the conference at 3 p.m. Feb. 18.
---
---