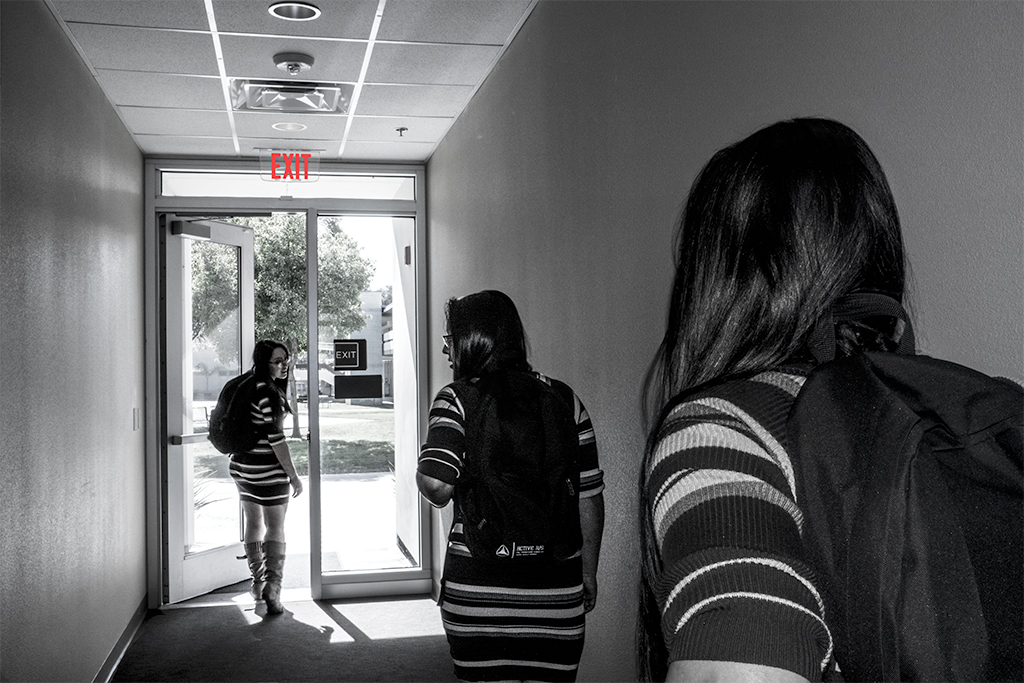 ---
Citrus College released a resolution Jan. 17, stating it will keep the personal information of Deferred Action of Childhood Arrival students and Development, Relief and Education for Alien Minors students confidential.
Though both concern students, the DREAM Act and the DACA are two different protecting forms of legislation for immigrated students.
The DREAM Act allows undocumented and nonresident document students who meet eligibility requirements of AB 540 to apply and receive financial aid, university grants, Cal Grants, college fee waivers and scholarships.
Citrus' Administration Assembly Bill 540 creates an exemption from having to pay nonresident tuition for the nonresident students who have received a high school diploma or equivalent, or who have just attended high school for a minimum of three years or do not have a valid non immigrant visa.
The DACA on the other hand gives deferred removal, deportation for individuals for a two-year period for the people who qualify that can be renewed.
Individuals under the DACA, an action taken by the Obama administration, also get work authorization.The DACA, however, does not give pathway to citizenship or give lawful status of citizenship for the beneficiaries.
As of fall 2016 Citrus' student demographic was made up of 62.4 percent Hispanic students. There are also .51 percent temporary resident students, .31 percent who are  refugees/asylees, and 4.05 percent on student visas.
An e-memo was sent out from superintendent/president Geraldine Perri of an update from the chancellor's office about President Trump's Enhancing Public Safety in the Interior of the United States executive order on Feb. 3.
"As you are most likely aware, recent national and state news reports regarding immigration, undocumented citizens, and the restriction of individuals from certain countries from entering the U.S., have been prevalent," Perri said in the e-memo. "…Please be assured that Citrus College is a welcoming, inclusive community, committed to meeting the needs of a demographically diverse student population."
Perri also said the Board of Trustees and administration will pay attention to legal developments that impact students.
"Our student-centered team includes supportive faculty and staff to help you achieve your educational goals in a safe and supportive environment," she said in the e-memo.
On Jan. 30, Chancellor Eloy Oakley sent a statewide e-memo to all California community college districts that adopted statements or resolutions of support for students to attend college without fear or intimidation.
"We do not expect these types of enforcement actions to occur at educational institutions," Oakley said in the e-memo in response to many schools asking if immigration enforcement can occur on college campuses.
"At this time, immigration enforcement at 'sensitive locations' is guided by the Memorandum on Enforcement Actions at or Focused on Sensitive Locations issued on Oct. 24, 2011 by the U.S. Immigration and Customs Enforcement," Oakley said. "The ICE policy memorandum clarifies that enforcement actions, as a general matter, are not to take place at sensitive locations, including, but not limited to, elementary and secondary schools and postsecondary educational institutions (such as community colleges)."
Perri also confirmed that Citrus would not release personal information of students, "including any data related to immigration status, without a judicial warrant, subpoena or court order unless authorized by student or required by law."
On Jan. 17, the Citrus Community College District Board of Trustees adopted Resolution No. 2016-17-06: Citrus Community College District Resolution of Support for Students and its Commitment to Access, Affordability, Diversity and Inclusion.
"The resolution reaffirms the College's full and unyielding support of all students, regardless of immigration status,' Perri said. "As such, Citrus College remains committed to protecting the rights of our students and to fully supporting you in your educational pursuits."
Citrus Board of Trustee Barbara Dickerson, who represents the Azusa and Duarte districts, said the reasoning behind the stance Citrus is taking on the DACA/DREAM Act is tied to the college's mission.
"The college fosters personal and professional success through the development of critical thinking, effective communication, creativity and cultural awareness in a safe, accessible and affordable learning community," Dickerson said. "The keyword here is safety, the college wants to provide a safe learning environment".
Citrus has hosted several anxiety and stress related workshops after the election of Donald Trump as president to ease student's concerns with post-election legal actions he may take, such as his following up on his statements on stronger immigration laws/screening.
Citrus students and staff said they believe the school will do what is right to keep their funding and also believe students should remain united.
"With any college, it comes down to the money," Dakota Hevroy, business major, said. "The more students, the more money the college gets. I'm sure there are several Board of Trustees members who want to keep immigrants and help, but at the bottom line it has to do with money."
For EOPS employee Ashley Guzman, immigration is a hard subject to talk about.
"Immigrants are our neighbors, friends, and to protect them is going to affect us a lot, we should all try to unite," Guzman said. "We should be unified."
Guzman also said "it is not right" for the government to access the information of any students who may have immigrated illegally.
"Institutions like colleges should keep information private," Guzman said.
Dickerson reaffirmed support for any students who might be affected.
"We will continue to fight for the students' rights to keep their information…" Dickerson said. "…and to provide a safe learning environment for every one of its students."
---
---