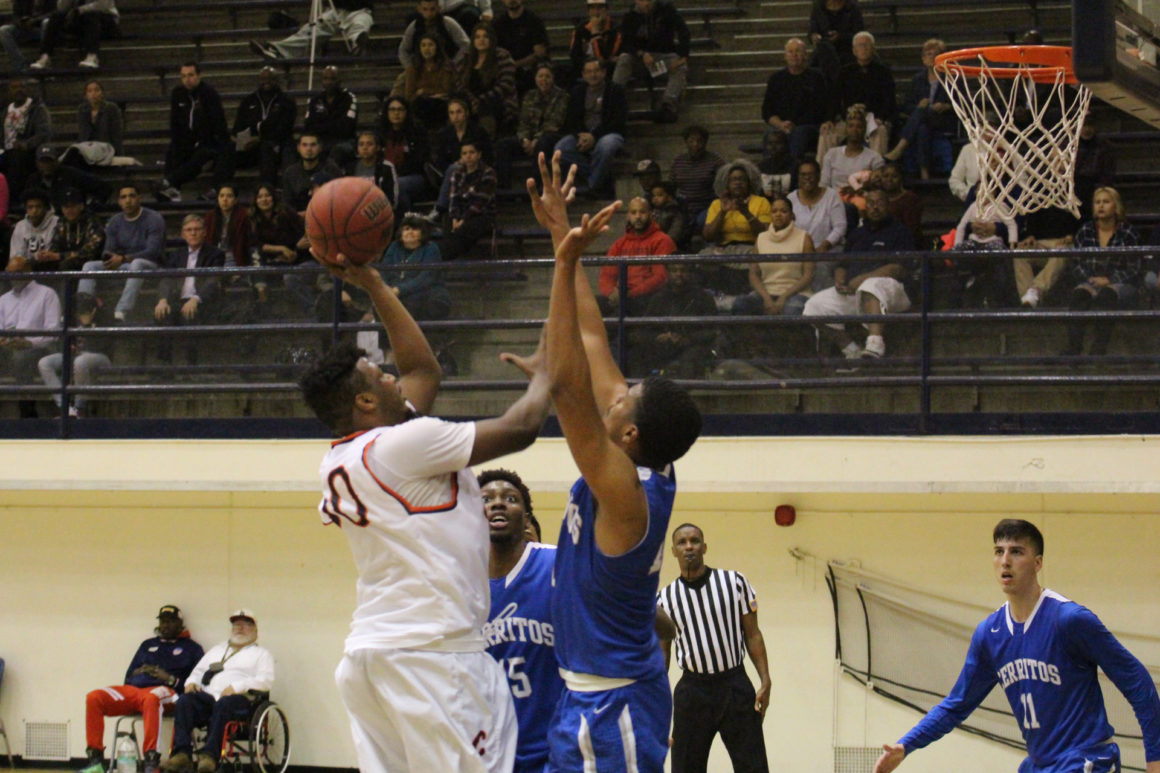 ---
The Citrus College men's basketball team entered its second round playoff game as conference champions and winners of eight of its last nine. Their opponent, Cerritos College, came into the game on a seven-game winning streak.
With both teams finishing the regular season strong, it would take a special performance to keep one team's season alive. Citrus sophomore forward Tyler LaCour answered the call.
No. 6 Citrus College defeated No. 10 Cerritos College 79-67 on Feb. 24 at the Owl's Nest to advance to the third round of the playoffs thanks to a 19-point first half from LaCour.
LaCour made the first basket of the game, a three-pointer, in what became a theme in the first half.
Moments later, LaCour made his second three-pointer, giving the Owls an early 8-2 lead over the Falcons.
Midway through the first half, LaCour made back-to-back threes, his third and fourth of the half, but Cerritos fought to keep it a one-score game to trail 20-17.
LaCour got his fifth three-pointer to go right before the end of the half and Citrus led Cerritos at the break, 33-27.
"We always talk about the people that have come through this program and we talk about that this effort tonight will be remembered at Citrus forever," Citrus head coach Brett Lauer said of LaCour's first half. "The way he started it, the way he set the tone for our team, he carried us today."
With LaCour fighting through a leg cramp in the second half, freshman guard Jeremy Smith stepped up, converting three free throws and making a three-pointer to give Citrus a double-digit lead.
Citrus freshman forward Kyle Gray, who had a big game with 14 points off the bench, finished a reverse layup to extend the lead.
Cerritos gave Citrus a scare, cutting the lead down to 47-42, but LaCour got a jump hook to go to stop the run. Sophomore guard Kenneth Cyprian and sophomore forward Calvin Martin helped extend the lead back to double digits.
Smith continued his strong second half, scoring a transition layup and making a three-pointer on back-to-back possessions.
After an and-one in the lane by Gray gave the Owls a 70-50 lead with five minutes to play, the Falcons ran out of time for a comeback attempt.
Cerritos head coach Russ May credited LaCour's performance for the outcome of the game.
"They're a very good team and obviously Tyler had a very special game tonight," May said. "In the playoffs, when you get a performance like that, it usually is meaningful and puts you over the top."
After winning eight straight games, Citrus lost the final game of the season and the loss served as a reminder of what was on the line, heading into the playoffs.
"Coming off that loss, we just knew if we lose again, we're done and we can't allow that to happen," LaCour said.
LaCour finished with 23 points on 9-of-16 shooting and three blocks.
Smith finished with 20 points and four assists for Citrus.
The Owls are 6-0 following a loss this season, but understand their next loss ends their season.
"I think all year, we responded well to losses," Citrus freshman guard Andrew Ammann said. "We just get tighter, we get a chip on our shoulder and we just play harder. We did a great job of that tonight and hopefully we keep it up."
Cerritos sophomore forward Christian Perez finished with 19 points and seven rebounds.
Sophomore guard Tyler Payne contributed 12 points and six assists for the Falcons.
No. 10 Cerritos' season came to an end with the loss, finishing with a 21-7 record.
No. 6 Citrus (24-6) will face the winner of No. 3 Saddleback College and No. 14 Antelope Valley College next week in the third round of the playoffs.
---
---