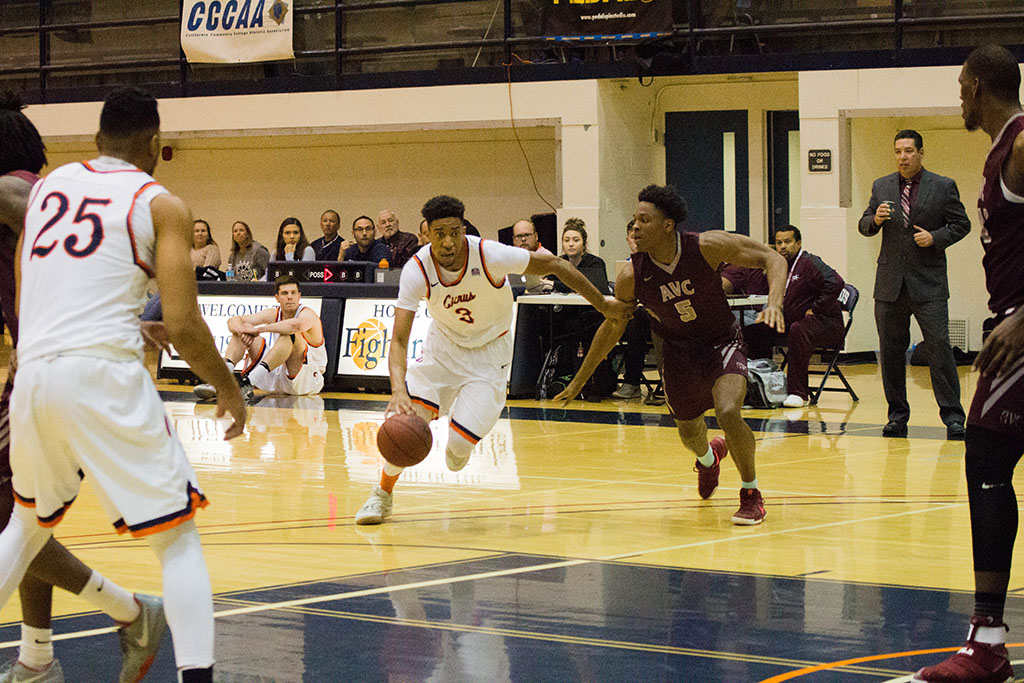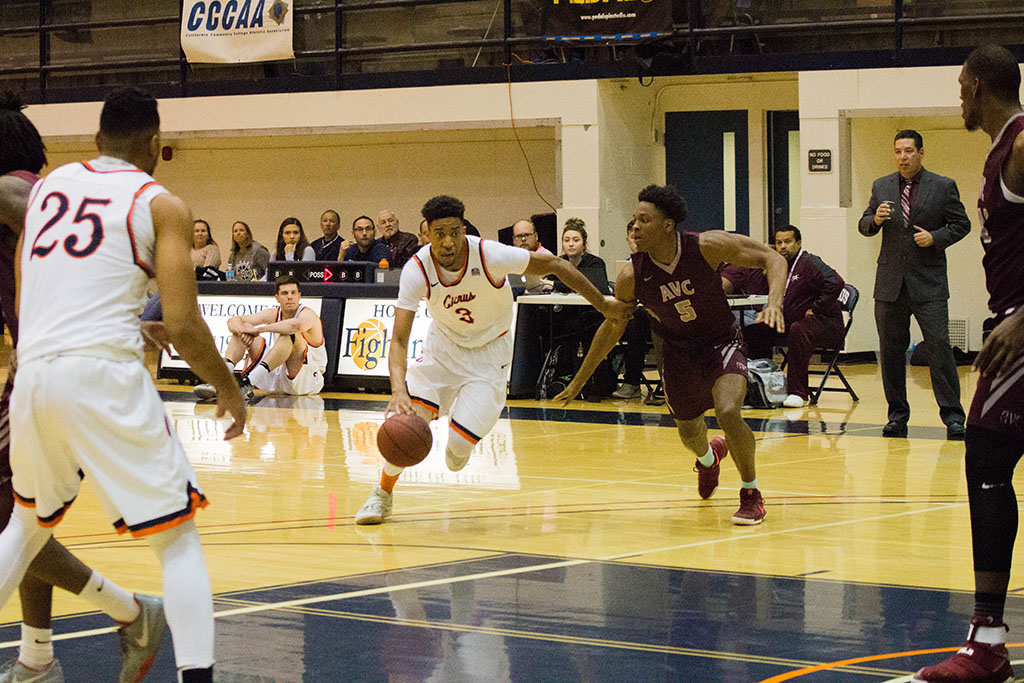 ---
With 13 seconds left in regulation and the game tied, Citrus freshman guard Jeremy Smith stepped up to the free throw line with an opportunity to give the Owls the lead.
Smith missed the first one, then the second. Antelope Valley sophomore center Antone Warren grabbed the missed free throw and passed it to guard Reggie Byers.
Byers dribbled the ball down the floor and with 3.2 seconds left on the clock, the sophomore hit a deep three-pointer that would leave Citrus with only 1.3 seconds left on the clock. The home crowd was stunned.
Forward Andrew Ammann inbounded the ball in Citrus' last chance to save the season, but Antelope Valley sophomore guard Charles Hall IV intercepted the pass.
No. 14 Antelope Valley College knocked off No. 6 Citrus College, 74-71, in the third round of the playoffs at the Owl's Nest.
"I wanted it, I wanted to take that shot and I wanted to hit it and send us to state and I did that," Byers said.
Byers led Antelope Valley with 17 points in the game, including the game-winner.
Emotions got the best of both teams after the ball was intercepted by Hall.
Sophomore guard Kenneth Cyprian laid on the court with tears in his eyes after the dramatic loss in the final game of his Citrus career.
"It was a tough loss, but I'll never forget these memories we have made together this year," Cyprian said. "It has been a fun ride playing here."
Citrus started out the game on an 11-2 run, with Cyprian knocking down two of his first three three-pointers. Cyprian finished the game with 16 points.
Smith had three and-ones on the night, two of those coming in the first half. Smith had a game-high 23 points.
Citrus' biggest lead in the game was 28-14, which came at the seven-minute mark of the first half.
"Smith did what he has done all year and that was him playing his heart out," Citrus College head coach Brett Lauer said.
Citrus led Antelope Valley at the break, 37-34.
During halftime, Antelope Valley head coach John Taylor told his players, "Twenty minutes to state. If you want it, then go get it."
Antelope Valley came out with intensity in the second half, leading to a close game with multiple ties.
Citrus sophomore forward Tyler LaCour dunked over Antelope Valley's Warren at the 10-minute mark, leading to a roar from the Citrus bench and crowd.
"It was time to turn up, so I went up and banged out," LaCour said. "Unfortunately, this isn't how we wanted to end it, but I'll never forget the brotherhood we had here this year."
Lauer reflected on his first season as head coach for the Owls.
"We fought our hearts out, but we came up short," Lauer said. "But as a first year head coach, you couldn't ask for a better, more unselfish group."
The Citrus College men's basketball team finished the season with a 24-7 record, 8-2 in conference play.
Antelope Valley (22-10, 6-4) will move on to state and will face City College of San Francisco (28-2, 11-1) at a time and date to be announced.
---
---