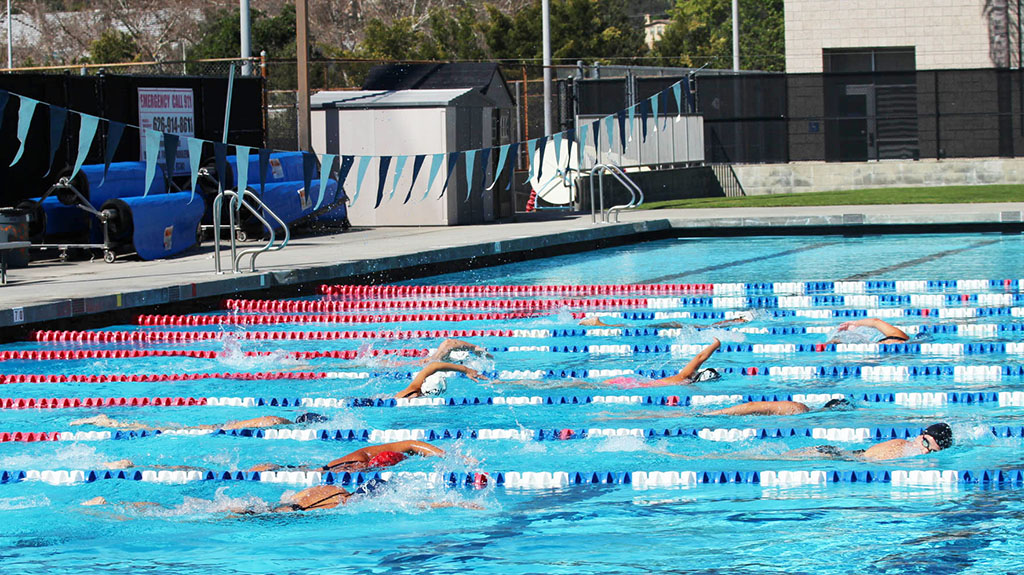 ---
With a new season underway, the Citrus College women's swim team is adjusting to a new head coach and several new players.
Since Jennifer Spalding accepted the head coaching job in May 2016, the team has shown improvement. Spalding also serves as head coach of the women's water polo team.
In her first season at the helm, Spalding led the women's water polo team to the CCCAA Southern California Regionals in 2016 for the first time in 16 years and has similar ambitions for the swim team.
"I am a lucky coach," Spalding said. "These girls are putting in the effort and are having a great team experience."
Spalding has extensive coaching experience. Before arriving at Citrus, Spalding was the head coach at Chaffey College for two years and prior to that, she spent almost a decade as the assistant coach.
Her experience in swim has already helped Citrus' program grow in numbers. The team has doubled in size from last season, increasing from eight swimmers to 17.
Citrus sophomore swimmer Gabriella Galbraith, a short-distance freestyler, is anticipating a more successful season this year.
"Since we have more swimmers this year, we are expecting to have a more competitive season," Galbraith said. "We have a lot more depth and diversity and that will be in our favor."
Megan Card and Hunter Olivier, both first year swimmers at Citrus College, are working hard for the swim meets that lie ahead.
Card will likely swim multiple backstroke events and Olivier will compete in long-distance freestyle events.
"Coach is really pushing us hard in practice to see what we're best at," Card said. "She puts each swimmer in the event they are the fastest at, so we are able to score the most points for our team."
Spalding is not the only new addition to the swim team's coaching staff this season. Karla Fuertez will be helping Spalding as an assistant coach this season.
Fuertez swam at Chaffey College before heading off to swim at the University of La Verne. Fuertez has been helping the team for months now in preseason and has goals for the team to improve.
"Short-term we really want the girls to know what it means to be on the swim team and to realize it isn't an individual sport," Fuertez said. "We are getting the team motivated to stick with it and eventually see if we can grow the swim team and strengthen the program."
Spalding and Fuertez will head back to Chaffey College at 8 a.m. on March 10 and 11, but this time with the Citrus women's swim team for the Chaffey Invitational Meet.
---
---