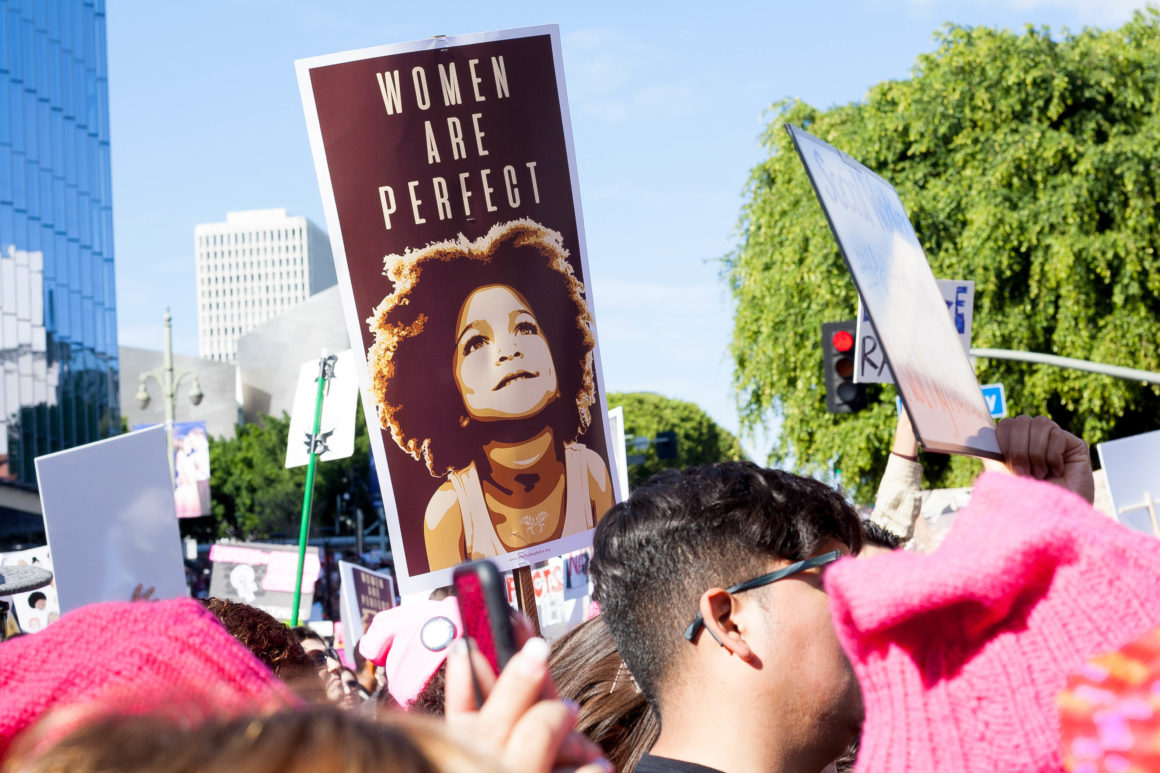 Thousands of people attend the Women's March on Jan. 21 in downtown Los Angeles. While protests have reached university campuses, protests on community college campuses have been less common. Photo by Maddison October / Clarion
---
Student-led assembly in the wake of a tense political climate and the advocacy of human rights, as demonstrated by the Women's March on Jan. 21, has been one of the most divisive topics for young people following politics. 
In early February, University of California, Berkeley was scheduled to host a talk by the controversial former Breitbart News editor Milo Yiannopoulos as part of his most recent college campus tour.
The event was met with upheaval from students, and others alike, causing hundreds of thousands of dollars worth of property damage on the university's campus, and ultimately resulting in the cancellation of the speaker's event.
Protests like the Berkeley incident have erupted both domestically and globally in response to a changing nationwide political dialogue, and showcase notable examples of student-based organizing.
Citrus College and other community colleges have refrained from participating in recent protests on campuses.
"It's just the nature of community colleges," Jacob Phillips, vice president of the Citrus College Political Science Student Association, said. "Students are here to get in and get out."
Professor David Milbrandt, an advisor for the PSSA, referred to Citrus College as a "commuter school" and emphasized that students usually don't have much of a connection to the campus, itself, because of it.
"Mass deportations" of undocumented students and "massive tuition increases" were issues that Milbrandt said could potentially kickstart action amongst students.
Historically, community college campuses have not been at the forefront of harboring protests like the one seen at Berkeley in February, or the demonstrations at California State Universities, such as Fullerton.
"There is definitely more activity this year than my first," said Alyssa Rivas, a student who has attended California State University, Fullerton for the last two years.
Rivas said there has been an increase of student activity on her school's campus in the form of demonstrations, protests and art exhibitions focusing on political discourse.
"I think we realize how important it is to be informed, especially now," Rivas said.
Large-scale organized student protests and impactful walkouts have been more common on university campuses.
There have been actions at local community colleges in the past few years, however, which have gained media coverage and influenced change.
A student protest in the summer of 2013 at Pasadena City College, in which dozens of students assembled to speak out in opposition to the school's Board of Trustees' decision to cancel winter courses at the community college, helped push for the eventual return of the winter semester.
The vulnerability of undocumented students on campuses was a catalyst for organized student action in late 2016 at Portland Community College in Portland, Ore.
The students involved in the effort sought to apply pressure on the school to declare itself a sanctuary campus, which would help ensure that the administration and faculty would do their best to provide support for undocumented students attending the college.
Dr. Geraldine M. Perri, superintendent/president at Citrus College, sent out an e-memo on Feb. 3 offering support and resources to those affected by the current developments regarding immigration and undocumented citizens in the United States.
Priscilla Gonzales, a former Citrus College student, said that something would have to "affect the majority of the students at the school to actually take action."
Unless "something extreme" happens on campus, Gonzalez said, Citrus will not take part in protests.
---
---