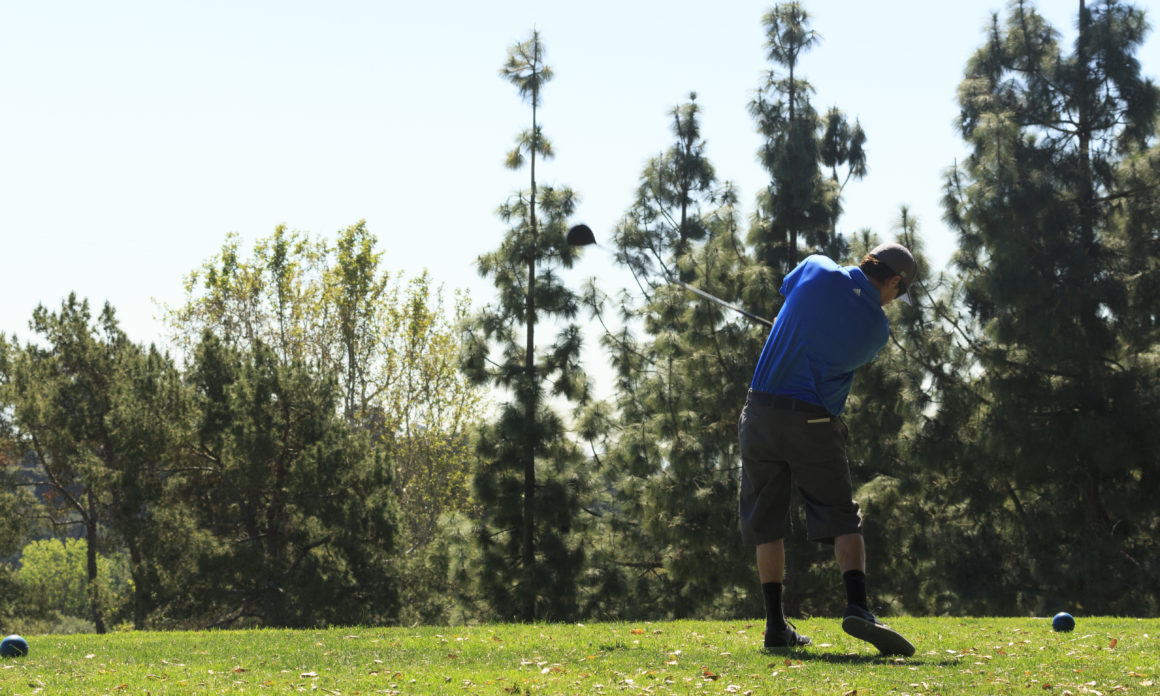 Justin Orona tees off on the first hole at San Dimas Canyon Golf Course Monday, March 13th. Christopher Amurao / Clarion.
---
The Citrus College men's golf team had the comfort of playing their home course March 13 at the Citrus Western State Conference event but their team score fell short of victory. 
The Owls placed third out of the eight schools competing, shooting a team score of 381. First place Ventura College shot a team score of 367 and College of Canyons finished second with a team score of 374.
Citrus' lowest individual score belonged to sophomore James Bragger. His one-under par score of 71 was his lowest of the season and missed co-medaling by one stroke.
"I've put a lot of preparation into this," Bragger said. "I got off to a tough start, but went through it, stayed calm."
The turning point for Bragger's round took place on the par five ninth hole at San Dimas Canyon Golf Course, where he erased his two-over start and drew back to even par with an eagle.
Freshman Aaron Coiner's three-over par 75 was Citrus' second best individual score and his lowest score this season. Coiner said his biggest challenge was putting and that he left some strokes on the golf course toward the end of his round.
"I hit a shot in the water and doubled it," Coiner said. "A 75, with a double on 16, that's not bad."
The Owls have performed historically well at their home event finishing second place the last two years and third place in 2014.
The third-place team score finish at Monday's event is their best finish this season.
Owls' Joshua Strong had a strong showing with a score of 77 and Gabe Sosa missed a three-footer on the 18th to shoot 78. Justin Orona who struggled with his putter all day rounded out the five team scores with an 80.
The Ventura College Pirates were anchored by the day's medalist Brandon Resnick who shot a two-under par 70. Four of Ventura's five scores were sub 75 strokes.
College of the Canyons' Ben Campbell posted a one-under par 71 to match Bragger's score for a second place tie for individual score.
The Owls will travel March 20 to El Camino Country Club in Oceanside for the SoCal Regional Preview event, then March 27 to Santa Maria Country Club in Santa Maria.
---
---