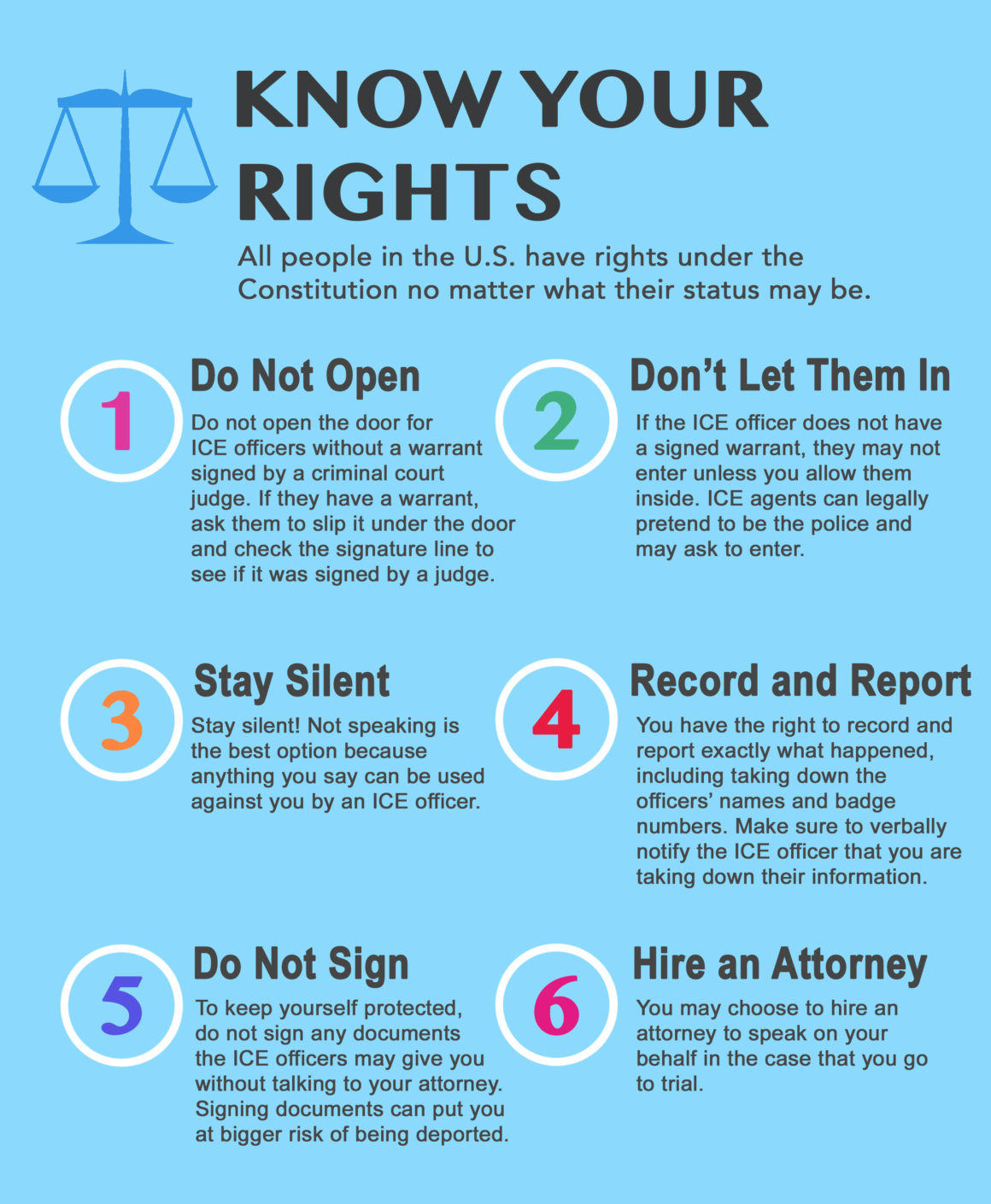 Graphic by Sabrina Gonzalez / Clarion
---
With the recent immigration raids, Deferred Action for Childhood Arrivals students and immigrants who are undocumented are living in fear of facing deportation. This fear is sparked by newly elected President Donald Trump's plan to deport undocumented immigrants.
"I am going to create a new special deportation task force, focused on identifying and removing quickly the most dangerous criminal illegal immigrants in America," Trump said during his immigration speech.
Trump says that he is focused on removing criminal immigrants and it is unclear who will be affected by this. His executive order could affect any undocumented immigrant or DACA student.
The government is still accepting and approving applications for the DACA program, however the program can be terminated at any point while Trump is in office.
If the program is revoked, it can put thousands of DACA students at risk of being deported. Work permits, social security numbers, and driver licenses can become invalid.
Because of the fear of being deported, undocumented students are choosing not to apply for financial aid.
As reported by the California Student Aid Commission, "Applications for the California DREAM Act have plummeted by 64 percent in the 2017-2018 school year." This is a decrease of 21,842 applicants from the 2016-2017 year.
There is anxiety among undocumented students. They are afraid of where their information might end up if they reapply for financial aid.
In an effort to help students who feel vulnerable about the situation, Citrus College has provided resources for students in need. An immigrant rights workshop was held on March 7 that was presented by an immigration lawyer. Students were able to attend and speak with the immigration lawyer about any concerns they may have.
The EOPS/CARE department also held an immigration workshop on Jan. 24. Counselors were available to discuss important immigration issues in a safe space for students. DACA and immigrant students were encouraged to attend.
These first steps by Citrus are admirable because it shows that the college cares about their students. Their efforts aim to provide resources and useful information that can benefit the student.
In order to protect themselves, DACA dreamers and undocumented immigrants should be prepared for the possibility of an Immigration and Customs Enforcement (ICE) officer approaching them. Immigrants must know their rights to protect themselves from immigration raids because everyone has constitutional rights, regardless of their status.
DACA students feel helpless to the new enforcements set out by the Trump administration. President Obama signed the federal executive order for DACA students in 2012 that would have allowed them relief from deportation. The executive order fell through in 2014 and with their name already in the system, DACA students may become an easy target for ICE.
The fear of deportation became greater last month when a DACA recipient was arrested and detained.
22-year-old DACA recipient, Daniela Vargas, was placed in a federal detention center by ICE on March 1 just three months after her DACA status became invalid. At the time of her arrest, Vargas' DACA renewal status was pending. She was quickly released 10 days later, but it is uncertain whether she will be ordered for removal again.
The National Immigration Justice Center is a helpful resource for both DACA students and undocumented immigrants. The NIJC aims to provide comprehensive legal services such as deportation defense and legal representation attorneys to undocumented immigrants.
"NIJC provides legal services to more than 10,000 individuals each year and maintains a success rate of 90 percent in obtaining asylum for those fleeing persecution in their home countries," as reported by the NIJC website.
Undocumented immigrants are caught between a rock and a hard place. They can either give their personal information away to live legally in the country under DACA for a few years or live here illegally and try to keep their information hidden.
Though we can't stop Trump's alleged plan, we can help undocumented immigrants find some relief through preparation and seeking out helpful resources as well as reapplying for financial aid.
Written by Sabrina Gonzalez, with approval of the Clarion Editorial Board.
---
---