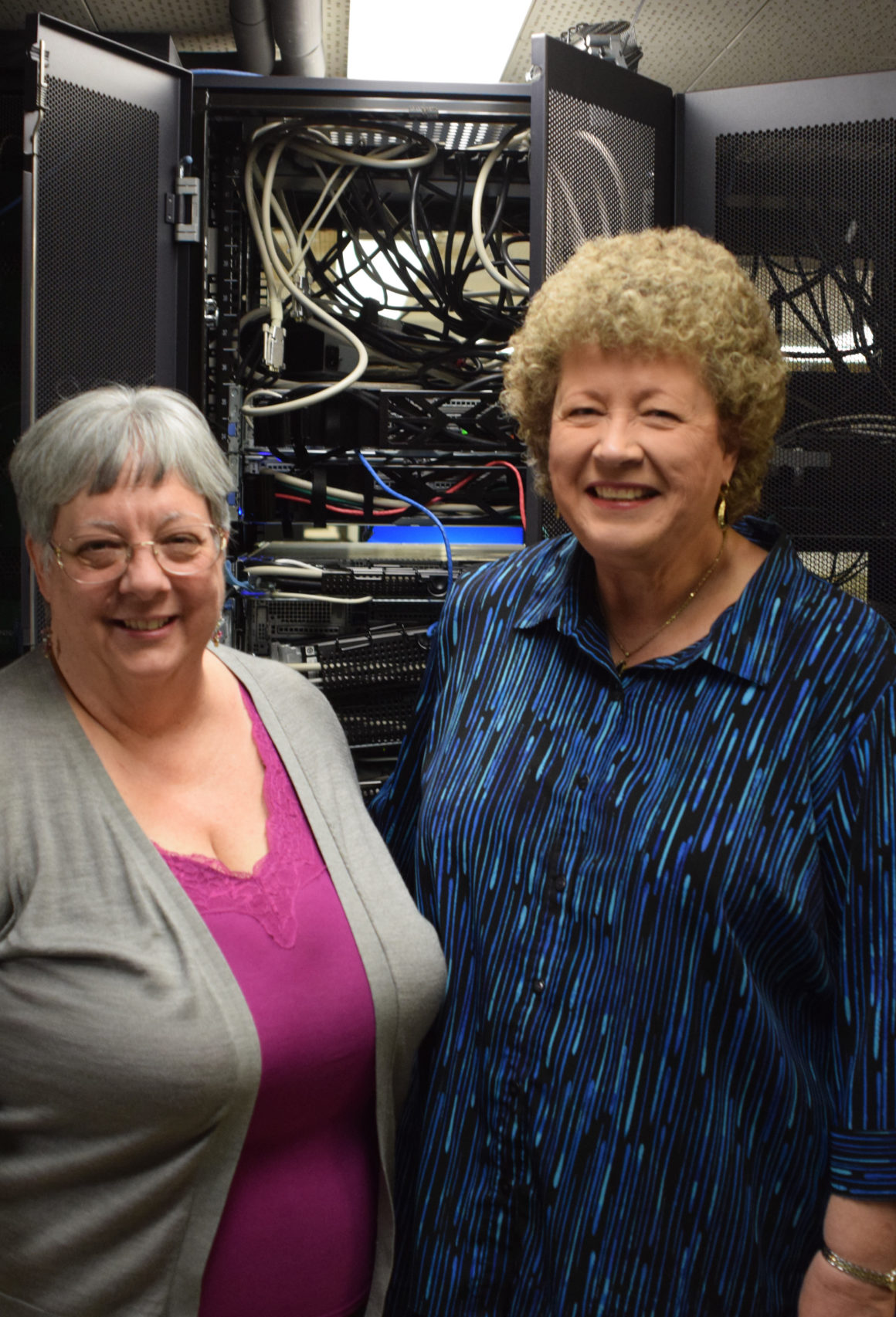 Linda Welz, left, and Glenna Johnson pose for a portrait on March 2 at the IS Building at Citrus College. Between both women, they have worked at Citrus for a combined total of 25 years. Photo by Andrew Ortega / Clarion
---
With 25 years of combined service to Citrus College's technology department, Linda Welz and Glenna Johnson will retire this spring.
Welz, who serves as the chief information services officer, bid farewell on March 18 and will now mark the period in her life when she can start to knock off her list of 50 things to do after retirement.
This list includes items like traveling, gardening, becoming a wine connoisseur, taking history classes and one important task her family has requested.
"My daughter and husband are insisting I learn how to cook," Welz said. "I'll have to think about that."
When Johnson, who serves as tech operations and service supervisor, thought of retirement she saw more time to knit.
"I got to work my way through my yarn stash before I go off exploring and refilling it up," Johnson said.
Beyond the traveling she plans to do with her also retired husband, Johnson hopes to be a grandma soon and will now have time to take it upon herself to remind her children of that.
"I can harass them on a daily basis," Johnson said, jokingly.
Retirement plans aside, Johnson and Welz' service to the technological department of Citrus College will come to end, yet they will be able to walk out the door comfortably.
"We're in heaven," Welz said, describing her 21-person staff which was less than half that last November.
Johnson believes with the Technology and Computer Services growth, she is confident the work will get done after their departure.
Since the fall term, the TeC Services team grew from two to six programmers, added a database analyst, added a webmaster, and also grew from three to eight computer technicians among other additions.
One of TeC Services biggest challenges are the array of problems that arise on a daily basis. Anything from the air conditioning being out, to alarms going off or the email system going down, Welz and Johnson have relied on their group of tech-savvy minds.
"This staff is a really tight group," Welz said. "Everybody celebrates the successes and joke about running around the building and do a victory lap."
Beyond their office, the relationships grown by both Johnson and Welz with colleagues will be what they will both miss the most.
Government Relations Officer Marilyn Grinsdale has worked with Johnson and Welz for the entirety of their time at Citrus.
"We feel like a team and really feel like she has been our team leader," Grinsdale said about Welz.
Welz also helps manage the Office of External and Government Relations where she has also formed a team she likes to call her family.
Grinsdale will have to find a new troubleshooter once Johnson leaves.
"Glenna is an absolute expert in Microsoft Office programs," Grinsdale said. "I know Glenna is the person that can figure it out. So I'm really going to miss her in that regard."
The parallel between the ever-changing technological field and the windy path to finding a career to retire from can be attested by both Johnson and Welz. A struggle many college students can attest to as well.
Welz has her own unusual path to where she is today and lends it to not quitting after hitting a road block. With a degree in biology, her persistence landed her in her current field.
"Keep studying and adding skills," Welz said. "Everybody said, 'you were lucky.' No, I was ready. When I really, really wanted to be a programmer at Berkeley, it took me a year and a half of applying and going to school."
Johnson, a former manufacturing engineer, believes that education is a gift you give yourself.
"You can choose not to use it, but they can't take it away from you," Johnson said.
---
---