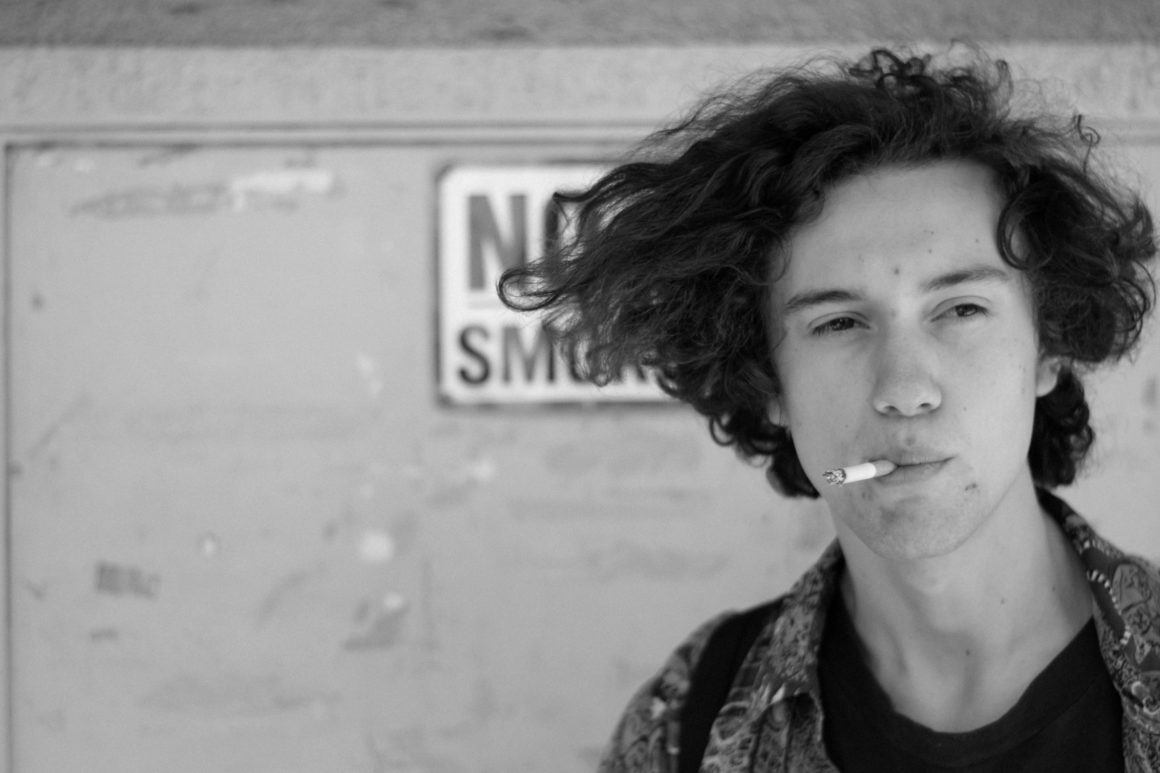 Shane Malins smokes a daily cigarette outside the LB building at Citrus College March 13. Cigarettes are a common theme in Fortune Boy. Photo by Michael Quintero.
---
A full-time student, and part-time worker, Shane Malins finds the time to write the music for the indie rock band Fortune Boy.
Malins, 21, is a music business major at Citrus College. While he is not studying, Malins is writing and performing concerts as the frontman of Fortune Boy.
The band consists of Nicholas Pedroza, Dominic Rivera Joel LoGiudice and Malins. Fortune Boy was formed in March 2016 in Claremont, Calif.
Within a few months, the band played the Glasshouse in Pomona. Malins said the event was one of the bigger accomplishments the band has made since forming.
"The moment the crowd started singing "Andrea," I felt as if i could die right that second," Malins said. "I felt that we finally made it, in a sense."
The drive that Malins puts into his music is why Fortune Boy is a band on the rise.
"Shane's definitely one of the more tenacious and personally motivated people that I know, a great friend and passionate musician," LoGiudice said.
Malins' role in the band is rhythm guitar and vocals. He writes the majority of the lyrics.  Malins has been playing guitar since 11 years old, and is now branching off to learn piano and bass.
The band formed while everyone was having difficulties with other bands. They came across Malins' music on Soundcloud and Fortune Boy was formed.
"There is really no meaning to the name, it just kind of happened when we were eating fortune cookies," Malins said.
"We have a pretty great group dynamic that definitely breeds creativity and allows us to make good music," LoGiudice said.
The band is feeding off the positive energy, and Malins is taking it to the next level.
"I want the band to be more anything in the world," Malins said. "The whole experience has been weird since we started last year," Malins said. "I feel the experience has enhanced my perception of music".
Malins said a year ago he could barely write a song. Now he has begun working on solo music for himself. The learning experience shaped his mindset around the idea of recording music. Big dreams are to come from Malins' visions.
"Shane is a really close friend of ours despite the fact that we only met him about a year and a half ago. He has a lot of stories to tell and he's always drinking Dr. Pepper," Rivera said.
He truly understands the struggles of being a musician and the leadership it takes to follow his dreams. The band has only been around for less than a year, but their following is beginning to grow.
Malins has sent their album out to over 200 record labels. Malins also booked their last seven concerts, with more to come. The music industry has taken a dive with the streaming, and free downloading of music. Malins still goes the extra step to get their name out there.
Andrew VanWyngarden and Jim Morrison are the influences that drive Malins to produce music. Morrison's shock rock is what Fortune Boy drives on.
Malins said their album is a typical garage recorded album, but it is their stage presence that makes them different. A band can have all the talent in writing songs, but if they are boring on stage that changes the audience perception, Malins said.
The album "Chris" came out in May 2016.
"We just started work on our next album, so it's feeling official and we've been having lots of shows, and the experience has been incomparable," Pedroza said.
Rivera said their new album is going to be more professionally recorded compared to their garage sessions. They are all looking forward to releasing the album this year.
The album "Chris" is for sale and listening on Spotify, Soundcloud Bandcamp and iTunes. They also can be found on Twitter and Instagram @Fortuneboymusic.
Fortune Boy will be playing live at 7 p.m. April 1 at American Legion in Pomona.
---
---